Levain Bakery Chocolate Chip Cookies
A copycat recipe for the unparalleled, massive Levain Bakery Chocolate Chip Cookies. They are crispy on the outside and soft & gooey on the inside!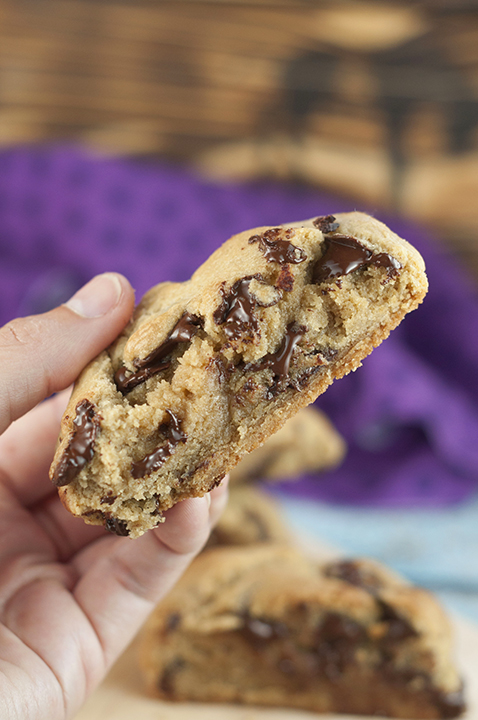 This is exactly how you make enormous gooey, chewy, Levain Bakery Chocolate Chip Cookies that make everyone in your life love your guts.
I may just never make another chocolate chip cookie recipe ever again because I've truly found the best. You guys….these cookies. They are sky-high and absolutely to die for. I have made about a zillion recipes for chocolate chip cookies since I started this blog. While it's really hard to go wrong when it comes to a warm chocolate chip cookie in your mouth, it's rare for me to try one that I absolutely love and deem a keeper.
I'm so glad you're here! Follow along on Pinterest for more inspiration!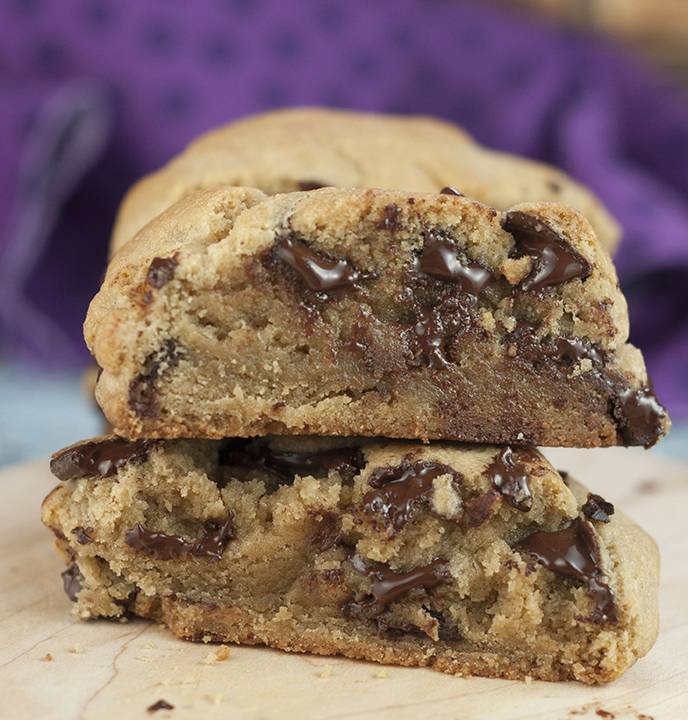 These cookies are enormous in case you can't tell in the photos. They are maybe just a little bit smaller than my fist (and I have man hands). I know my mom is rolling her eyes right now because that's what she does when I claim that I have man hands. I used to work at a floral shop back in the day and I worked there for 5 years. I can't tell you how many times I had someone comment on how long my fingers were. I started to get a complex! It doesn't bother me much anymore but I periodically I think about whether or not I missed my calling as a piano player with these "piano fingers", as people called them.
It is of vital importance that you use very COLD butter in this Levain Bakery Chocolate Chip Cookies recipe. If you don't use cold butter you will have flat cookies that will still taste yummy but not look like the photos you are seeing in this post. I highly recommend you striving for the huge, puffy cloud looking cookies that are slightly "crispy" on the outside and still a bit gooey and soft on the inside. The hard butter will help them hold their shape in the oven better. Their tallness is what makes these extra unique.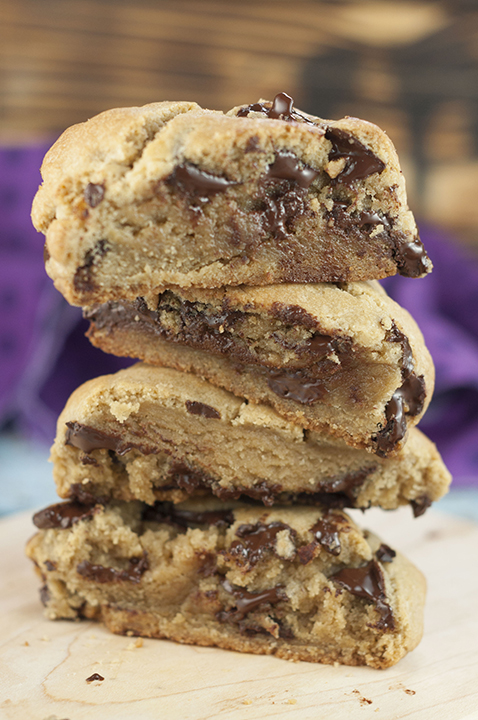 Tip: I left out the walnuts because I am a chocolate chip cookies purist like that. Feel free to add 2 cups of roughly chopped walnuts if that floats your boat. Levain Bakery uses walnuts in their recipe so they will taste great!
You deserve chocolate today so go run to the kitchen and make these right now. These are so good I could cry.
Here is my "how to" video with step-by-step instructions on how to make these chocolate chip cookies!
If you're loving these Levain Bakery Chocolate Chip Cookies, definitely check out my chocolate version (photo below): Dark Chocolate Peanut Butter Chip Cookies. I also highly recommend my extra large Oreo Stuffed Chocolate Chip Cookies. You must also check out my whole collection of cookie recipes. I hope you enjoy!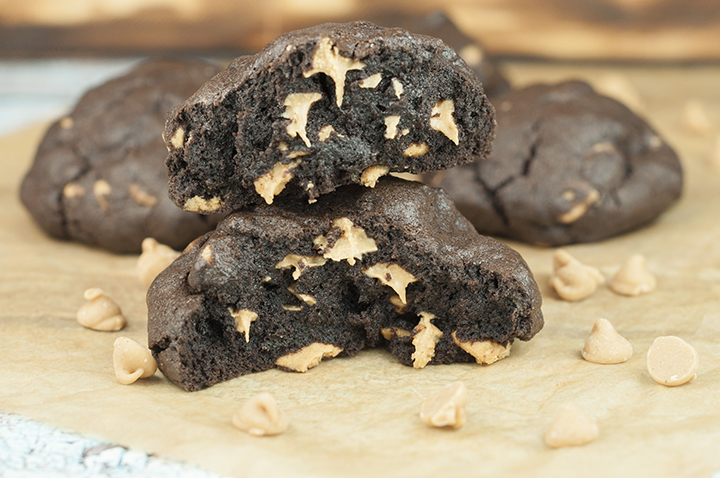 Levain Bakery Chocolate Chip Cookies
Prep time:
Cook time:
Total time:
A copycat recipe for the unparalleled, massive Levain Bakery Chocolate Chip Cookies. They are crispy on the outside and soft & gooey on the inside!
Ingredients
1 cup COLD salted butter, cut into small cubes
1 cup dark brown sugar
½ cup sugar
2 eggs
1½ cups cake flour
1½ cups all-purpose flour
1 teaspoon cornstarch
¾ teaspoon baking soda
1 teaspoon vanilla
2 cups good quality dark or semi-sweet chocolate chips
Instructions
Tip: you will want to work somewhat quickly so the butter stays cold before the cookies go in the oven)
Preheat oven to 410 degrees.
In a bowl of a stand mixer (or use a hand mixer), cream together cold, salted butter and sugars until light and fluffy, approximately 4 minutes.
Add eggs, one at a time, mixing well after each one.
Mix in vanilla.
Stir in flours, cornstarch, and baking soda. Mix until just combined (do not overmix as this will make for tough cookies).
Fold in chocolate chips.
Separate dough into large balls (about 5-6 ounces each) and place on lightly colored cookie sheet lined with parchment paper or silicone baking mat. These are large and you will fit 4 cookies on one large cookie sheet. They don't spread a whole lot while baking.
Bake for 10-13 minutes or until golden brown on the top and the tops of the cookies feel done, while cookies are still soft on the inside (oven times vary, so check periodically - cookies may need less time or extra time depending on the size you made them and your oven).
Let them rest for at least 10 minutes to set. Eat warm, preferably.
If you wish to freshen them after a day or two, nuke in the microwave for 10-15 seconds.
Recipe source: adapted from modernhoney.com