Dark Chocolate and Oatmeal Cookie Bars
Melt-in-your-mouth, dairy-free Dark Chocolate and Oatmeal Cookie Bars dessert are a healthy cookie recipe option that taste so good no one will even realize that they aren't bad for you!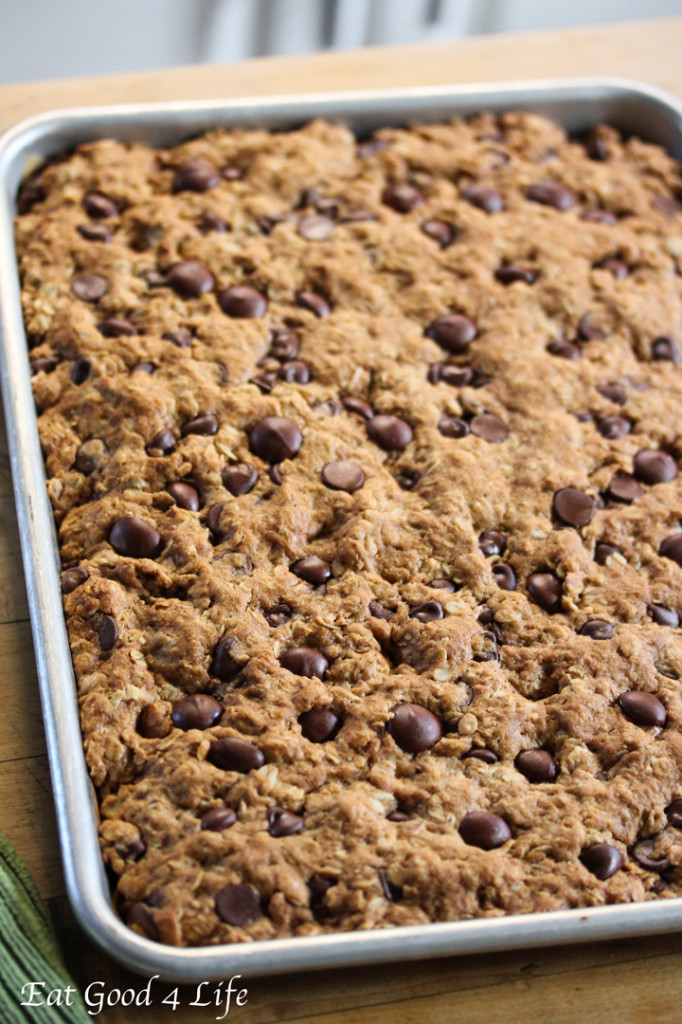 I hope you all have enjoyed these guest posts this week and have been introduced to some amazing new bloggers.  We will be back to our regularly scheduled program on Monday!  Meaning, you get ME and my posts back – don't act too excited now. I hope you get a chance to make these Dark Chocolate and Oatmeal Cookie Bars soon and enjoy!
I have one of my FAVORITE blogs to share with you today.  Miryam from Eat Good 4 Life has one of the most beautiful blogs I've ever seen with even more amazing photography! I'm always so inspired by each post she shares and strive to one day take photographs that are as fabulous as hers.  They are perfect and her recipes are even better!  She makes healthy recipes and even includes the nutrition facts in each one which is very helpful.  Please, please, pleeease go check out her blog and see for yourself how inspiring she is!  It's my absolute pleasure to introduce to you, Miryam along with her famous Dark Chocolate and Oatmeal Cookie Bars!
:::::::::::::::::::::::::::::::::::::::::::::::::::::::::::::::::::
My name is Miryam and I am the clinical dietitian behind the blog Eat Good 4 Life. I have beencooking and baking for years. These are my two passions, besides my two
kids, of course.  This is the first time I turned cookies into bars. It is a great idea as they are quicker to make and still delicious.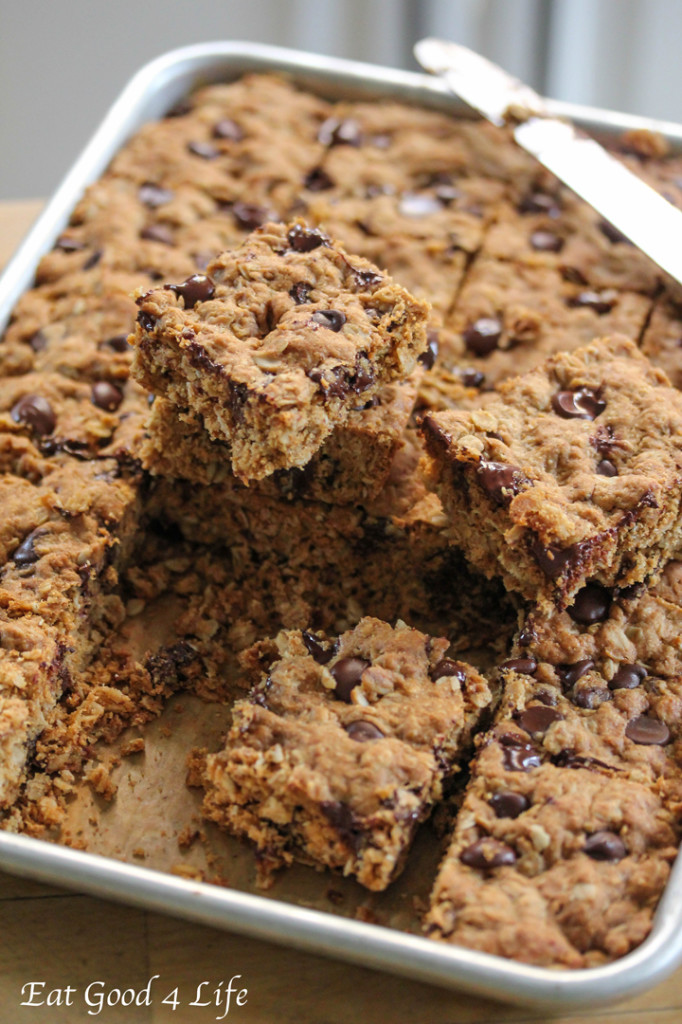 For this recipe you could use regular flour if you like but I always use whole wheat pastry flour because it has more fiber and better nutrients.  I always use whole grains but feel free to switch if that is all you
have.
Make sure that you line your 9×13 baking pan with parchment paper so that the bars don't stick to the pan.  Also make sure that you let the bars cool enough so that they don't crumble so much when you cut them and
release them from the pan.  If you make these cookie bars, I hope you like them. My kids truly loved
them.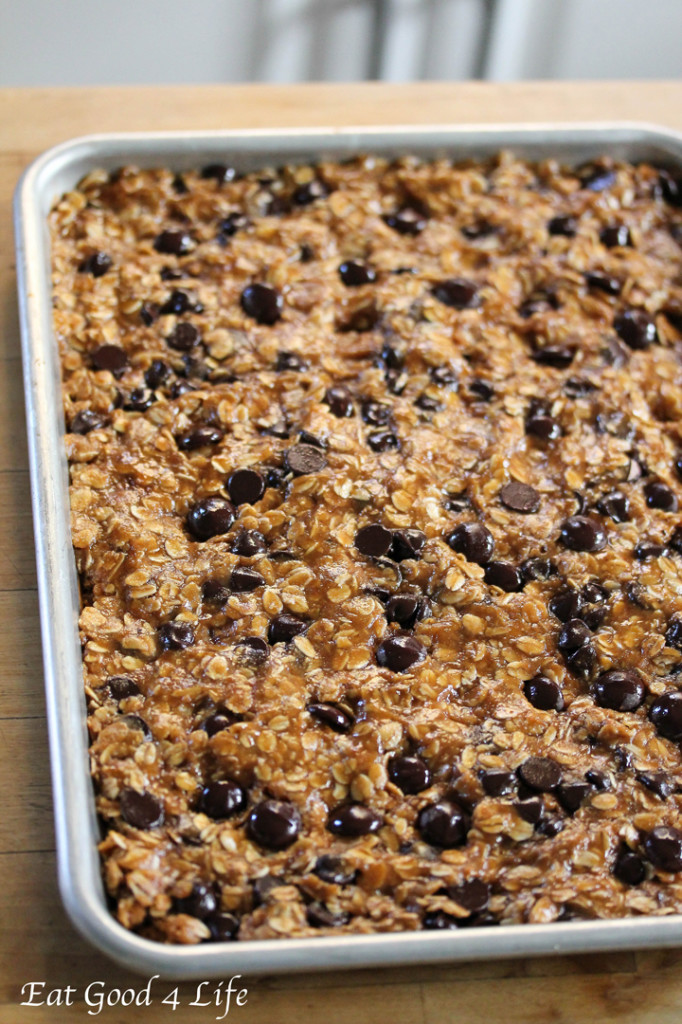 You should also check out these Oatmeal Scotchie Bars from my friend Aimee!

Dark Chocolate and Oatmeal Cookie Bars
Prep time:
Cook time:
Total time:
Melt-in-your-mouth Dark Chocolate and Oatmeal Bars are a healthy cookie recipe option that taste so good no one will even realize that they aren't bad for you!
Ingredients
2 eggs
1 cup olive oil
1 tablespoon vanilla
2½ cup old fashioned oats
2 cups whole wheat pastry flour
1 cup unrefined sugar
1 teaspoon baking soda
½ teaspoon salt
8 ounces dark chocolate chips
Instructions
Preheat the oven to 350 degrees. Line a 9x13 inch baking dish with
parchment paper.
In a large mixing bowl, with a wire whisk, combine the eggs, sugar,
vanilla and olive oil.
Add the oatmeal, flour, baking soda, chocolate chips, and salt and mix until combined and the dough holds together. I do this step with a rubber spatula. The dough will be oily but that is
just fine.
Turn the dough into the prepared pan, pushing the dough into the pan.
You can add more chocolate chips over the top if you like, I did.
Bake for about 25-30 minutes. I did mine for 25 minutes. Allow the bars to cool in the pan for at least 30-40 minutes before slicing and serving.
The bars maybe a bit crumbly but that is OK. Keep the cookies in an air
tight container for up to one week.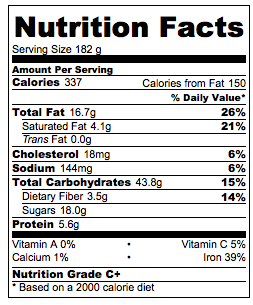 Thanks again, Miryam, for your fantastic guest post! Make sure to head on over to her blog, Eat good 4 Life, and show her some love!