Strawberry Ice
Today is the last day to enter my giveaway for the Progressive biscuit cutters!  Make sure you get in on this 🙂
I hope everyone had a great weekend!  Mine was fantastic.  Mr. Wishes took me out to a nice, fancy dinner Friday night at Pane Vino which overlooks the Genesee River in Downtown Rochester.  It was warm enough to sit outside on their beautiful patio and enjoy the great view while eating delicious Italian food.  Saturday we had lunch at a cafe overlooking the Erie Canal with our friends Ram and Krithika and Sunday we had a nice cookout with my father-in-law and the rest of the family for Father's day.  The weather was perfect for the most part….I love summer!
This isn't really a recipe I am sharing with you today, but just a really cool idea that I came across a few weeks ago and I wanted to tell you about it.  I was having a group of friends over for dinner and wanted to find a way to jazz up plain old lemonade and went in search of something fun and different to do.  I saw this idea on Joy the Baker's website for strawberry ice cubes and knew I had to try it.  It's so easy and gave the lemonade the perfect hint of strawberry flavor without being too overpowering.  I think your guests will love this!  I can see this being perfect for a gathering or party consisting of mainly women as they would tend to appreciate these adorable little ice cubes 🙂  It is pretty much a no-brainer when it comes to putting these together, but I'm going to put a "recipe" below for you anyways.  You can also put these flavorful ice cubes in any cocktail or even in water…they are perfect for summer.  Have a great Monday!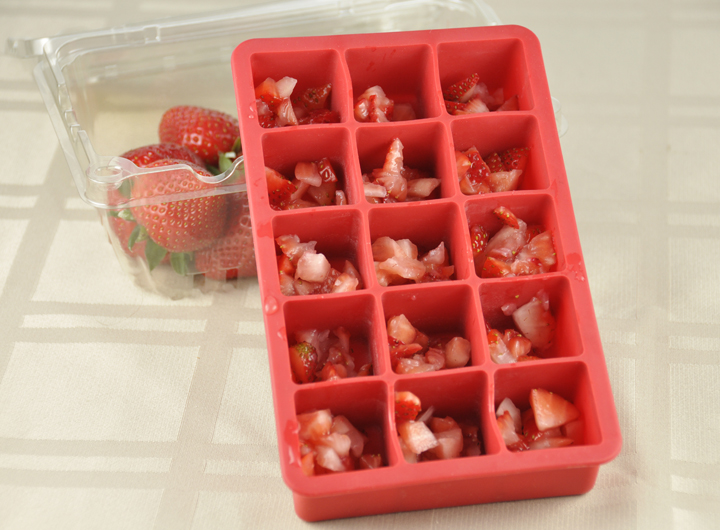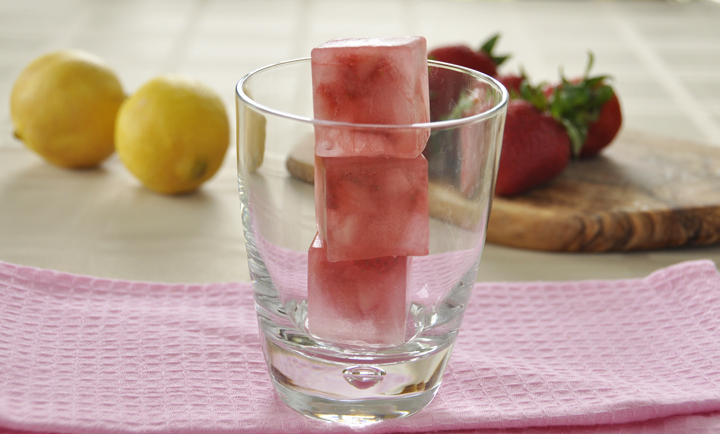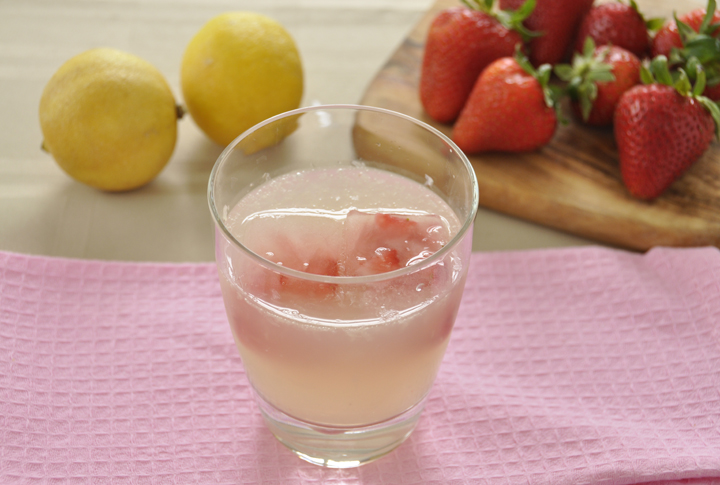 INGREDIENTS:
3 large strawberries, some mashed, some chopped
water
ice cube tray
DIRECTIONS:
Place a combination of mashed and chopped strawberries in each ice cube slot.  Pour enough filtered water to fill the tray.  Freeze until frozen through and serve with cocktails and/or lemonade.