One Pot Cheesy Tortellini Skillet
One Pot Cheesy Tortellini Skillet is an easy Italian dinner idea made all in one pan for easy cleanup and delicious tasting Italian food the whole family will devour!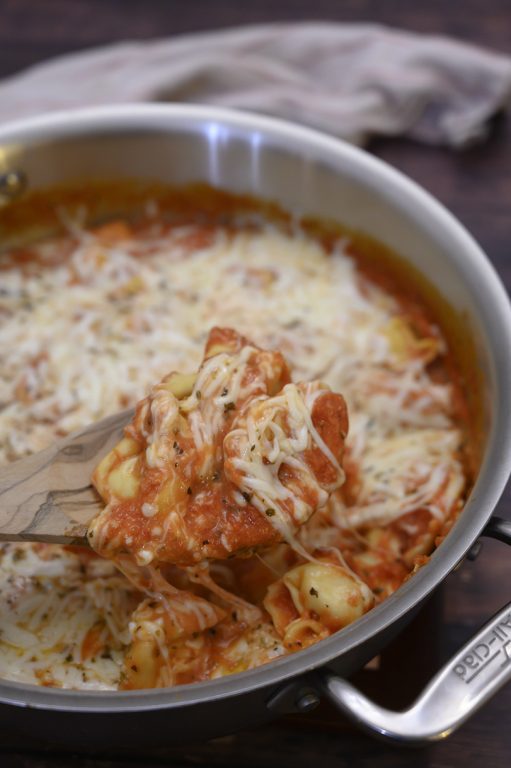 I am always looking for dinner ideas where I only have to dirty one pan. If I can save even 10 minutes of my time during the day when scrubbing dishes, then I consider that a win. What makes it even better, is when it is a pasta dish that can be made all in one pan. This Cheesy Tortellini Skillet is definitely a keeper.
I find most meals require cooking the pasta in a separate pot of boiling water and ultimately adding the pasta to the sauce. With this meal, it's legit all made in ONE pan, even the pasta. It reminded me of my Philly Cheesesteak Pasta.
I received permission from Eliza's pediatrician to start introducing dairy food to my diet. I had my very first piece of cheese pizza the other night! We drove up to Toronto for a mini vacation/long weekend to celebrate Valentine's Day. Our main reason for going was to see our friend Ramin Karimloo's concert with his band at the Living Arts Centre. Eliza attended her first concert! She adores live music, just like her parents.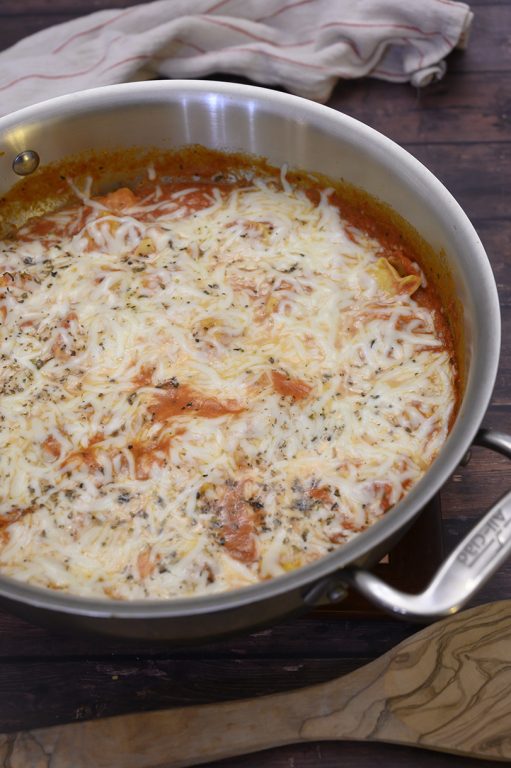 We explored Toronto for the next few days, ate really good food, went to St. Lawrence Market, and visited the CN tower. On the last day there, we visited family and had dinner together at a delicious restaurant called Farm to Table Bread Bar. Eliza had her first restaurant melt-down and I was super embarrassed, but we got through it and she eventually fell asleep in daddy's arms and let us enjoy our meals. That little stinker!
We are lucky because Eliza is a great traveler. She loves people watching, crowded places, and fresh air (even extremely COLD fresh air, apparently). I love having these experiences with her and seeing her excitement over even the littlest things.
If you're looking for a good weeknight meal for the family, this One Pot Cheesy Tortellini Skillet is a great one to try. It's loaded with cheese, delicious red sauce, and hearty tortellini. It is very similar to one of my favorite dinners on my blog: Ravioli al Pomodoro. The ravioli recipe has everyone constantly raving about it.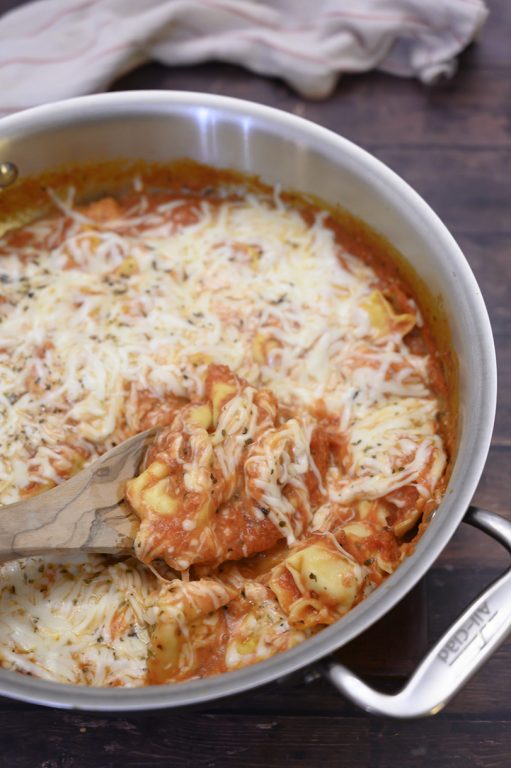 This is a filling meal and very comforting in the colder weather! I make this meal when I'm craving my spaghetti sauce and pasta but don't have all day to cook the sauce.
Enjoy and have a great week! Spring is so close I can taste it!
Guess what?! I have a LOT more one pot pasta recipes for you. Here they are:
One Pot Creamy Jalapeño Popper Pasta – this dish is heavy, hearty and SO creamy!
20 Minute One Pot Pasta with Fresh Tomatoes and Basil – this is fresh and light, making it perfect for spring and summer!
Authentic Italian Pasta Carbonara – this is the REAL way to make spaghetti carbonara – it's super creamy without the cream!
One Pot Chili Mac and Cheese – I love this comfort meal for a cold winter day! It is very kid-friendly!

One Pot Cheesy Tortellini Skillet
Prep time:
Cook time:
Total time:
One Pot Cheesy Tortellini Skillet is an easy Italian dinner idea made all in one pan for easy cleanup and delicious tasting Italian food the whole family will devour!
Ingredients
2 tablespoons extra virgin olive oil
3 garlic cloves, minced
28 ounce can crushed tomatoes
4-5 large basil leaves chopped plus more for garnish
1 teaspoon salt
¼ teaspoon black pepper
1 cup chicken stock
½ cup heavy cream or half 'n half
3 tablespoons grated Parmesan cheese
20 ounce bag refrigerated or frozen cheese tortellini
2 cups shredded Mozzarella cheese
¼ teaspoon garlic powder
Pinch of Italian seasoning
Instructions
Preheat oven to 350 degrees.
Heat olive oil in a large oven-safe skillet over medium heat.
Add garlic and cook for about 1 minute until fragrant. Be careful not to let it burn.
Stir in tomatoes, chopped basil, salt and pepper and stir occasionally until heated through.
Stir in chicken stock, heavy cream, and Parmesan cheese.
Bring the sauce to a boil then add in tortellini.
Cover and reduce heat to a simmer.
Cook for about 5-7 minutes (longer if pasta is frozen) until tortellini are tender/hot in the middle. Don't let tortellini get mushy.
Remove from heat and stir in 1 cup of mozzarella.
Toss remaining 1 cup mozzarella with garlic powder and a pinch of Italian seasoning and sprinkle over the top.
Bake in the oven for about 5 minutes or until cheese is melted.
Serve hot and sprinkle with additional basil, if desired. Enjoy!

Recipe source: adapted from motherthyme.com