Molten Chocolate Lava Cakes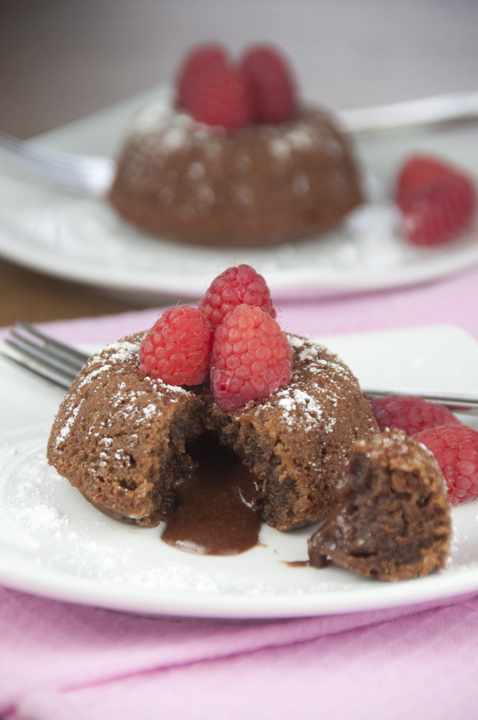 ½ cup unsalted butter
4 squares semi-sweet baking chocolate
1 cup + 2 Tablespoons powdered sugar, divided
2 whole large eggs
2 egg yolks
6 Tablespoons all purpose flour
Fresh raspberries, for topping
Preheat oven to 425 degrees.
Place butter and baking chocolate into a large microwave-safe bowl then microwave for 1 minute, or until butter is melted, then stir until butter and chocolate are smooth.
Add 1 cup powdered sugar then stir until smooth.
Add eggs and egg yolks then stir until smooth. Add flour then stir until just combined.
Spray 4 custard cups very well with non-stick spray then place onto a baking sheet.
Pour chocolate batter evenly into cups then bake for 12-13 minutes, or until the sides are set but center is still soft (but not jiggly.) Middle will look not quite done, but sides should be set.
Let cool for 2 or 3 minutes, then invert cakes onto serving plates. They should come right out, but if needed, run a small knife around edges to loosen.
Dust with powdered sugar then serve with fresh berries on top and on the side and/or whipped cream.
Recipe by
Wishes and Dishes
at https://wishesndishes.com/molten-chocolate-lava-cakes/