Sugar Cookie Popcorn
Sugar Cookie Popcorn is the perfect Valentine's Day dessert, party favor or gift straight from your kitchen to someone you love.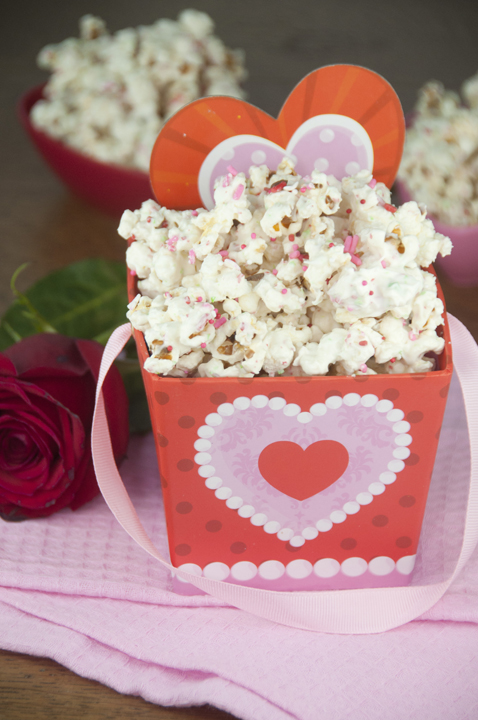 Hi there, sugar cookie popcorn! I am back from NYC after a great long weekend.
When I say it was "great" I am most definitely not referring to the weather. It was bitter cold to the point where the cold wind actually hurt my face and it was difficult to be out there walking around those city streets for four days. We made the most out of it and tried to take as many breaks from the cold as much as possible.
It was the 2nd coldest weather experience I have ever had (my day in Punxsutawney, PA was definitely #1) On the bright side, we spend time with good friends and I ate a lot of good food and checked out so many new-to-me restaurants – my ideal trip! Rochester actually got over 15 inches of snow on Monday so our flight home was canceled and we ended up taking the Amtrak train home instead of waiting an extra day for our rescheduled flight – it was my first train ride!
What was supposed to be a 7 hours train ride ended up being about 11 hours thanks to the weather. Fun times! Honestly, the Amtrak isn't so bad. It was very comfortable with spacious seats.
Overall, it was good to get away and have a little distraction from the "norm" and get my mind off things for a while. January was a rough month! I'm glad I had 4 whole days with my hubby and two friends to keep me smiling and laughing….and eating well.
I'm glad to be home and not outside in -80 degree weather anymore. Back to reality (good thing I LIKE my reality).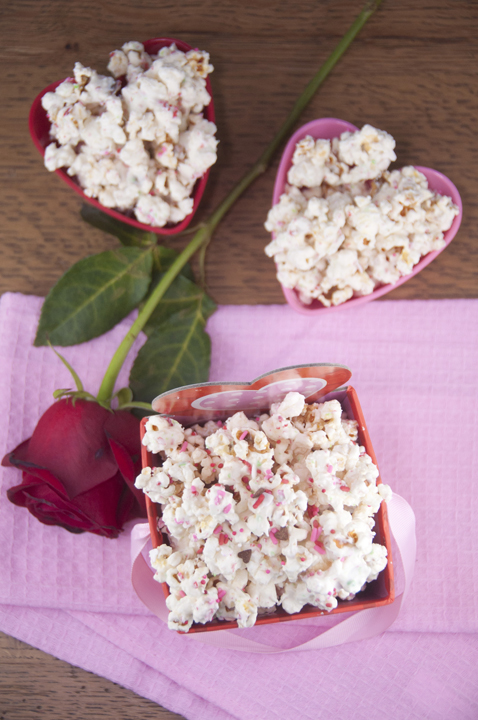 My mother-in-law bought me these Wilton sugar cookie candy melts a few weeks ago and my very first thought was "I'm making sugar cookie popcorn with this for Valentine's day". Of COURSE, when I "googled" this idea (always a bad idea) I realized I was indeed not the first person to come up with this brilliant idea.
It is very hard to be original these days. Alas, I stuck with the plan, which was still quite different from what I found in my search, and continued on with this fun Valentine's day treat. This sugar cookie popcorn should be eaten at all movie nights.
The sweet and salty combination really puts this on the level of totally addicting snacks. It is popcorn that tastes like a sugar cookie – amazing. What a fun food project for the whole family to make together! Maybe on the next snow day?
Fun fact: the red rose I used in these photos was from the flower arrangement from my brothers and I that was displayed at my dad's calling hours and funeral. I was so glad I found a nice way to incorporate it into my blog photos.
:::tear:::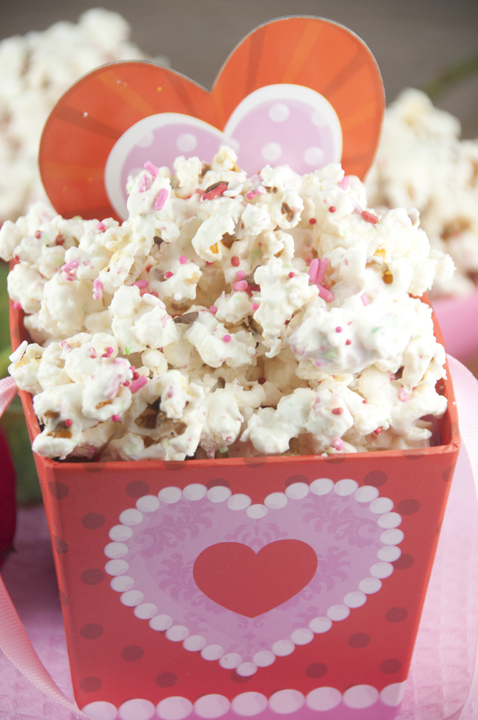 Sugar Cookie Popcorn
Sugar Cookie Popcorn is the perfect Valentine's Day dessert, party favor or gift straight from your kitchen to someone you love.
Ingredients
½ cup popcorn kernels, popped
3 TBSP unsalted butter, melted
1 teaspoon vanilla extract
sea salt
1 bag Sugar Cookie Candy Melts
sprinkles
Instructions
Spread out the popped popcorn onto a baking sheet. Remove any unpopped kernels.
Stir vanilla extract into the melted butter. Drizzle this mixture over the popcorn and toss to coat all. Sprinkle with a few pinches of sea salt and toss again.
Melt the candy melts on 50% power in the microwave. Melt for 1 minute, stir, then melt in 30-second intervals, stirring after each interval, until completely melted. Pour over the popcorn and toss gently.
Add the sprinkles over the top. Toss lightly. Let sit for an hour or until completely set. Break apart with hands.