Creamy Chocolate Holiday Fudge
This is absolutely incredible Creamy Chocolate Holiday Fudge!  It is perfectly smooth, creamy, chocolatey, decadent, and all-around enjoyable for a holiday dessert.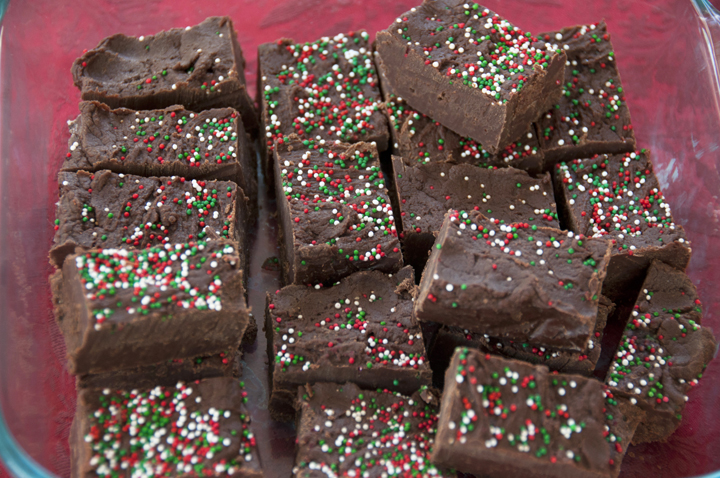 I wanted to try out a new Chocolate Holiday Fudge recipe for Christmas this year and I think I'll start making this one for every holiday for years to come.  It is so good and incredibly easy to make.
It also looks pretty on my Christmas dessert trays when I bring them to all of the holiday parties!  I try to switch up what I bake every year so it doesn't get too boring.  There are some tried and true cookies, desserts and fudge that I just can't skip, but I like to add something new.
I think this Chocolate Holiday Fudge would be great to give as edible gifts to give away for the holidays or a housewarming present for someone.  It was so creamy and didn't have that sometimes gritty sugary texture that some fudges have.
In my humble opinion, this is THE BEST fudge recipe around.  I did make some changes to the original recipe that I found, but was happy with the changes I made.  Sometimes I read reviews before I make a recipe and try to predict what would be the most useful changes to make per the recommendations that people give.  Usually my adaptations come out great!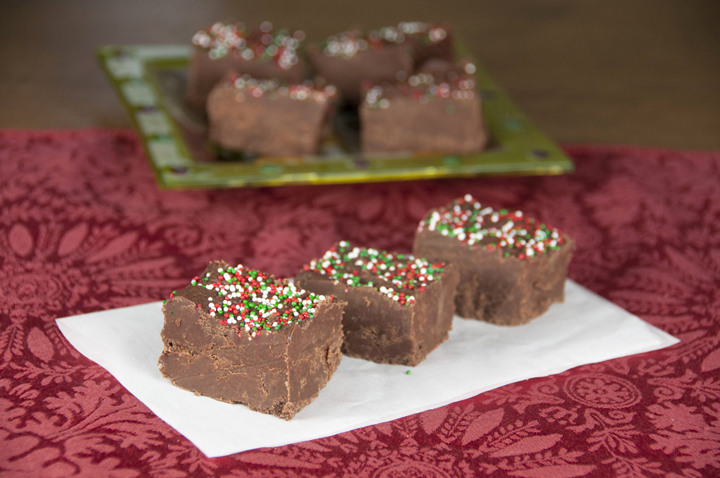 Note:  You can add 1/2 cup of nuts to this if you would like!  I prefer it without nuts, but that's just me.  Also, use different colored sprinkles to adapt to whatever occasion you are making this for.
You can also find more fudge recipes on my blog here!  You're sure to find something that you love, including white chocolate variations and even one loaded with caramel.  Happy holidays!
Creamy Chocolate Holiday Fudge
Prep time:
Cook time:
Total time:
This is absolutely incredible fudge! It is perfectly smooth, creamy, chocolatey, decadent, and all-around enjoyable for a holiday dessert
Ingredients
1 (7 ounce) jar marshmallow creme
1½ cups white sugar
⅔ cup evaporated milk
¼ cup butter
¼ teaspoon salt
1 cups milk chocolate chips
2 cups semisweet chocolate chips
1 teaspoon vanilla extract
sprinkles, optional
Instructions
Line an 8x8 inch pan with aluminum foil. Set aside.
In a large saucepan over medium heat, combine marshmallow cream, sugar, evaporated milk, butter and salt. Bring to a full boil, and cook for 5 minutes, stirring constantly.
Remove from heat and pour in semisweet chocolate chips and milk chocolate chips.
Stir continuously until chocolate is melted and mixture is smooth.
Stir in vanilla.
Pour into prepared pan. Sprinkle festive sprinkles on top (optional).
Chill in refrigerator for 2 hours, or until firm. Enjoy!
 Recipe source:  adapted from allrecipes.com