Italian Ricotta Cookies
Italian Ricotta Cookies recipe are

incredibly soft with a tender texture, delicious, and absolutely perfect for any holiday, not just for Christmas.  They will be a new favorite holiday tradition and everyone will ask you for the recipe!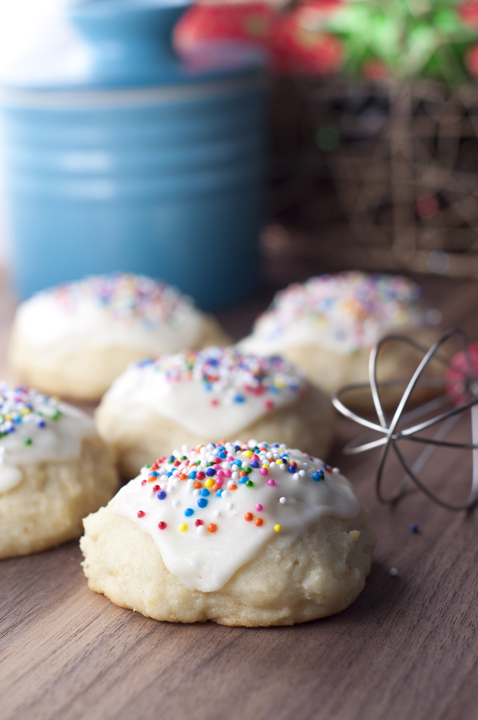 These cookies have been done a million times and in a million ways before, but this is my own personal take on them and what I think tastes the best!  Mr. Wishes' Grandmother used to make all of the Italian cookies for each of the holidays before she passed away.  I like to keep her traditions alive which is why the past few years I have tried my hand at more Italian holiday cookies (like these Italian Anisette "S" cookies) and even her Italian lasagna recipe!
I'm so glad you're here! Follow along on Pinterest for more inspiration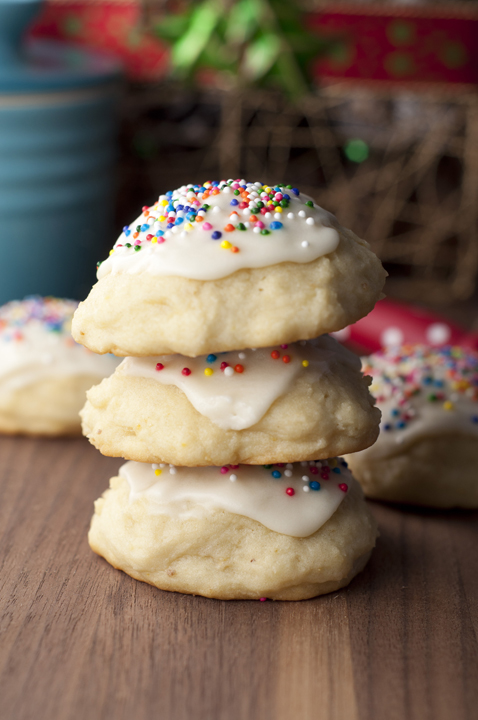 Most of you probably have had Italian Ricotta Cookies at one point in your life whether you are Italian or not (if not, I'm sorry you have been so deprived). They have more of a cake-like consistency and are not dense like you would normally expect in a cookie.  I can never have enough of these bad boys!  The best part is that you can make them for any holiday: color the icing to match the holiday you are making them for and switch up the sprinkles however you want.  Isn't that just the best?
These cookies are so good that I'm willing to get fat for them.  Heck, that's any Christmas cookie.  Who am I kidding?  Enjoy!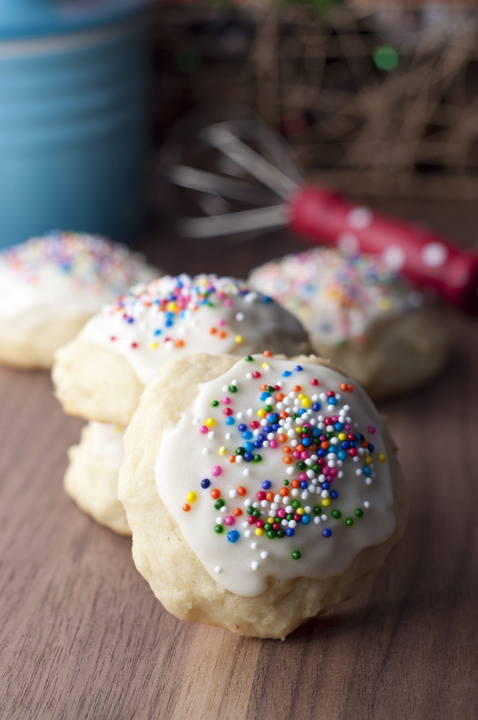 Check out my how-to video of me making the recipe for these Italian Ricotta Cookies!
Italian Ricotta Cookies
Prep time:
Cook time:
Total time:
Italian Ricotta Cookies recipe are incredibly soft with a tender texture, delicious, and absolutely perfect for any holiday, not just for Christmas.
Ingredients
Cookies:
1 cup unsalted butter (2 sticks), softened to room temperature
2 cups sugar
2 eggs
15 ounces full-fat Ricotta cheese
1 teaspoon vanilla extract
2 tablespoons orange zest (or fresh)
4 and ½ cups all purpose flour
1 teaspoon baking powder
1 teaspoon baking soda
½ teaspoon salt
Glaze:
¼ cup butter, melted
2 cups powdered sugar
3 tablespoons heavy cream
1 teaspoon vanilla extract
Instructions
Cookies:
Preheat oven to 350 degrees.
In the bowl of an electric mixer, cream together butter, sugar medium speed.
Add eggs and beat those in, as well.
Add Ricotta cheese and mix until smooth and fully incorporated. Add vanilla extract and orange zest and blend.
In a separate medium bowl, whisk together flour with baking powder, baking soda and salt.
Gradually add the flour mixture to the wet ingredients (one cup at a time) on low speed until a dough is formed.
Drop the dough by heaping tablespoons onto an ungreased baking sheet (they will puff up while baking). Bake for 10-12 minutes (this will depend on size of cookies and your oven so keep an eye on them). Cookies will just be started to get lightly golden around the bottom edges. You want them to remain soft and not get too over-baked.
Remove from baking sheet and place on a cooling rack to cool completely before putting on the glaze.
Spoon glaze onto cookies, add sprinkles of your choosing before glaze dries, and allow it to fully set before storing.
Glaze:
Mix together melted butter, powdered sugar, heavy cream, vanilla extract in a bowl until smooth and no lumps remain. Add additional splashes of milk or cream to get the desired consistency. You don't want it to be so thick that it's not spreadable, but also not too runny.