Cherry Mousse Sugar Cookie Cups
Giant Cherry Mousse Sugar Cookie Cups with rich, fresh cherry mousse filling inside a jumbo sugar cookie cup. Easy spring or summer dessert recipe.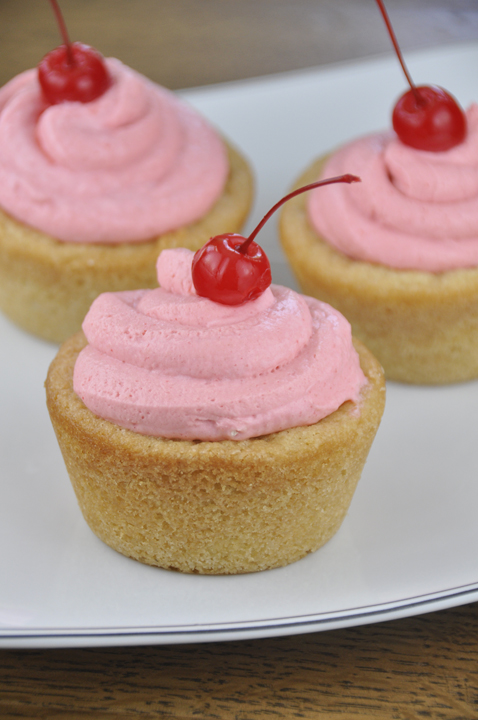 After taking several weeks off (due to being away on vacation and…um…laziness) I'm back to the jumbo cookie cup posts this week! Have you missed them as much as I have?  So far, I have shared a Carrot Cake version, Chocolate Chip a la mode,  Sugar Cookie with Lemon Mousse, Peanut Butter and Jelly, and Pina Colada.  Also, probably more that I'm just forgetting right now.  So yesterday was one of those days.  And by one of those days, I mean a day of many, many kitchen disasters.  The joke definitely was on me yesterday.  I had to make a Mexican-themed dish for my life group at church and decided on a dessert since I knew there would be so many chip and dip type dishes.  I attempted a Tres Leches cake which I had never made before and it came out totally FLAT and useless.  No, it wasn't my baking powder and it wasn't a forgotten ingredient (like it usually IS).  I am blaming this one on my 95 degree kitchen thanks to my broken a/c.  I swear I always pick the hottest days of the year to have my oven going for four hours straight!  My second attempt at the cake was almost just as flat but rose a little more than the first.  Then, the more I looked into it, I realized this was not a cake that was supposed to rise a lot – it looks more of like a cross between a sheet cake and a "regular" cake.  Nobody knew the difference and it tasted great so that ended up being a disaster turned good.  The mousse for these cookie cups was another story!  I realize I've rambled on long enough here (I promise I'm not just trying to get out of helping my husband sand and stain the front door right now because I LOATHE sanding), but my first batch of this mousse, which I have made before (!), came out of the piping bag like water running out of a faucet!  Again, I'm faulting the hot weather and steamy kitchen for this one.  In the end it all worked out and I was able to bring these delicious and pretty cute cookie cups (the ones that survived) to my dear sweet little cousin, Grace, who had surgery on her shoulder over the weekend.  #foodbloggerproblems.
Note:  You can get a jumbo muffin tin on Amazon if you don't already have one.  They are also great for making bakery style muffins, etc.!  I also use these reusable Wilton cupcake decorating bag and decorating tips for piping on the frosting.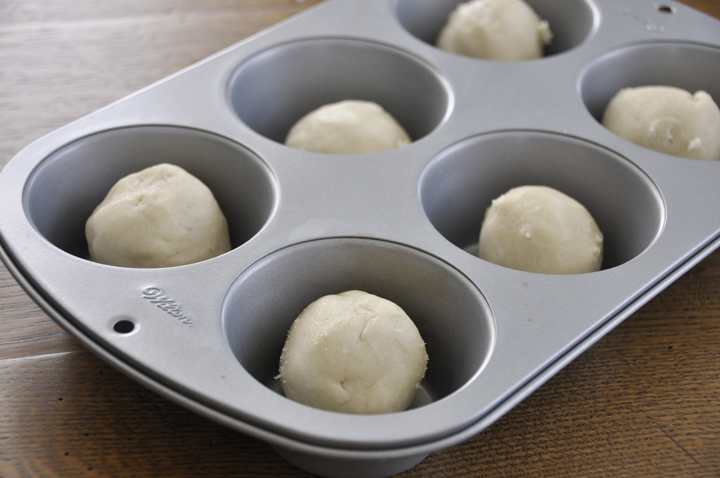 Cherry Mousse Sugar Cookie Cups
Prep time:
Cook time:
Total time:
Serves:
10 cookie cups, depending on size
Giant Cherry Mousse Sugar Cookie Cups with rich, fresh cherry mousse filling inside a jumbo sugar cookie cup. Easy spring or summer dessert recipe.
Ingredients
2 cups COLD heavy cream
2 tsp. vanilla extract
1 package Jello Instant Vanilla Pudding Mix
1 package Jello Instant Cherry Gelatin (this is just for flavor)
8 oz (one cup) sweetened condensed milk
1 cup very cold water
2 (16.5 oz) tubes sugar cookie dough (like Pillsbury) or use your favorite homemade recipe
Maraschino cherries, for topping
Instructions
Preheat oven to 350 degrees.
Spray jumbo muffin tin(s) with nonstick cooking spray.
Break off chunks of dough and roll into balls (picture above shows how big to make them). Drop balls into muffin tin.
Bake 20 minutes, or until puffed and set, and golden around the edges. They might look a little undercooked at the bottom but they will harden as they cool.
As soon as you take them out of the oven, use something with a circular bottom (I used the bottom of an ice cream scoop) to press into the middle of the cups and make small craters.
Whatever you use should be slightly less than the width of the cookie.
Let cool completely IN the pan.
Make the filling:
In a large bowl, beat the cream and vanilla on high with a hand mixer until stiff peaks form. Place in fridge.
In another large bowl, whisk together pudding mix, gelatin mix, sweetened condensed milk, and water until thickened, about 2 minutes.
Place in fridge for 5 minutes to set up completely. It should be thick but not too thick to frost cookie cups once whipped cream is folded in.
Fold whipped cream into pudding just until evenly distributed. Add red food coloring, if necessary, to achieve desired pink color.
Cover and place in fridge.
Run a butter knife around the edges of the cooled cookies to loosen and gently lift out. I didn't need to do this, I just pulled them out with my fingers.
Transfer to whatever surface you wish to work on.
Transfer cherry mousse to a piping bag, or make your own piping bag using a ziplock bag (put filling in piping bag, work it to the bottom of one corner, twist off the top and snip off a small bit of the corner).
Pipe the filling in high, swirling mounds. You can also just scoop the filling in with a spoon but it won't look as nice, in my opinion.
Top with Maraschino cherries,
Store in refrigerator in an airtight container after assembled or until ready to eat.