Cinnamon Pull-Apart Bread with Vanilla Maple Glaze
 Don't bother searching around for other recipes for cinnamon pull-apart bread (or Monkey Bread).  This ooey-gooey bread is irresistible with the abundance of cinnamon and drizzled with a warm maple glaze.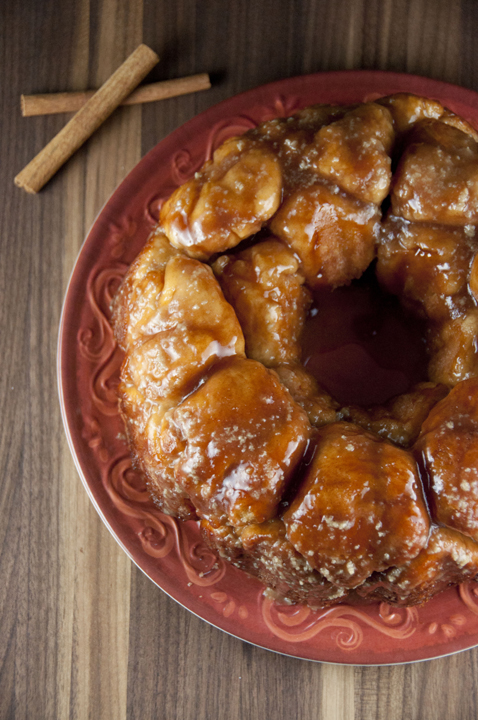 Happy Monday!  Christmas is getting closer and closer and will be here before we know it.  I have the perfect pull-apart bread recipe for you today that you can make for your family for Christmas morning breakfast or just to have on a regular ol' day.
'Tis the season for sweets!  Pull-apart bread is great for serving to a crowd because, 1. It's fun to eat, and 2. there is no cutting or slicing needed – everyone can just pull off a piece and go to town.  It goes great with a cup of fresh java and will have your family and friends clamoring for seconds!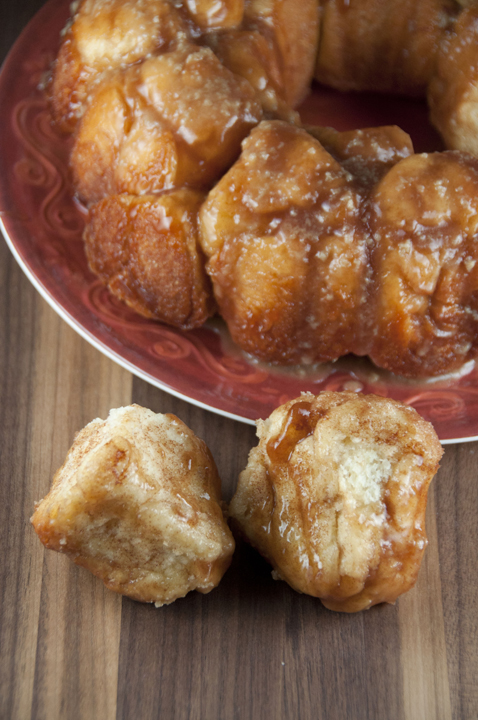 Have you ever made something where you can't even help but give yourself props and exclaim how good it is out loud to the people in your kitchen as you taste test?  No? Just me?  This is one of those recipes that I was actually super impressed with the results and wouldn't change even one thing about it.  This is unusual, as I'm typically super critical about my cooking and baking.  This bread is everything you love about cinnamon rolls in a pull apart bread form.
Does baking with yeast intimidate you?  Believe me, I used to be in the same boat not too long ago.  It still scares me sometimes, but all it takes to get over your fear is to make something with yeast that turns out to be a success.  That is precisely how I overcame my fear.
After that, you will feel much more confidant in yourself and working with yeast.  One of the great tricks I learned from Fleischmann's list of tips and tricks is how to determine if your dough passes the "doubled in size" stage.  All you need to do is press the tips of two fingers lightly and quickly about 1/2 inch into the dough.  If the impression you made stays, the dough is doubled.  It's as simple as that!
This pull-apart bread is a great beginner's recipe that I can promise you will turn out perfectly as long as you follow the directions verbatim.  I even took step-by-step photos to help you out if you are more of a visual learner.  It really turned out delicious!
The vanilla maple glaze added to the warm pull-apart bread just before serving really put this over the top.  I used Fleischmann's® RapidRise Yeast for this recipe and it turned out amazing.  I didn't have to worry about whether or not the dough was going to rise – I just did my part and let the RapidRise yeast do the rest.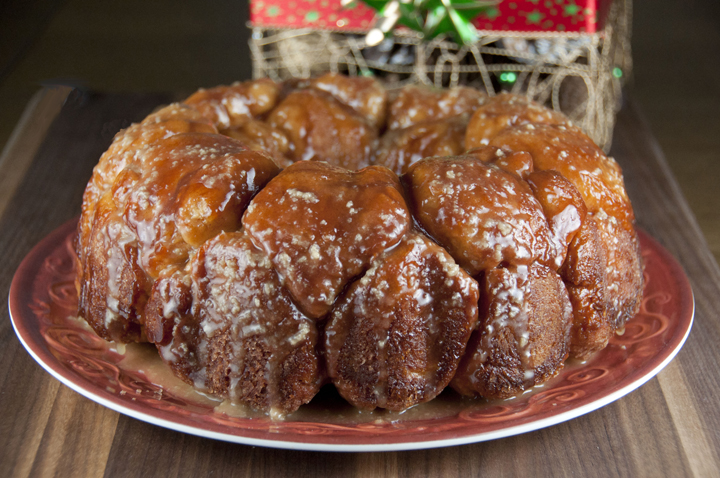 And there you have it folks – a classic pull-apart bread that is pure perfection in every bite.  I really hope you give it a try and see how easy baking with yeast can really be.  This recipe is great for breakfast on special occasions like holidays, slumber parties, Christmas morning, or a special send off for your child going back to college.  Enjoy!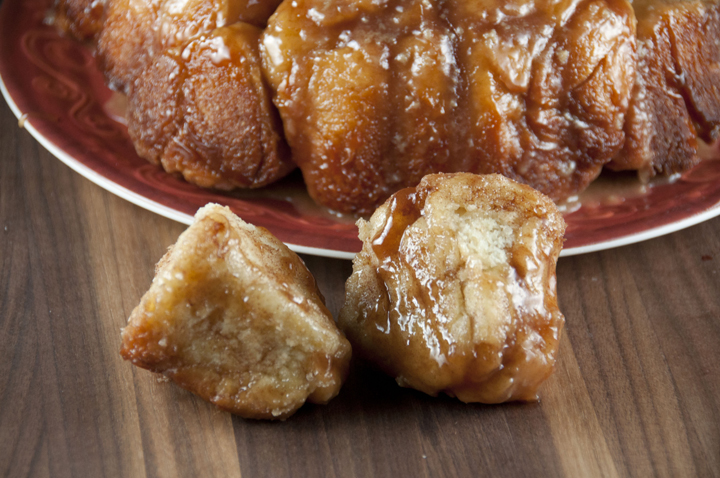 Cinnamon Pull-Apart Bread with Vanilla Maple Glaze
Recipe type:
Bread, Breakfast
Prep time:
Cook time:
Total time:
Don't bother searching around for other recipes for cinnamon pull-apart bread (or Monkey Bread). This ooey-gooey bread is irresistible with the abundance of cinnamon and drizzled with a warm maple glaze.
Ingredients
Filling:
1 cup sugar
1 tablespoon Spice Islands® Ground Saigon Cinnamon
½ cup butter, melted
Vanilla Maple Glaze:
2 tablespoons butter
⅛ cup packed light brown sugar
1½ tablespoons milk
½ cup powdered sugar
½ teaspoon pure vanilla extract
3 teaspoons pure maple syrup
Instructions
Combine 2 cups flour, sugar, dry yeast and salt in a large mixer bowl and stir until blended. Combine milk, water and butter in a microwave-safe bowl. Microwave on HIGH in 15 second increments until very warm but not hot to the touch (120° to 130°F. Butter won't melt completely). Add to flour mixture with egg.
Beat 2 minutes at medium speed of electric mixer, scraping bowl occasionally. Add 1 cup flour; beat 2 minutes at high speed, scraping bowl occasionally. Stir in just enough remaining flour so that the dough will form into a ball.
Knead on lightly floured surface until smooth and elastic and dough springs back when lightly pressed with 2 fingers, about 6 to 8 minutes. Cover with a towel; let rest for 10 minutes.
Filling: Combine sugar and cinnamon in a shallow bowl.

Cut dough into 36 pieces. Dip each piece into the melted butter and then roll in the cinnamon sugar mixture. Place in fluted tube pan that has been generously sprayed with cooking spray. Combine any remaining butter and sugar and drizzle over rolls. Cover with towel; let rise in warm place until doubled in size, about 45 minutes .
Glaze: Bring the butter, brown sugar and milk to a boil in a medium saucepan. Remove it from the heat and stir in the powdered sugar, maple syrup and vanilla and whisk until it is smooth.
Bake in preheated 375ºF oven for 25 to 30 minutes or until rolls are golden brown. Cool 5 minutes in pan, then invert on serving plate. Drizzle the warm bread with the glaze. Enjoy!
There's a sense of pride in sharing something you've baked from scratch. With Fleischmann's Yeast, you won't be afraid to find your creativity in the kitchen or even get your apron a little dirty. Baking with yeast this holiday season can be as easy as pre-heating the oven. To find out more, visit foodnetwork.com/holidaybaking.
This is a sponsored conversation written by me on behalf of ACH. The opinions and text are all mine.
.