Holiday Strip Roast with Garlic-Herb Crust
Make this year's holiday feast an effortlessly elegant event with this tender, juicy strip roast recipe rubbed with garlic and fresh thyme.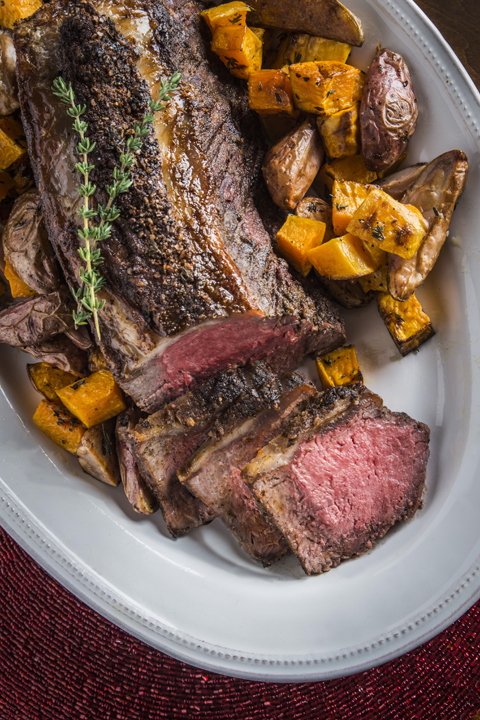 Let me tell you – you stopped over at Wishes and Dishes on the right day.  I'm sharing the recipe for this AMAZING split strip roast pictured above and I'm also providing the best ever giveaway (this one is worth $167!) that you guys have seen yet.
Yes, one of you is going to have a Certified Angus Beef Brand Cattlemans' Premium Collection delivered right to your door to enjoy at home with your friends and family for the holidays (or to keep to yourself – your choice).  What is better than getting food delivered to your door, you ask?  Getting delicious cuts of BEEF delivered to your – that's what!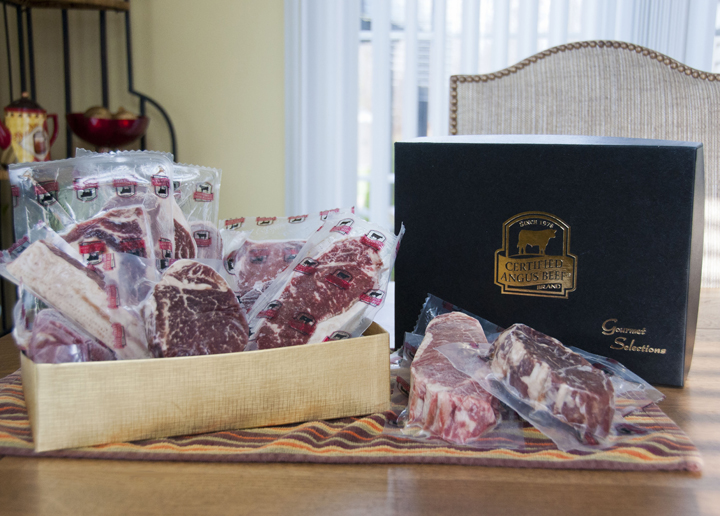 I told you all about it in this post, but at the end of October I had the opportunity to attend a food blogger trip to Wooster, Ohio hosted by Certified Angus Beef.  It was an absolute blast!  I learned so much about how to cook the perfect roast and had the chance to hang out with awesome people, whom I now consider friends.
We had amazing chefs prepare a couple of great meals for us and then we got the chance to test our skills and work with them in the kitchen creating holiday recipes.  It was an unforgettable experience and I ate better than I ever have before.  Certified Angus Beef is the very best Angus beef available as the brand relies on 10 strict quality specifications and generous marbling to deliver incredibly flavorful, tender and juicy beef.
This strip roast (also called top loin) that I made in Ohio was the best tasting roast I have ever made. OK, this Slow Cooker Beef Tips and Gravy is a close second.
It will look so elegant on your holiday table this year!  You don't even need work incredibly hard to have this beautifully presented roast to serve to your guests.  Of course, this roast can also be served to that very lucky family of yours on just an ordinary night.  It is perfect for any occasion.
This is what I will cook when I want to pull out all the stops and impress people. It really is very easy but tastes like something you would receive at a 5-star restaurant.  As I learned in Ohio, as long as you get the time and temperature right with your roast you really can't go wrong!
I roasted it to a perfect medium-rare and that crunchy brown exterior from the rub gave it great flavor and protected the roast by locking in the juices.  I think strip roast is now my new favorite roast – it really hits the spot in texture and flavor.

The extremely generous people at Certified Angus Beef provided me with this Certified Angus Beef Brand Cattlemans' Premium Collection (includes four 12-ounce strip steaks, four 8-ounce filet mignons, and four 10-ounce rib eyes (retails for $167.95!!) to help celebrate #roastingseason and the upcoming holidays. 
They even went above and beyond and are also providing the same package for me to give away to you!  Scroll on down for your chance to win and to see how easy it is to enter.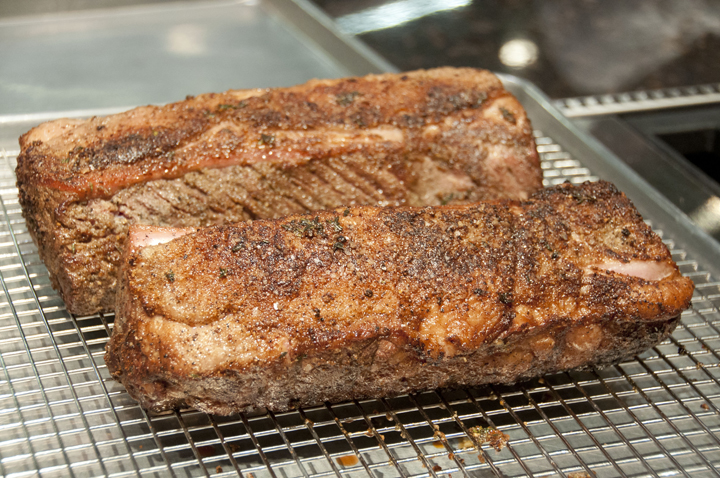 Holiday Strip Roast with Garlic-Herb Crust and GIVEAWAY!
Prep time:
Cook time:
Total time:
Serves:
about 12 servings
Make this year's holiday feast an effortlessly elegant event with this tender, juicy strip roast recipe rubbed with garlic and fresh thyme.
Ingredients
1 (6 pound) strip loin roast, split in half lengthwise (makes 2 (3 lb) roasts)
¼ cup butter
Rub:
3 tbsp fresh thyme
3 tbsp kosher salt
5 tbsp pepper
3 tbsp garlic powder
3 tbsp onion powder
Instructions
Rub roast with olive oil. Cover roast on all sides with the rub (or other rub of your choice).
Brown butter in skillet on medium heat.
When it starts steaming, add roast (one at a time if you are cooking both), fat side down. The pan should sizzle when adding the roast or it's not hot enough and will steam the roast, causing toughness.
Brown roast on every side, including ends. Use tongs to turn it. Brown until you get a nice brown "crust", about 3-4 minutes on each side.
Roast on a rack in a shallow roasting pan for 30 minutes on 400 degrees, fat side up. Cover with foil part of time if tenderloin begins to get too dark. Check temperature with a meat thermometer for desired doneness.
Remove from oven, loosely tent with foil, and allow to rest 15 minutes before slicing. Cut crosswise into ⅓-inch-thick slices. Arrange slices on platter.

Disclaimer: This giveaway product is being provided by Certified Angus Beef ®. All opinions are 100% my own.