Jalapeño Cheeseburger Party Buns
Jalapeño Cheeseburger Party Buns recipe, also known as "sliders", is a mouth-watering way to feed a crowd quickly and easily with seasoned beef, gooey cheese, and a sweet glaze!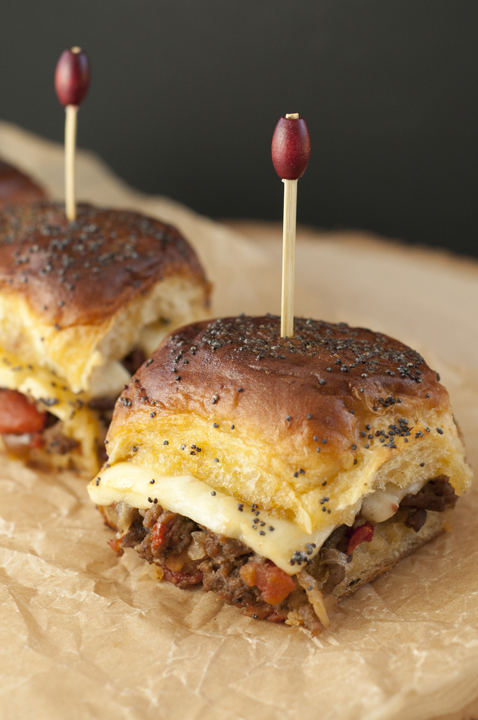 I do believe not a single holiday goes by where King's Hawaiian rolls do not make an appearance.  It doesn't matter what we are eating, what cuisine, what time of the year. You can always find these Jalapeño Cheeseburger Party Buns and baskets of King's Hawaiian rolls gracing the dinner table with their presence.
It's funny how traditions die hard like that, isn't it?  They are just so convenient when all you have to do is remove the plastic bag and heat them up right in the oven on their oven-safe tray.  We are all creatures of habit, whether we like to admit it or not (I hate change so I'm the first to admit it).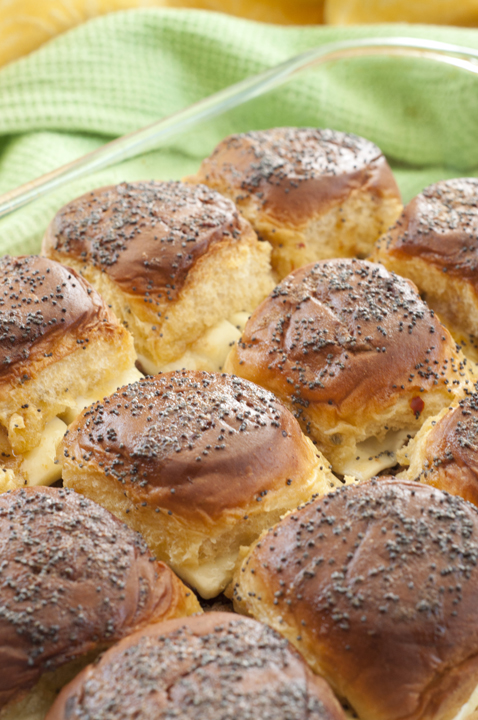 When I found out that they were introducing a spicy twist on everyone's all-time favorite dinner roll I got super excited.  I am known in my family to have a deep love for spicy food.  I drown everything I can with either hot sauce or crushed red pepper…and when I say drown, I mean DROWN.  I like a LOT of flavor, what can I say?
I will happily eat all of the jalapeños left behind on that big plate of nachos that I'm sharing with people who can't handle the heat.  So, needless to say, the new King's Hawaiian Jalapeño Rolls needed to be in my kitchen ASAP.  These rolls are actually sweet AND spicy – the best of both worlds.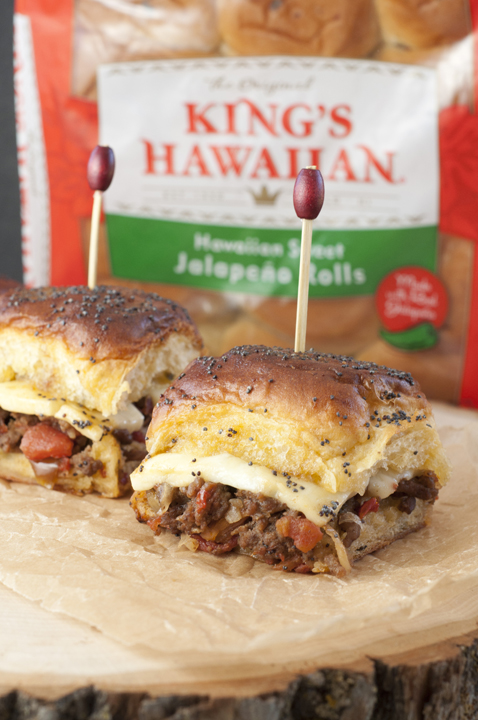 Guess what? King's Hawaiian is a family-owned business that has committed over 60 years ago to making wonderful, original Hawaiian foods recipes made with Aloha Spirit for three generations now.  You knew I couldn't leave you without a little educational information, right?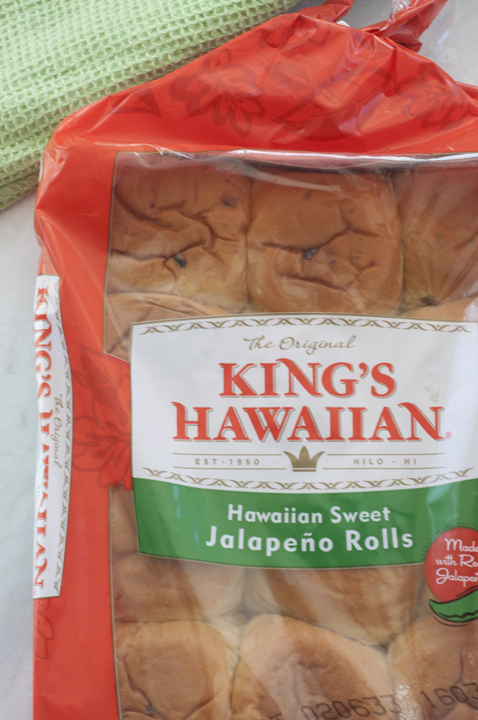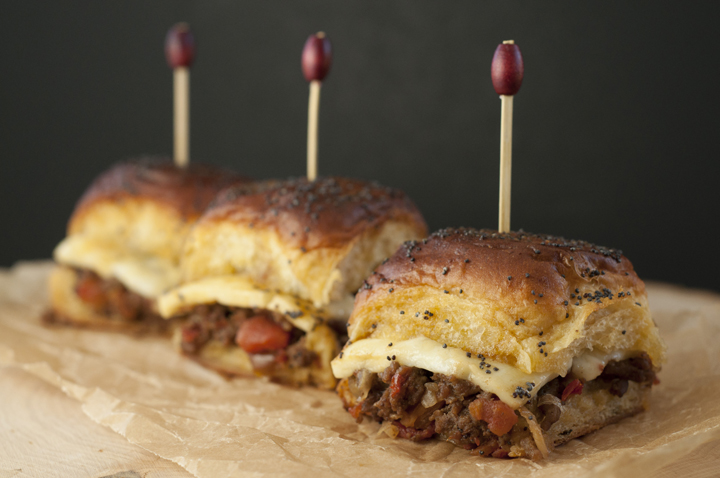 I decided to use my goodies to make Jalapeño Cheeseburger Party Buns AKA "sliders".  I played around with a few ideas in my head and thought there is just something so fun about making and eating miniature burgers. 
To bring them to the next level, I added some delicious flavors to the ground beef and the perfect amount of spiciness with the King's Hawaiian Jalapeño rolls.  These party buns had the most amazing aroma as they baked!  They are the absolute best appetizer to serve at a party and can absolutely be the main course for a dinner with family and friends. 
Want to make your life easier when entertaining or just an easy weeknight meal?  This is the recipe for you.  I also thought about how perfect these would be all year 'round when you're craving cheeseburgers and it's just not quite grilling-out weather (shout out to upstate NY the majority of the year!) 
Whatever you do, do NOT skip the sweet glaze on these sliders.  The sweet and savory together is what really makes these stand out.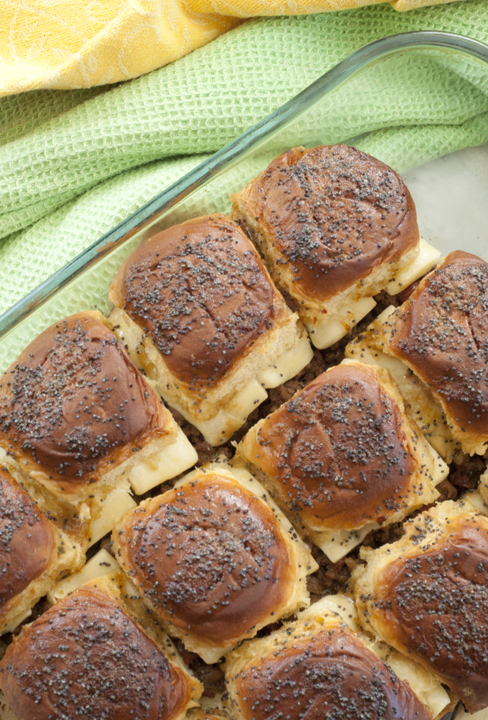 So here is something super fun and it takes less than a minute to do:  you can create your own custom video/commercial with your own photo showing who would eat all the King's Hawaiian rolls in YOUR house using the King's Hawaiian Jalapeno Video App.  I actually made my own because all the cool kids are doing it.  Make sure you share yours with me if you do end up making one of your own!
Enjoy these Jalapeño Cheeseburger Party Buns! I know you will. If you're a huge burger lover, but sure to try out my Cheeseburger Biscuit Bites, as well!
Jalapeño Cheeseburger Party Buns
Recipe type:
Appetizer, Main Course
Prep time:
Cook time:
Total time:
Jalapeño Cheeseburger Party Buns recipe, also known as "sliders", is a mouth-watering way to feed a crowd quickly and easily!
Ingredients
1 pound ground beef
½ tsp salt
1 tsp pepper
1 teaspoon cumin
1 teaspoon paprika
1 package dry onion soup mix
2 cloves garlic, minced
1 (10-oz) can Ro-Tel Diced Tomatoes and Green Chilies, drained
2 tbsp BBQ sauce
1 tsp apple cider vinegar
Glaze:
½ cup (8 tablespoons) butter
1 tbsp mustard
1 tbsp Worcestershire sauce
2 tbsp brown sugar, packed
2 tsp poppy seeds
12 slices cheddar or American cheese
12 dinner rolls (I used King's Hawaiian Jalapeño rolls)
Instructions
Preheat oven to 350 degrees F.
Spray a 9x13 glass baking dish with non-stick cooking spray.
On the stove top, heat a large skillet over medium-high heat. When the pan is hot enough, add the ground beef and season with salt, pepper, cumin, paprika, and the dry onion soup mix.
Add the minced garlic, stir and continue stirring occasionally until beef is no longer pink.
Stir in the drained tomatoes/chilies, BBQ sauce and apple cider vinegar until fully incorporated. Cook for just a couple of more minutes and remove from heat. Drain any excess liquid.
Place bottom halves of buns (after you separate them, but put them close together) in your prepared 9x13 pan. There will be extra room on the edges of the pan - that's OK. Bake these for 5 minutes or so to keep them from getting soggy after adding the topping (optional).
Top with beef mixture and then with the sliced cheese. Place the top halves of the buns over all to form the burgers.
Glaze:
Mix all of the ingredients for the glaze (butter, mustard, Worcestershire, brown sugar, poppy seeds) in a medium sauce pan over medium heat until butter is melted and ingredients are fully combined.
Pour the glaze carefully and evenly over the buns before baking.
Bake at 350 degrees for 20-25 minutes (check at 20 to make sure the tops aren't getting too done but you want the cheese to be fully melted). Enjoy!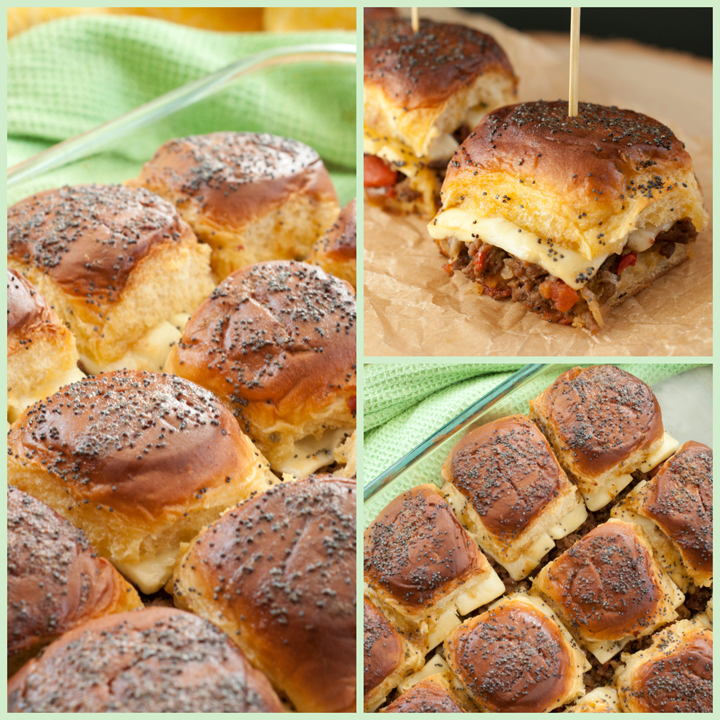 Recipe source:  I thought of the original idea for these cheeseburger sliders, but found others had made various versions of it.  Heavily adapted from Kevinandamanda.com.
This is a sponsored conversation written by me on behalf of King's Hawaiian. The opinions and text are all mine.