Filet Mignon with Truffled Mushroom Ragout
Filet Mignon with Truffled Mushroom Ragout is incredibly delicious, easy to make and completely worthy of a fancy special occasion dinner!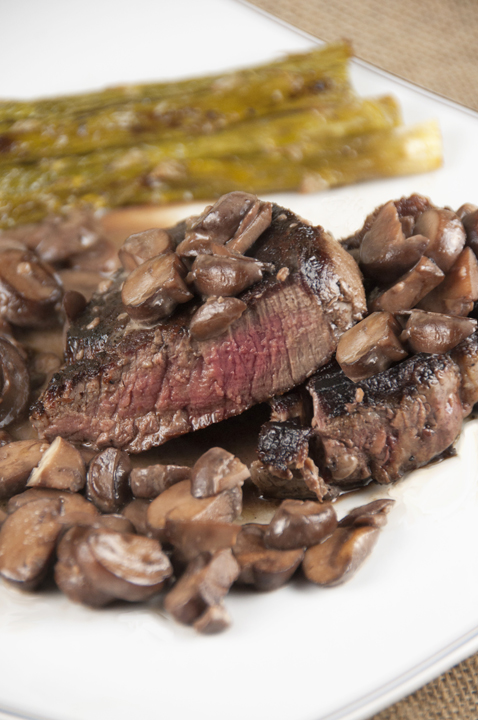 Unless you're new around these parts, you know that I was invited on a special trip by Certified Angus Beef back in October to work in their culinary center with their chefs creating delicious beef recipes (this Holiday Steak Bruschetta and this Strip Roast with Garlic-Herb Crust).  I ate better in those few days than I have ever eaten before, but it wasn't over once I went home.  The nice people at Certified Angus Beef sent me a gift box of frozen steaks that I could experiment with and cook with at home.  This was the dish I decided to whip up using the filets they so graciously sent me.  I hope I made them proud.  My beef cooking confidence is slowly increasing thanks to them.
I branched out in trying something outside of my comfort zone and it was absolutely HEAVENLY. The meat was tender and the sauce was rich, creamy and decadent.  Honestly, I have to say that truffle salt is my new favorite seasoning and adds so much to this dish (and every other food I add it to).  Mr. Wishes put it in my stocking for Christmas and it seriously changed my cooking life forever.  Once you go truffle salt you ain't never going back.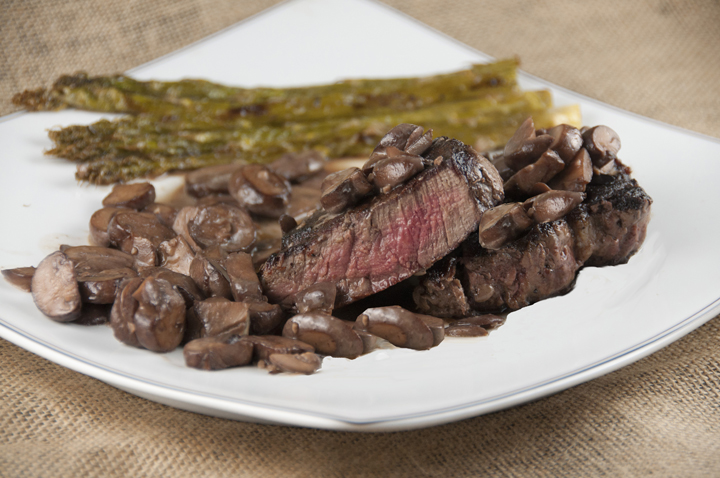 My timing in posting this filet mignon was actually well thought through (not one of my usual random postings) because I thought this would be perfect for a fancy Valentine's day dinner for those who choose to stay in for the night.  This was truly an elegant and delicious meal- the whole family will enjoy it, but I think it's best as a special date night dinner.
In case you are confused about the word "ragoût", it is actually just a thick, hearty stew with vegetables and well-seasoned meat and is of French origin; a similar version known as "ragù" is also made in Italy.  Normally the meat or fish is browned in oil before adding the stock and vegetables.  I really liked this ragout and could see it being used as a gravy for the holidays, instead of actual gravy, as well as many other uses.  It could even be served on it's own as a side dish, as the base for a risotto, or a sauce for pasta.
I served this filet mignon with a side of wild rice and roasted asparagus.  Yum!
Filet Mignon with Truffled Mushroom Ragout
Prep time:
Cook time:
Total time:
Filet Mignon with Truffled Mushroom Ragout is incredibly delicious, easy to make and completely worthy of a fancy special occasion dinner!
Ingredients
3 tablespoons butter
2 garlic cloves, chopped
½ teaspoon dried marjoram
½ teaspoon dried thyme
12 ounces crimini or button mushrooms, quartered
⅓ cup beef broth
⅓ cup dry red wine
3 tablespoons heavy whipping cream
1½ teaspoons peanut oil
2 1-inch-thick filet mignons (about 6 ounces each - preferably Certified Angus Beef)
½ teaspoon extra virgin olive oil
truffle salt, to taste
freshly ground black pepper, to taste
Instructions
Melt butter in large skillet over medium heat. Add chopped garlic, thyme and marjoram; sauté 30 seconds. Add mushrooms; toss to coat with butter. Sprinkle with truffle salt. Cover and cook until mushrooms have released their juices, about 12-13 minutes. Add beef broth, wine, and heavy cream and bring to boil. Cook uncovered until mushrooms are tender and sauce coats mushrooms, about 5 minutes. Season mushroom ragout to taste with truffle salt and pepper. (Ragout can be made 3 hours ahead. Cover skillet and refrigerate.)
Heat heavy medium skillet over high heat until hot. Add peanut oil and tilt skillet to coat evenly. Sprinkle steaks with truffle salt and pepper. Add to skillet and cook to desired doneness, about 4 minutes per side for medium-rare (have a good meat thermometer handy so you cook it exactly to your liking. I linked to the one I use). Transfer steaks to plates. Rewarm mushroom ragout in skillet over medium heat, stirring frequently. Spoon ragout partially over steaks and onto plates. Drizzle mushrooms on each plate with ¼ teaspoon olive oil.
 Recipe source: adapted from epicurious.com