Holiday Strip Roast with Garlic-Herb Crust and GIVEAWAY!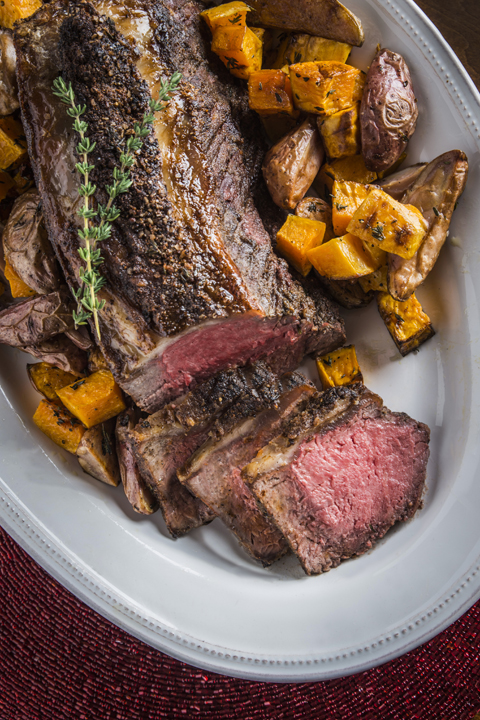 Serves:
about 12 servings
1 (6 pound) strip loin roast, split in half lengthwise (makes 2 (3 lb) roasts)
¼ cup butter
3 tbsp fresh thyme
3 tbsp kosher salt
5 tbsp pepper
3 tbsp garlic powder
3 tbsp onion powder
Rub roast with olive oil. Cover roast on all sides with the rub (or other rub of your choice).
Brown butter in skillet on medium heat.
When it starts steaming, add roast (one at a time if you are cooking both), fat side down. The pan should sizzle when adding the roast or it's not hot enough and will steam the roast, causing toughness.
Brown roast on every side, including ends. Use tongs to turn it. Brown until you get a nice brown "crust", about 3-4 minutes on each side.
Roast on a rack in a shallow roasting pan for 30 minutes on 400 degrees, fat side up. Cover with foil part of time if tenderloin begins to get too dark. Check temperature with a meat thermometer for desired doneness.
Remove from oven, loosely tent with foil, and allow to rest 15 minutes before slicing. Cut crosswise into ⅓-inch-thick slices. Arrange slices on platter.
Recipe by
Wishes and Dishes
at https://wishesndishes.com/holiday-split-strip-roast/