Ground Turkey Stroganoff
Ground Turkey Stroganoff recipe that is very fast and simple to make with an easy homemade sauce instead of using cream of mushroom soup!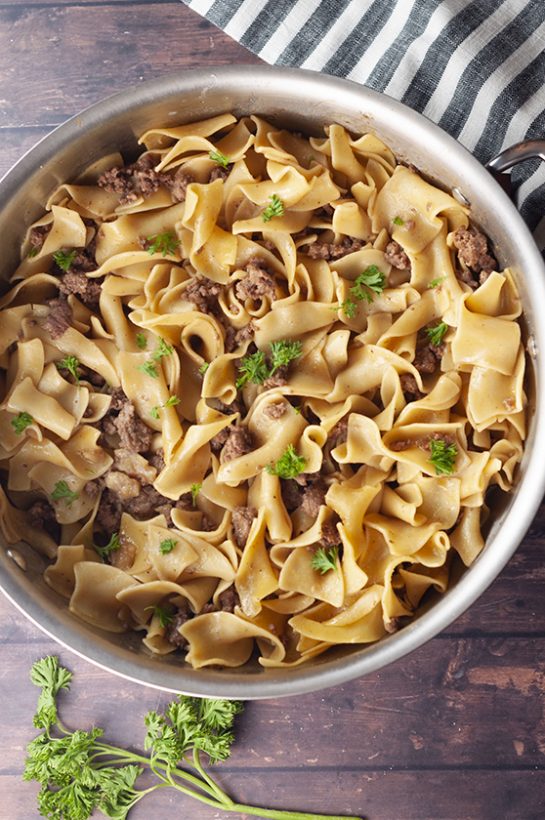 I grew up eating and loving all stroganoff recipes. There is something about the creamy sauce mixed with the egg noodles that makes for some of the best comfort food ever. I lightened up my favorite dish a bit by using turkey instead of beef in this ground turkey stroganoff.
I will be the first to admit that I am the biggest trash talker of ground turkey as a substitute for ground beef. In fact… in 99% of cases I find things like turkey burgers utterly disgusting. BUT there is a time and a place. The place for ground turkey is in this delicious pasta dish. If turkey is covered in a creamy sauce, count me in.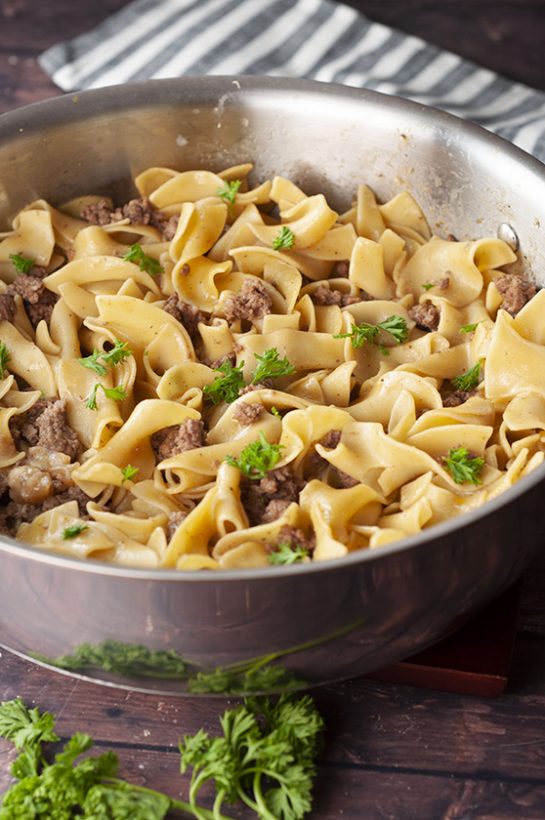 I think I must have more pasta skillet recipes on this blog than any other type of food. Any dinner recipes that takes 30 minutes or less are permanently in my dinner rotation because "ain't nobody got time for" high maintenance meals during the week, right? This meal has it all.
This ground turkey stroganoff really is a great meal  is great weeknight meal. Instead of the traditional beef strips or ground beef, this stroganoff recipe is made with ground turkey making it a lot lighter and healthier. This meal is also super kid-friendly because the gravy is full of flavor. And what kid doesn't like noodles? Eliza is known to suck the flavor off any pasta dish and spit the pasta out. She is getting better with not doing that, though!
Try this ground turkey stroganoff soon and watch how it quickly becomes a family favorite for a weeknight dinner.
Here are some of my other favorite easy one pot pasta dinners:
Creamy Spinach Sausage Pasta – pasta and seasoned Italian sausage tossed in a simple, light cream sauce making it the perfect weeknight meal!
One Pot Hamburger Stroganoff recipe is an easy weeknight meal with ground beef and pasta that is on the table in less than 30 minutes!
One Pot Creamy Jalapeño Popper Pasta – this dish is heavy in a good way, hearty and SO creamy!
20 Minute One Pot Pasta with fresh Tomatoes and Basil – this is super fresh and light for warmer weather, making it perfect for spring and summer!
Authentic Italian Pasta Carbonara – this is the REAL way to make spaghetti carbonara the way they serve it in Italy – it's super creamy without the cream!
One Pot Chili Mac and Cheese – I love this comfort meal all year 'round! It is super kid-friendly!
This Lemon Arugula Pasta looks delicious from my friend Melanie

Ground Turkey Stroganoff
Prep time:
Cook time:
Total time:
Ground Turkey Stroganoff recipe that is very fast and simple to make with an easy homemade sauce instead of using cream of mushroom soup!
Ingredients
8 ounces wide egg noodles, uncooked
Cooking spray
1 pound ground turkey
8 ounces mushrooms, sliced
½ cup chopped onion
2 garlic cloves, minced
1 (12 ounce) jar beef gravy
½ cup sour cream
2 tablespoons red cooking wine
¼ teaspoon salt
¼ teaspoon pepper
Instructions
Cook egg noodles according to the directions on the package.
While the noodles are cooking, set large skillet over medium heat and spray generously with cooking spray.
Add turkey, mushrooms, onion, and garlic to the skillet and allow to cook until meat is no longer pink, breaking up the meat as it cooks.
Add gravy, sour cream, red cooking wine, salt, and pepper to the skillet. Cook over medium-high heat for 5 minutes, or until thickened, stirring occasionally. Turn off heat and let stand 2-3 minutes.
Serve warm!