One Pot Hamburger Stroganoff
One Pot Hamburger Stroganoff recipe is an easy weeknight meal with ground beef and pasta that is on the table in less than 30 minutes!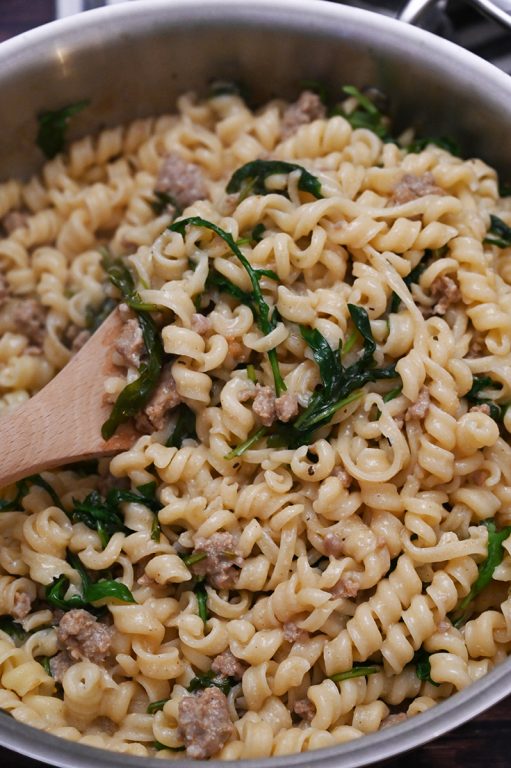 I am still thinking about this Creamy One Pot Hamburger Stroganoff I made a few weeks ago and needed to share it with you. It is one of those meals I make very often on the nights I have no idea what to make. I actually have a Pinterest board called "no idea what to make for dinner".
All of the recipes in that board are meals that basically include pasta, one veggie (usually spinach or peas), and ground meat. Those are 3 things I pretty much always have in my fridge or freezer, which is why I make my One Pan Cheesy Tortellini Skillet so often.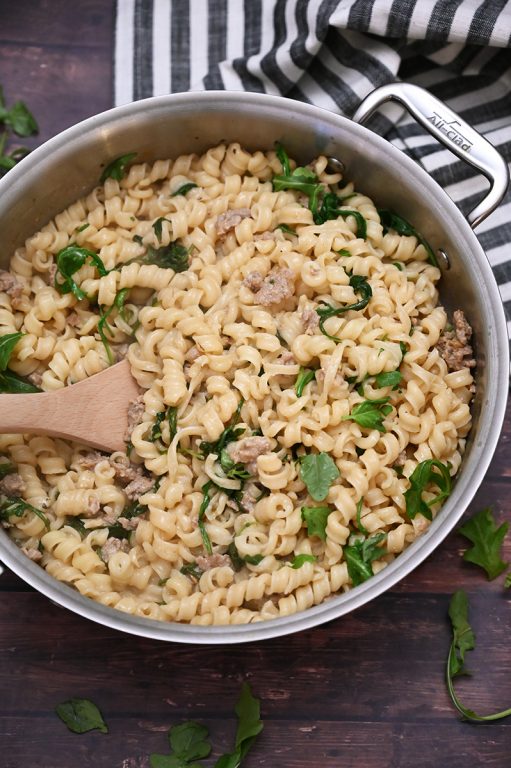 My baby is 11 months now you guys. Eleven months old! Can you believe it? We are already planning her first birthday party and are just completely blown away. This girl deserves a big bash for her first birthday party and a big bash is what she's going to get! We tell her this is the last month that she hasn't been alive for (April). Every parent has told me this is true, but time really does fly.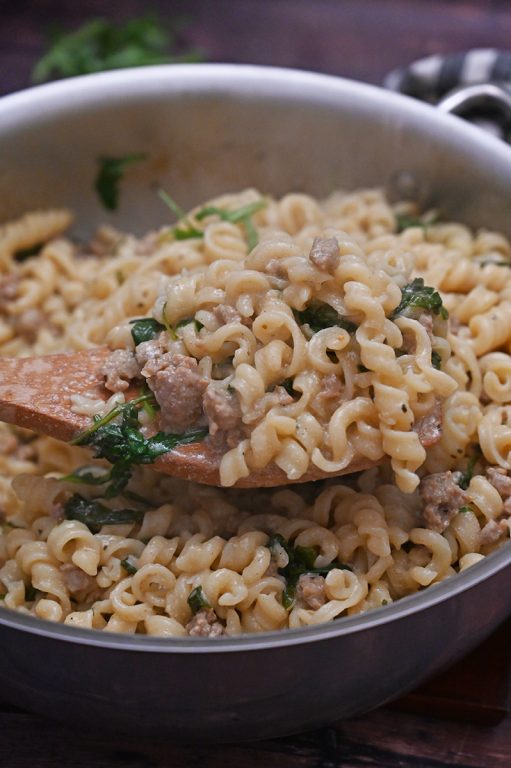 It is fun to see her grow and change. She now eats whatever we eat for dinner, along with some "baby" snacks. She also loves my Ground Turkey Stroganoff. We find it funny that no matter what we are eating, she wants to partake. I learned that early on to just give her whatever we are eating and I have better luck getting her to eat!
She loved this One Pot Hamburger Stroganoff (she is a carb girl through and through) and I highly recommend you try it soon. Easy weeknight meals are a life-changer for busy parents!
You should try some of my other favorite one pot pasta dinners:
One Pot Creamy Jalapeño Popper Pasta – this dish is heavy in a good way, hearty and SO creamy!
20 Minute One Pot Pasta with fresh Tomatoes and Basil – this is super fresh and light for warmer weather, making it perfect for spring and summer!
Authentic Italian Pasta Carbonara – this is the REAL way to make spaghetti carbonara the way they serve it in Italy – it's super creamy without the cream!
One Pot Chili Mac and Cheese – I love this comfort meal all year 'round! It is very kid-friendly!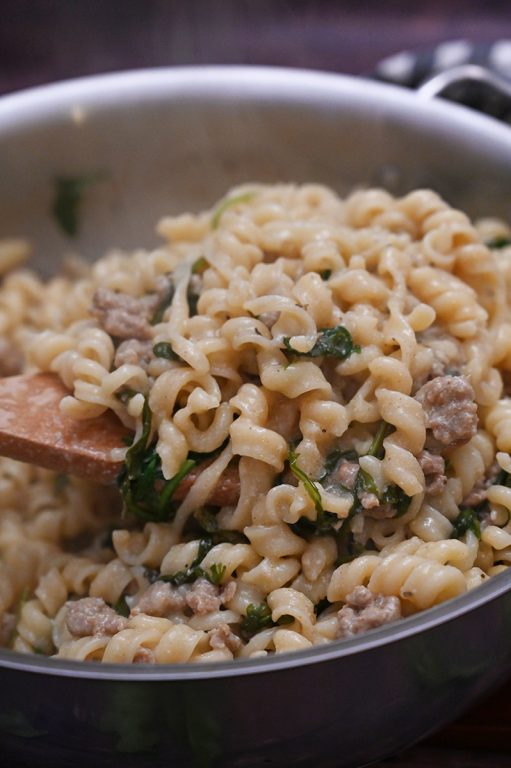 One Pot Hamburger Stroganoff
Prep time:
Cook time:
Total time:
One Pot Hamburger Stroganoff recipe is an easy weeknight meal with ground beef and pasta that is on the table in less than 30 minutes!
Ingredients
8 ounces sliced mushrooms
1 small onion, chopped
2 tablespoons butter
1 tablespoon olive oil
1 pound ground beef
3 cloves garlic, minced
2 tablespoons all purpose flour
3 cups beef stock
3 cups (150g) uncooked egg noodles
1 tablespoon Worcestershire sauce
1 teaspoon beef bouillon
1 teaspoon dried parsley
¾ cup sour cream (OR Greek Yogurt)
¼ tsp salt
⅛ tsp pepper
2 cups spinach or broccoli or arugula (I like to switch it up)
Instructions
In a large skillet over medium heat cook the mushrooms and onion with the butter and olive oil until mushrooms are lightly browned.
Add the ground beef and garlic and cook until beef is no longer pink.
Add the flour and stir to coat.
Add the broth, uncooked noodles, vegetable of choice, Worcestershire, beef bullion, and parsley. Cover and simmer for 10 minutes or until pasta and vegetables are tender, stirring occasionally to prevent sticking.
Remove from heat and stir in sour cream OR Greek yogurt.
Season with salt and pepper.

Recipe source: adapted from countrysidecravings.com