Creamy Spinach Sausage Pasta
Creamy Spinach Sausage Pasta is an easy pasta dish recipe (30 minutes start to finish): pasta and seasoned Italian sausage tossed in a simple, light cream sauce making it the perfect weeknight meal!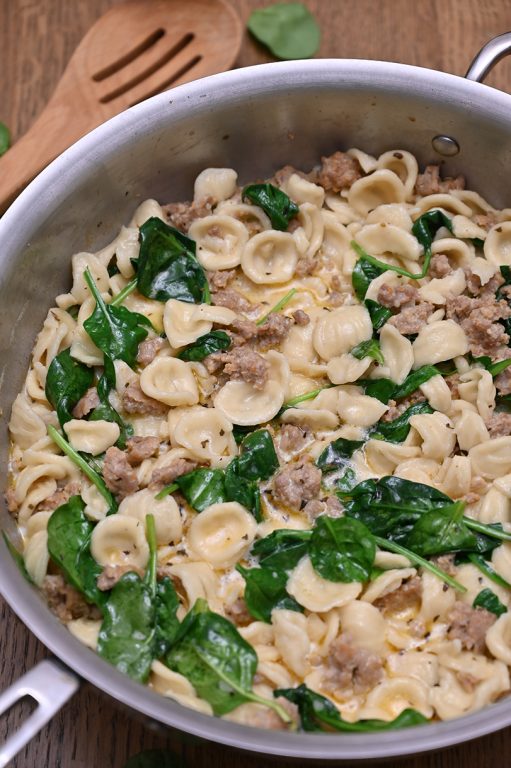 I made this Creamy Spinach Sausage Pasta more than any other pasta dish on my blog. As long as I have a box of pasta, some sausage, and a green veggie I am good to go. Most of the ingredients are items that I regularly stock in my pantry. This makes it one of those last minute, throw it together, busy weeknight meals that I can't get enough of!
I hope you are enjoying your month of may and have some beautiful spring weather in your neck of the woods! Our baby is turning ONE on Memorial Day and I am still trying to wrap my head around that fact! How is she one already?! Time flies when you're having fun.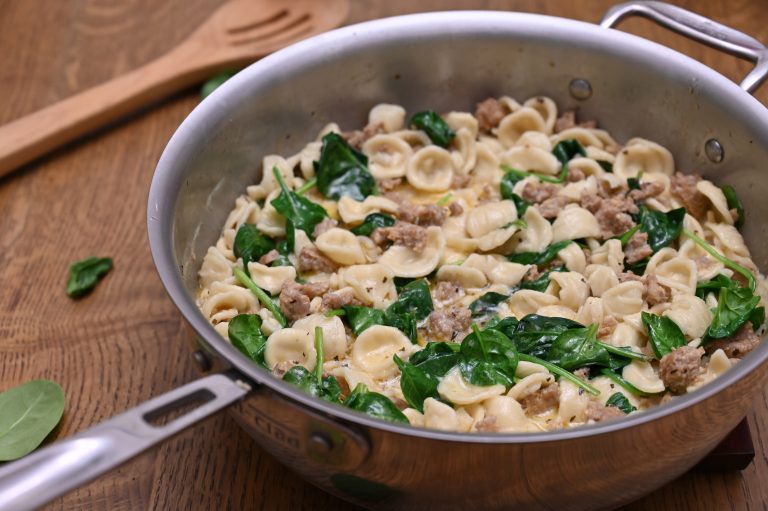 Mr. Wishes and I also celebrated our 10th wedding anniversary on the 16th of this month. How has ten years of marriage gone by? We celebrated with a really nice dinner Friday night while my mother-in-law watched Eliza.
It was so nice to get out and having some adult conversation and not worry about Eliza grabbing everything in sight while she's at the table. As cute as that is, it's not very relaxing. Haha. It was weird not having to share my food for once!
My good real-life friend Rebecca from Foodie with Family posted this tasty pasta dish on her blog years ago and I knew right away that I had to make it because the photos made me drool. Do you ever see a photo of food on Instagram and know right away that you have to make it? As in THAT very same night? That is exactly what happened with I saw this one from Rebecca.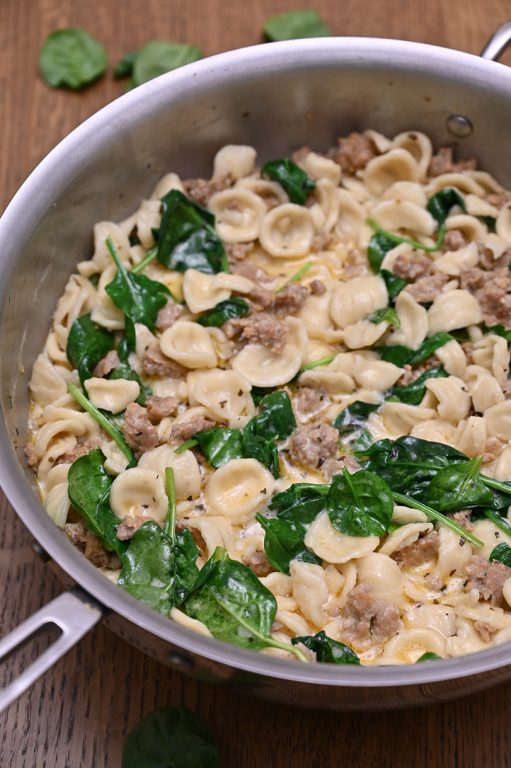 I met Rebecca back in Miami in 2012 (I could be wrong on the year). She actually lives less than an hour away from me but it took a trip to Miami to finally meet her in person. She is an amazing cook, photographer, and someone who makes me laugh non-stop when I'm around her. I make her recipes a lot (try her pretzel bread loaf if you are a pretzel fan) and have never been disappointed.
I have made this Creamy Spinach Sausage Pasta with turkey sausage a few times and it has turned out delicious. If you do use turkey sausage, I recommend seasoning it really well to give it that extra boost of flavor. Pork sausage has so much savory flavor already built into it and also emits a lot of flavor into the sauce as it cooks.
I love using turkey sausage to make this Creamy Spinach Sausage Pasta healthier and it has never turned out bland! I made a few changes to this dish over the years to tweak it a bit to my liking, but it honestly is amazing just the way Rebecca makes it. When I'm craving pasta and don't want a heavy cream sauce or a red sauce, this is my absolute favorite dinner to cook up.
You will want to make this over and over again!
You should try some of my other favorite easy one pot pasta dinners:
One Pot Hamburger Stroganoff recipe is an easy weeknight meal with ground beef and pasta that is on the table in less than 30 minutes!
One Pot Creamy Jalapeño Popper Pasta – this dish is heavy in a good way, hearty and SO creamy!
20 Minute One Pot Pasta with fresh Tomatoes and Basil – this is super fresh and light for warmer weather, making it perfect for spring and summer!
Authentic Italian Pasta Carbonara – this is the REAL way to make spaghetti carbonara the way they serve it in Italy – it's super creamy without the cream!
One Pot Chili Mac and Cheese – I love this comfort meal all year 'round! It is very kid-friendly!
This Lemon Arugula Pasta looks delicious from my friend Melanie

Creamy Spinach Sausage Pasta
Cuisine:
Italian, American
Creamy Spinach Sausage Pasta is an easy pasta dish recipe: pasta and seasoned Italian sausage tossed in a simple, light cream sauce making it the perfect weeknight meal!
Ingredients
1 pound ground Italian sausage
1 pound small-cut pasta
4 cloves garlic, minced
5 cups packed baby spinach leaves
½ cup chicken stock
½ cup heavy cream
½ cup freshly grated Parmesan cheese
6 large basil leaves, thinly sliced (can use dried basil in a pinch)
Instructions
Cook the pasta in a large pot of salted water to al dente (read directions on package).
When draining the pasta, reserve one cup of the pasta water. Set the reserved water inside.
In a largeskilletover medium/high heat, cook the Italian sausage until browned.
With a slotted spoon, transfer the browned sausage to a paper towel lined plate.
Drain the grease and return the pan to the heat.
Add the minced garlic to the pan and stir until fragrant, being careful not to burn.
Add chicken stock and bring to a boil, scraping the bottom of the pan to release browned bits that were stuck.
Add the heavy cream and return to a boil until the cream thickens a bit.
Return the sausage to the pan, add the spinach, grated cheese, and pasta. Mix all together.
Add the reserved pasta water.
Toss to evenly distribute, wilt the spinach, and melt the cheese. Mix in the basil and serve with extra grated cheese, if desired. Enjoy!