Fried Blooming Onion
Fried Blooming Onion cooked until golden and served with a homemade dipping sauce for the ultimate appetizer recipe. Grab a sweet onion and turn it into an incredible, delicious snack for game day!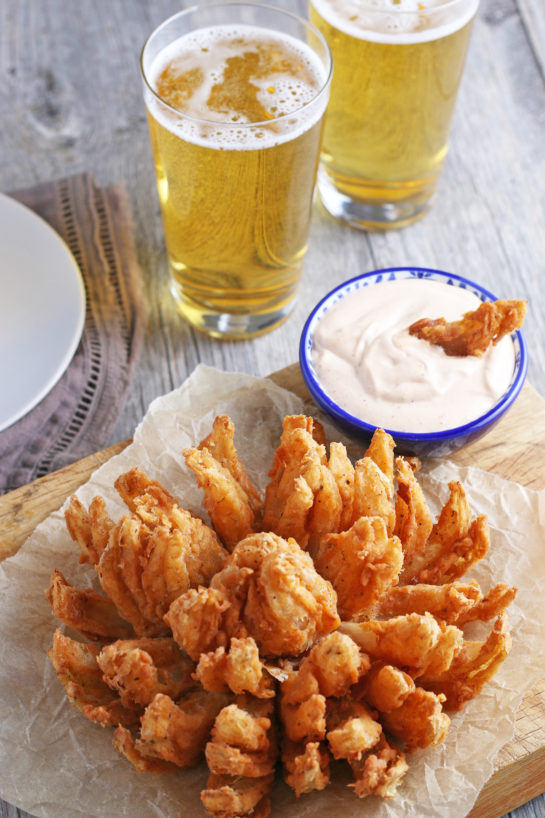 I think that fried blooming onion is my new love language. It's times like this that I wish I could eat my computer screen.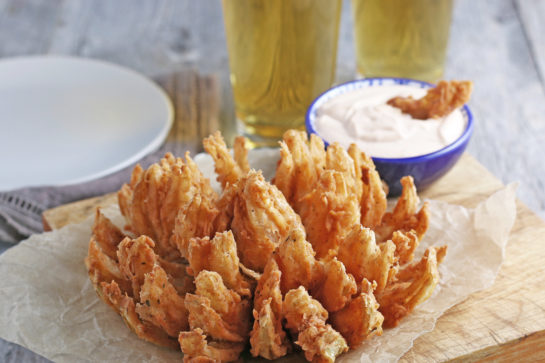 Like how am I possibly supposed to survive one more moment simply looking at them on screen? They must appear in our faces ASAP along with my Cheeseburger Biscuit Bites that I accidentally just stared at, as well.
Whenever a recipe calls for deep frying, it's really hard to go wrong. I fell in love with this blooming onion as soon as I ate it. I especially loved the dipping sauce. It would also be delicious with my Honey Mustard Dipping Sauce.
It's fall. Football started up again. Let's make some blooming onion goodness.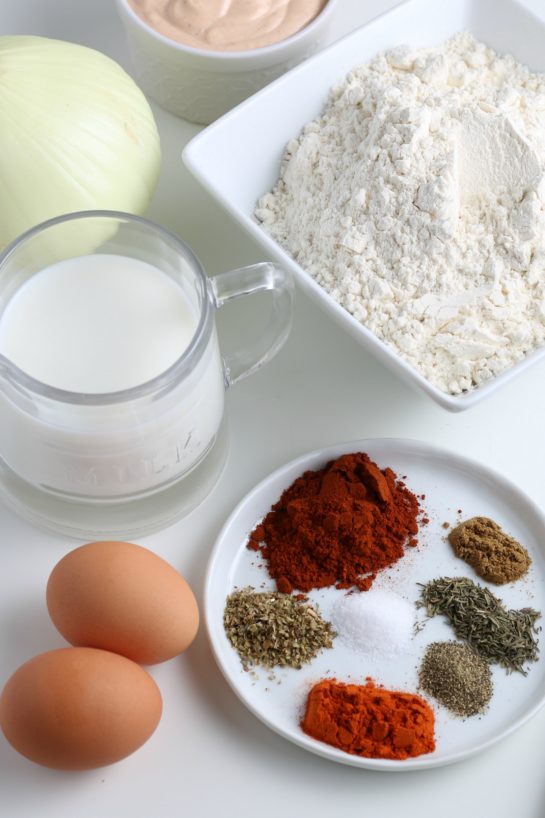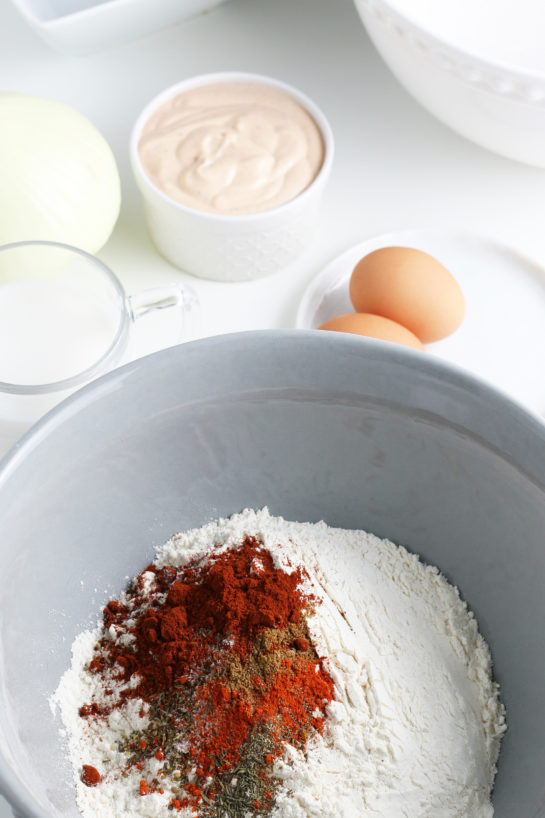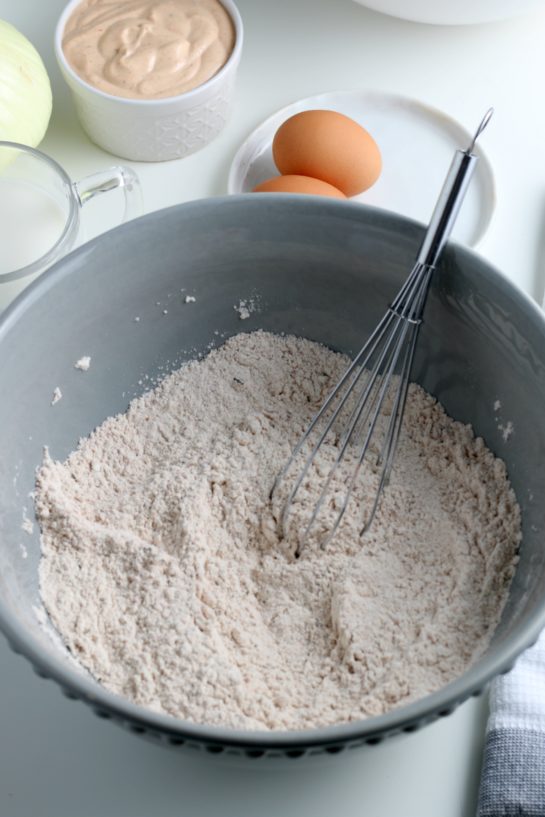 When I was a little kid, I was obsessed with ordering French onion soup for the bread and cheese alone but I wouldn't even touch the onions. Don't punch me, but I literally hated them. Now that I've grown up and matured a tiny bit in my old age, I can tolerate onions.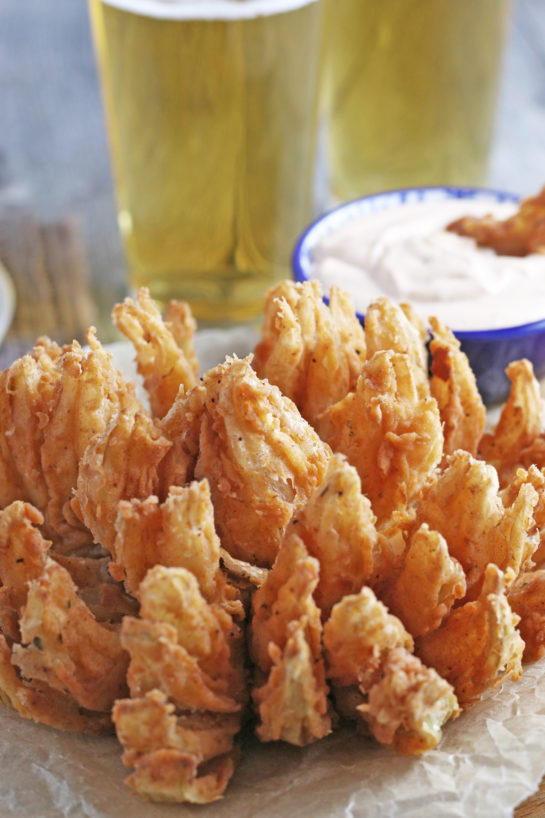 But in true millennial fashion, I'm just finding myself bored with food lately. I want something new, something fun, something different…like this blooming onion and Bacon Cheeseburger Dip. Don't judge me.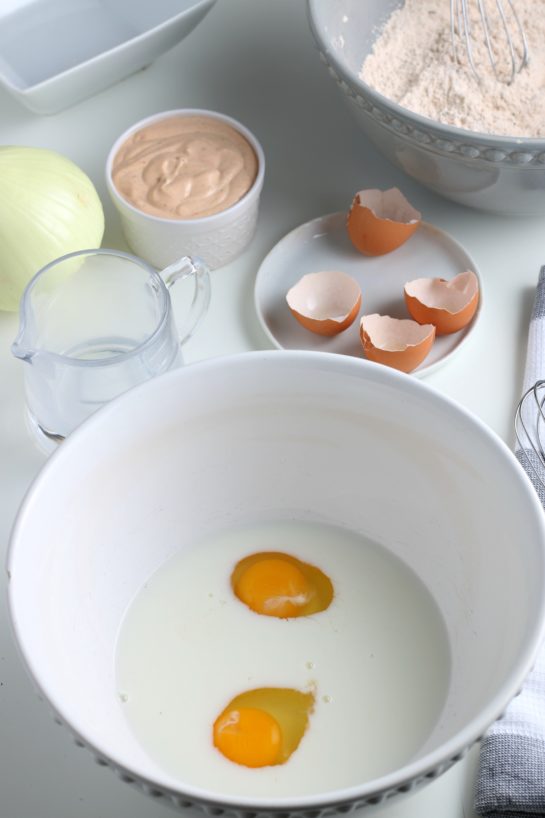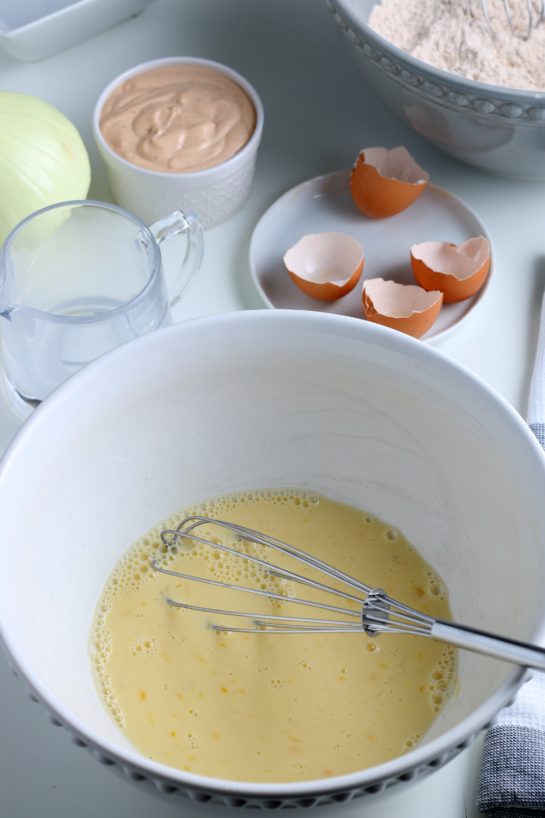 The flavor of this blooming onion and the experience eating it are similar to onion rings, but this bad boy cuts a whole onion into bite-sized, tear-apart pieces that fan out like a flower.
Did you know it's called a blooming onion because it's made to resemble a flower? Did I just blow your mind?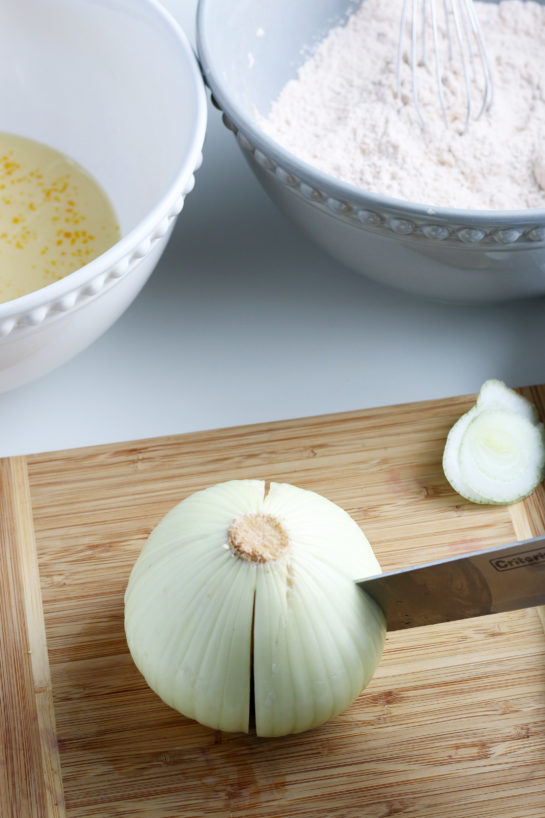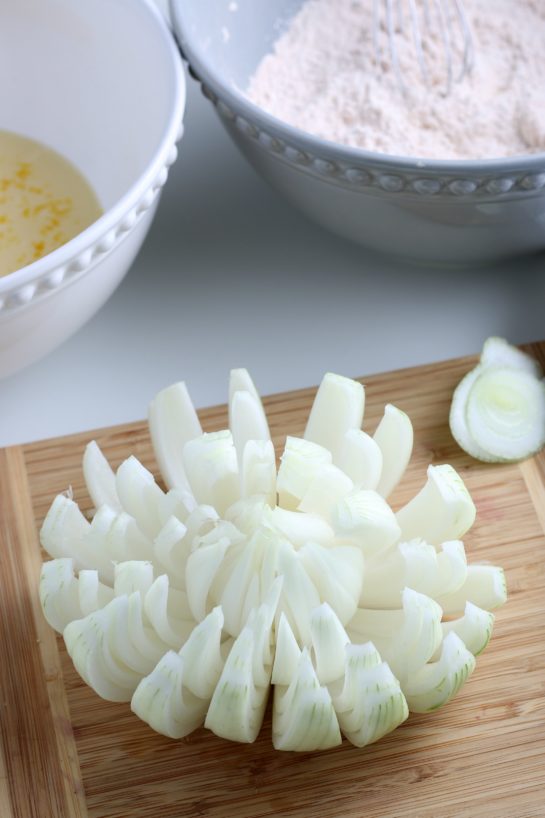 Sweet onions like Vidalias are best to use for this fried blooming onion. They are significantly less strong and pungent than other onions. Their sweet, mild flavor lends them to being used raw or being simply cooked on their own like in this recipe.
Not only is this blooming onion only the prettiest presentation EVER, but it tastes just like restaurant-quality flavors.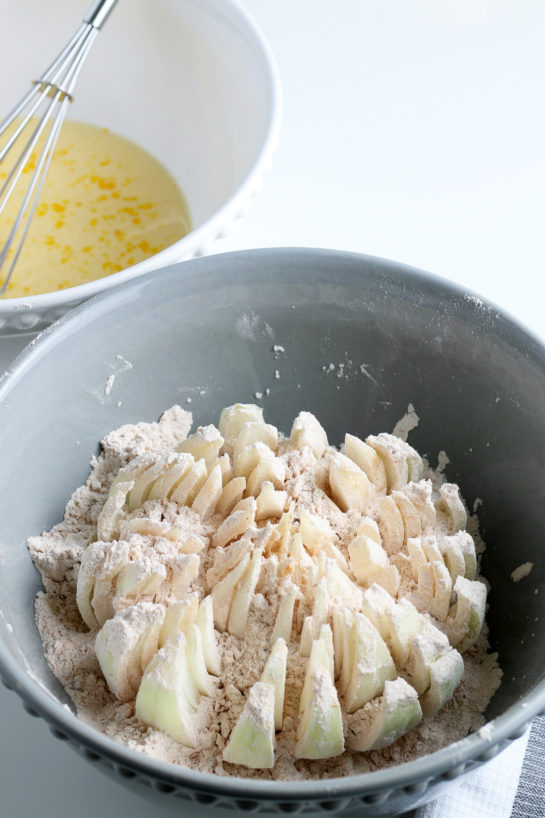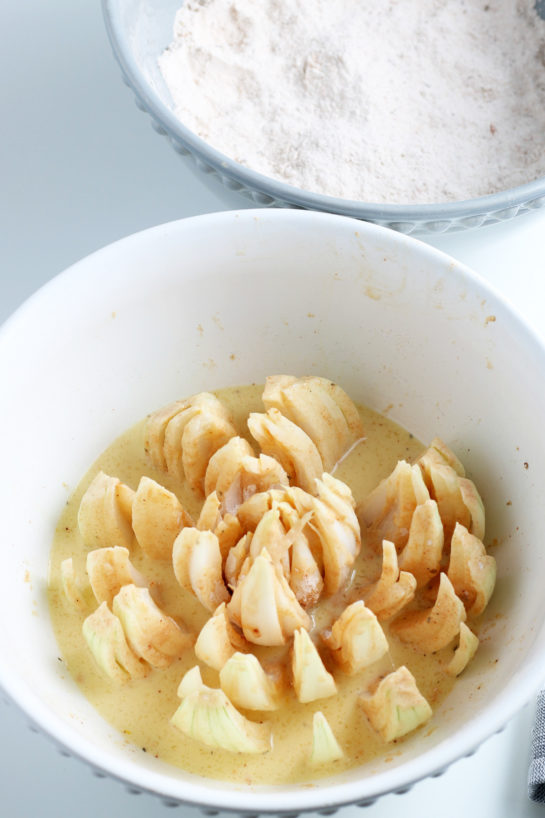 If you're looking to stay away from fried food, try this blooming onion in your air fryer! It's delicious that way, also!
Whatever way you choose to fry this up, there is zero reason not to make this. And maybe stand over the plate when it comes out of the fryer and eat it with a fork. Amazing. No other words.
Another party appetizer you should definitely serve this with is my Jalapeño Cheeseburger Party Buns.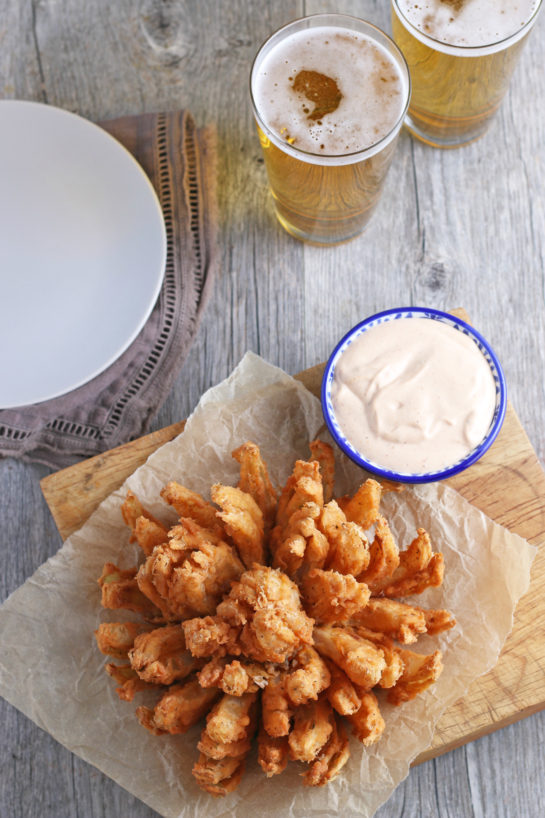 I want to live inside a blooming onion. The end.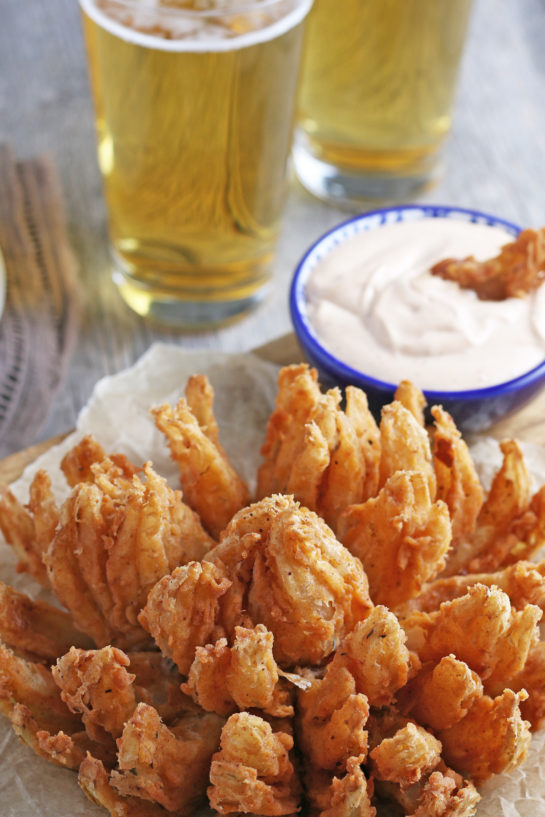 Fried Blooming Onion
Prep time:
Cook time:
Total time:
Fried Blooming Onion with a homemade dipping sauce is the ultimate appetizer recipe. Grab a sweet onion and turn it into a, incredible delicious snack!
Ingredients
For the Onion:
1 large sweet onion (preferably Vidalia)
2 ½ cups all-purpose flour
1 tablespoon paprika
¾ teaspoon cayenne pepper
½ teaspoon ground cumin
½ teaspoon dried thyme
½ teaspoon dried oregano
2 large eggs
1 cup whole milk
Salt and pepper to taste
Oil for frying
Sauce:
¼ cup mayonnaise
¼ cup sour cream
2 teaspoons ketchup
¼ teaspoon paprika
¼ teaspoon salt
¼ teaspoon garlic powder
⅛ teaspoon dried oregano
Black pepper, to taste
Cayenne pepper, to taste (optional)
Instructions
Combine all the sauce ingredients into a mixing bowl, then cover and place into the refrigerator.
Slice the onion to make it "bloom" (see below).
Start by cutting off about ½ inch from the top of the onion, then peel the outer skin from the onion
Place the onion cut-side down on a cutting board. Starting about ½ inch from the root, make a downward cut all the way through to the board.
Repeat to make four evenly spaced cuts around the onion.
Make 3 additional cuts between each section until you have 16 evenly spaced cuts.
Turn the onion over and set aside for 5 minutes to allow the petals to relax. Prior to breading use your fingers to gently separate the outer pieces.
Whisk the flour, paprika, cumin, thyme and oregano in a large bowl.
In a medium deep bowl, whisk the eggs, milk, and 1 cup water.
Place the onion in a clean bowl, cut-side up, and pour the flour mixture on top.
Using a large spoon to coat the onion with the flour mixture, especially between the onion petals. Turn the onion over and pat off the excess flour. Reserve the bowl of flour.
Transfer the onion into the egg mixture and coat evenly.
Remove onion and let the excess drip off, then transfer back into the reserved flour mixture and repeat the flouring process.
Place the onion into the refrigerator while you heat the oil up.
Using a large deep pot heat your cooking oil to 400 degrees (use thermometer if you can) Remove the onion from the refrigerator and shake any excess flour from the onion.
Using a wire skimmer lower the onion into the oil, cut-side down. Adjust your heat to maintain the oil temperature at 350 degrees.
Fry about 3-4 minutes, then turn the onion over and cook until golden, about 3-4 more minutes (may be done right at 3).
Remove onion using your wire skimmer and placed on paper towels to soak up excess oil.
Season with salt and pepper, serve with the dipping sauce.
Enjoy!