Fried Blooming Onion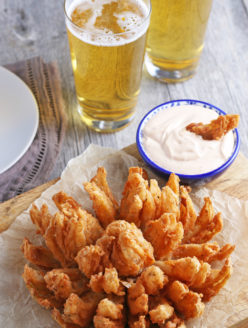 1 large sweet onion (preferably Vidalia)
2 ½ cups all-purpose flour
1 tablespoon paprika
¾ teaspoon cayenne pepper
½ teaspoon ground cumin
½ teaspoon dried thyme
½ teaspoon dried oregano
2 large eggs
1 cup whole milk
Salt and pepper to taste
Oil for frying
¼ cup mayonnaise
¼ cup sour cream
2 teaspoons ketchup
¼ teaspoon paprika
¼ teaspoon salt
¼ teaspoon garlic powder
⅛ teaspoon dried oregano
Black pepper, to taste
Cayenne pepper, to taste (optional)
Combine all the sauce ingredients into a mixing bowl, then cover and place into the refrigerator.
Slice the onion to make it "bloom" (see below).
Start by cutting off about ½ inch from the top of the onion, then peel the outer skin from the onion
Place the onion cut-side down on a cutting board. Starting about ½ inch from the root, make a downward cut all the way through to the board.
Repeat to make four evenly spaced cuts around the onion.
Make 3 additional cuts between each section until you have 16 evenly spaced cuts.
Turn the onion over and set aside for 5 minutes to allow the petals to relax. Prior to breading use your fingers to gently separate the outer pieces.
Whisk the flour, paprika, cumin, thyme and oregano in a large bowl.
In a medium deep bowl, whisk the eggs, milk, and 1 cup water.
Place the onion in a clean bowl, cut-side up, and pour the flour mixture on top.
Using a large spoon to coat the onion with the flour mixture, especially between the onion petals. Turn the onion over and pat off the excess flour. Reserve the bowl of flour.
Transfer the onion into the egg mixture and coat evenly.
Remove onion and let the excess drip off, then transfer back into the reserved flour mixture and repeat the flouring process.
Place the onion into the refrigerator while you heat the oil up.
Using a large deep pot heat your cooking oil to 400 degrees (use thermometer if you can) Remove the onion from the refrigerator and shake any excess flour from the onion.
Using a wire skimmer lower the onion into the oil, cut-side down. Adjust your heat to maintain the oil temperature at 350 degrees.
Fry about 3-4 minutes, then turn the onion over and cook until golden, about 3-4 more minutes (may be done right at 3).
Remove onion using your wire skimmer and placed on paper towels to soak up excess oil.
Season with salt and pepper, serve with the dipping sauce.
Enjoy!