Halloween Boo Meringues
Halloween Boo Meringues are an incredibly fun and easy Halloween recipe for kids for a party! The whole family will love them!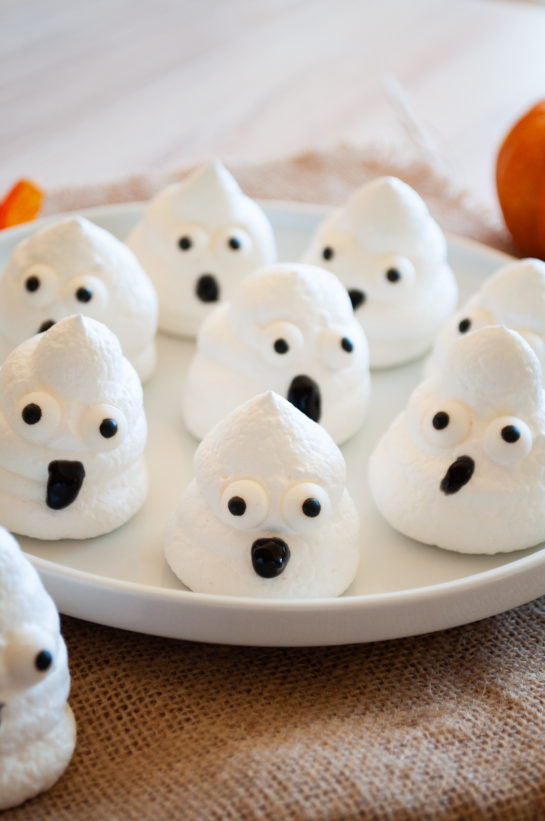 These cute little blobby ghost figures are actually super fluffy-on-the-inside and crispy-on-the-outside. Not to mention these Halloween Boo Meringues are totally adorable!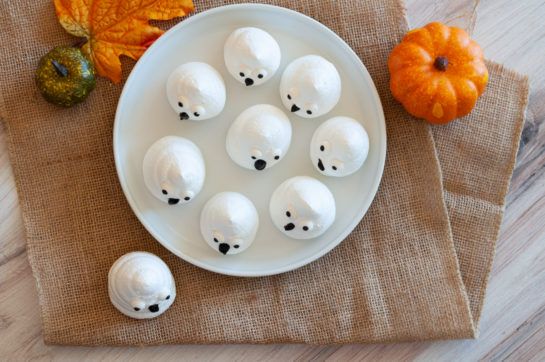 They taste good, too. But obviously it's all about the appearance of spooky scary little ghosts on your Halloween party dessert table (hello, White Chocolate Bark)! Oh me oh my. Below you will see the ingredients you will need to make these.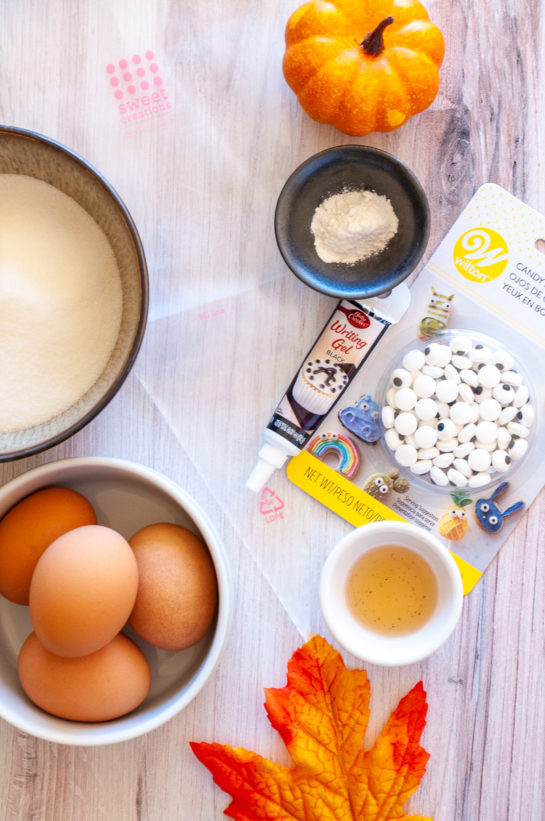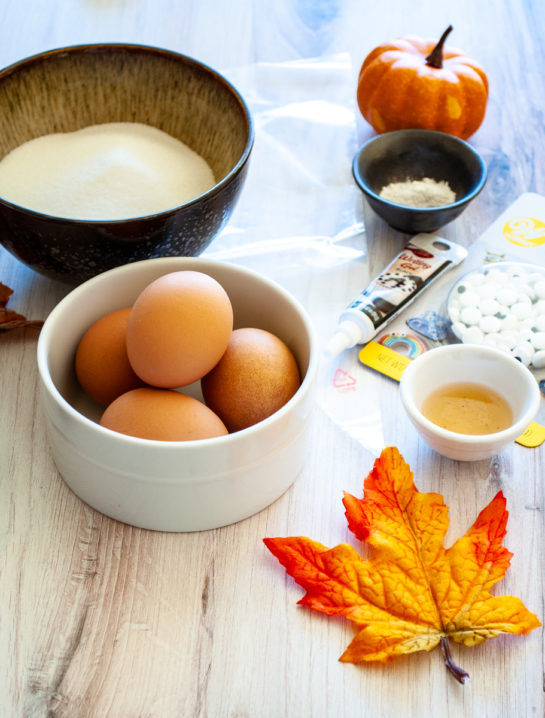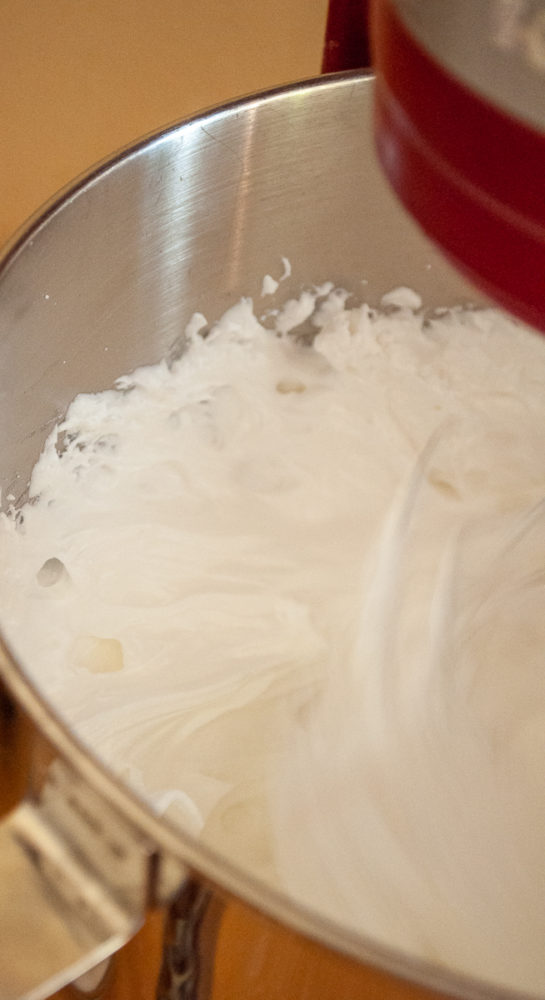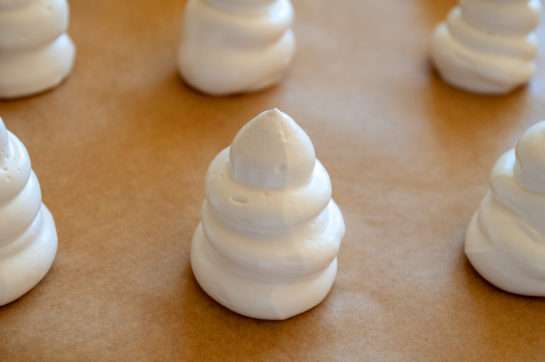 This is totally not a complicated recipe or even something that I would normally share here on Wishes and Dishes. I am and probably never will be a huge Halloween person. My family never got into it while growing up and I just have never been the biggest fan. I don't have a huge collection of Halloween Recipes on here.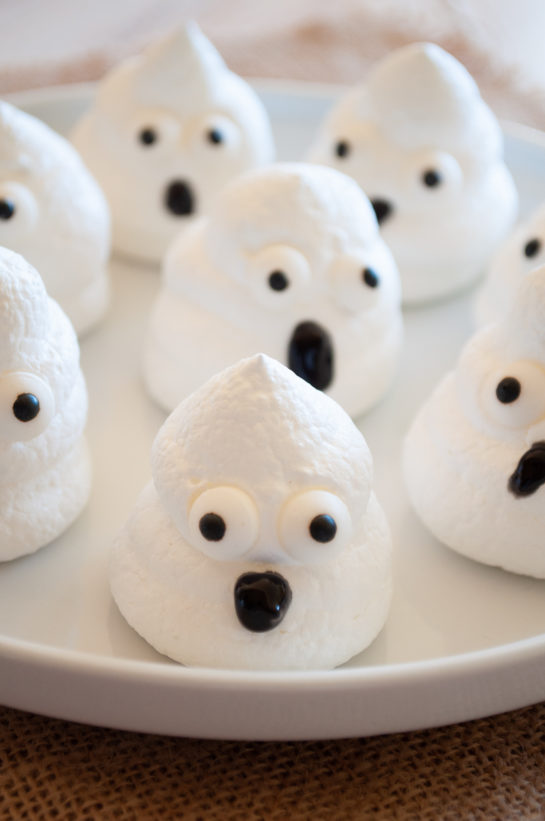 The exception to that rule is when we are talking about cute, adorable ghosts with cute smiles on their faces or Mummy Oreo Truffles. OR if we want to discuss my robbery of every Butterfingers bar from both of my brothers' trick or treating pillowcases back in the early 90's. Just kidding – that never happened. Luckily, now I have my homemade Butterfingers.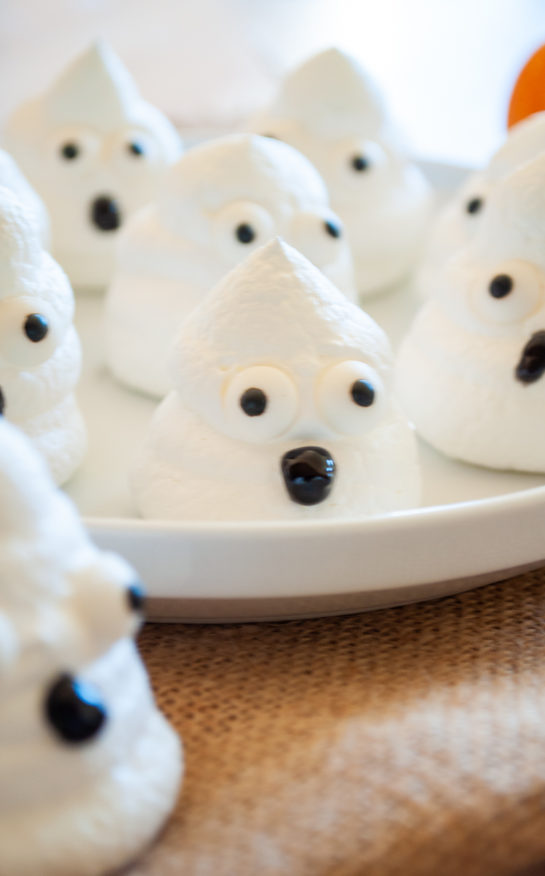 Since meringue does not really have a ton of flavor on it's own and is normally just a topping on pie, the vanilla extract in this recipe gives it great flavor and sweetness. You can also boost their flavor by getting creative with some crunchy toppings. Feel free to try toasted nuts, coconut, sprinkles, or chopped candy bars for some great options. I promise these are great on their own!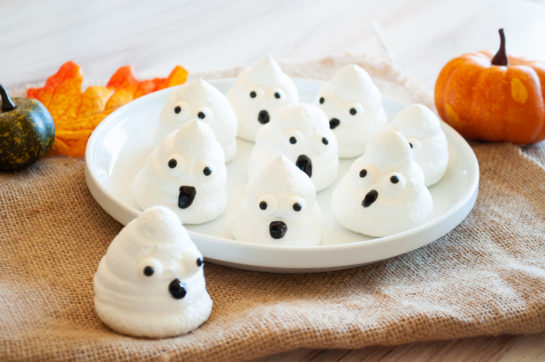 They make my inner child heart flutter. if these cute little ghostly gems are in my eyesight, if they are sitting on a decorative plate in our kitchen, they just get completely devoured.
These Halloween Boo Meringues are my new favorite Halloween thing along with my Sweet & Salty Halloween Chex Mix! Until my next new favorite Halloween thing comes along.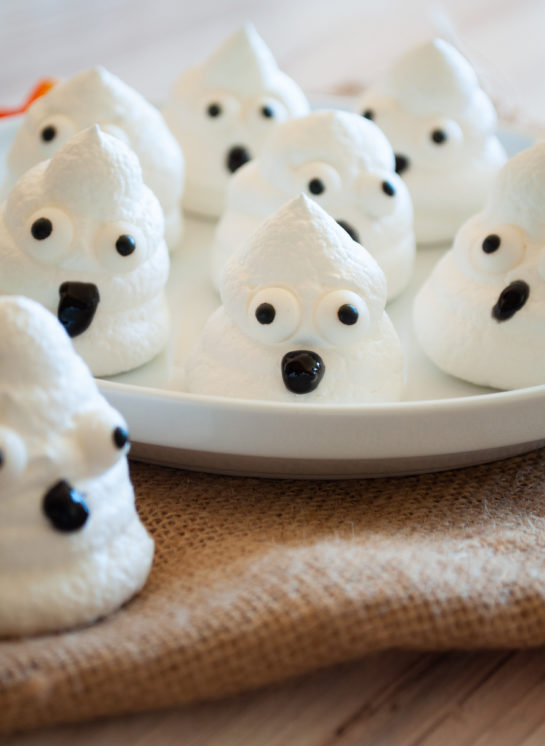 Halloween Boo Meringues
Prep time:
Cook time:
Total time:
Halloween Boo Meringues are an incredibly fun and easy Halloween recipe for kids for a party!
Ingredients
½ teaspoon Cream of Tartar
4 egg whites, room temperature
1 cup sugar
1 teaspoon vanilla extract
Candy Eyes, for decorating
Black frosting gel (like this one)
Instructions
Preheat the oven to 200˚ degrees
Line 2 large baking sheets with parchment paper or silicone baking mat
Place the cream of tartar in the bowl of a stand mixer fitted with the whisk attachment
Pour your room temperature egg whites over it, turn the mixer on low and let them mix together
Slowly increase the speed to medium and beat until the mixture is foamy
Slowly increase the speed to high and beat until soft peaks form
Slowly add the sugar one Tablespoon at a time, beating well between each addition
Beat until stiff peaks form and it looks glossy
Add the vanilla and beat it in for about 30 seconds
Cut the tip off of a disposable icing bag(See Note Below) and fit it with a one-inch tip, you can use bigger or smaller tips too-you can also just use a bag without a tip, they work just fine that way too
Pipe your Boos on the prepared sheets, you can put them close together because they don't spread very much
Fill your sheets with them, make sure the bottom is wider than the top and pull up while you stop squeezing the piping bag to make a little point
Add the candy eyes now, they don't have to be perfect, in fact, they're more fun if you make them silly
Bake the trays for 60 minutes, rotating them halfway through
If you bake in the lower portion of the oven you won't get browned ghosts
Once they're baked turn off the door let the ghosts cool in the oven for 60 minutes
Remove them from the oven and let cool completely
Once they're cool add eyes and a mouth, as desired
Make these the day you plan on consuming them. Enjoy!
NOTE: If you don't have an icing bag/piping bag with frosting tips, try using a large ZipLock bag and simply cut off the tip.