First Wives Club the Musical
This is a recap of my special invitation to view the First Wives Club the musical while it was in previews in Chicago. It is an exceptionally entertaining show for a special night out with your girl friends or your next date night.  I hope you enjoy my review!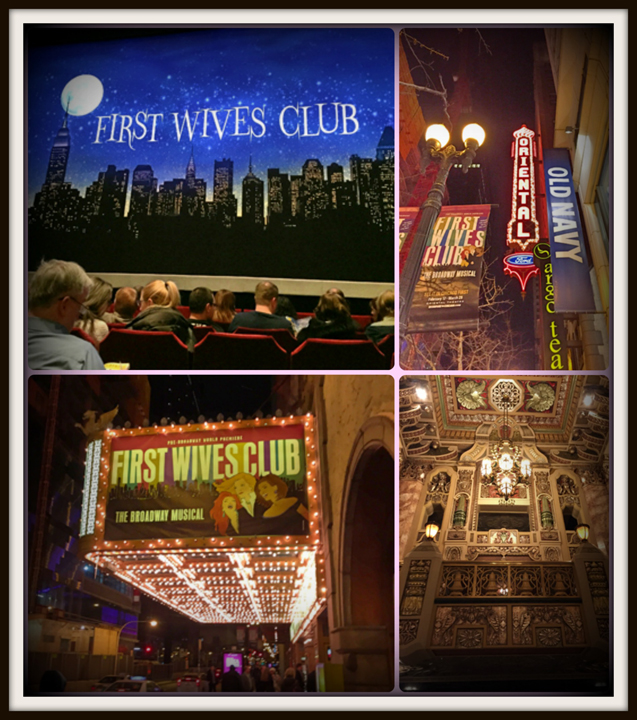 As most of you know, I was recently on a business trip in Chicago with my husband.  I had a rough start to the trip with getting my wallet stolen on the train 10 minutes in.  Although I ended up getting it back, the incident was making me feel very uneasy and afraid to do much of anything while in the city, except hide in the hotel room and avoid venturing out.  Our first morning in Chicago we were eating breakfast at our hotel in the Regency Club at the Hyatt and we ended up sitting next to the lead producers and whole creative team for The First Wives Club production that was in previews in Chicago at the time.  We expressed what huge Broadway musical fans my husband and I are and they so graciously offered us tickets to the show that night.  We had great seats toward the front of the theatre and right in the center.  I enjoyed the show so much that I wanted to share my thoughts about it with you all.  It really turned the trip around for me and ended up being such a great time in Chicago!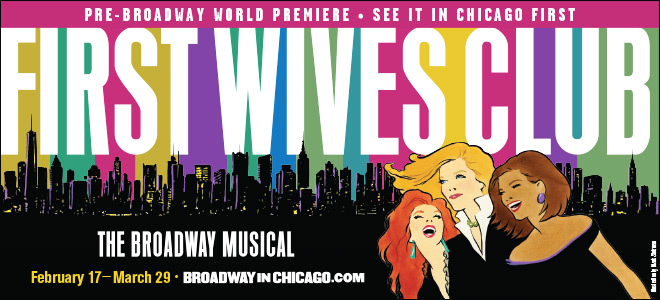 A little background:
This newly adapted version of First Wives Club The Musical began in preview mode at Chicago's Oriental Theatre on February 17 of this year, with the big opening that occurred March 11.  The show will be running through March 29, 2015 and aims for Broadway later in the year. Simon Phillips (Love Never Dies, Priscilla Queen of the Desert) directs the musical that is produced by  Jonas Neilson, Paul Lambert, and Elizabeth Williams.  Jonas and Paul were two of the wonderful people we befriended during our time in Chicago.
"The First Wives Club" is a 1996 comedy film, based on the best-selling 1992 novel (also called "The First Wives Club") by Olivia Goldsmith.  Most of you have probably seen the film, but in case you haven't, it is narrated by Diane Keaton and she starts in it along with Goldie Hawn and Bette Midler.  It is a hilarious story of three divorced women who, in lieu of their current mutual misery in life, seek revenge on their ex-husbands who left them for younger and perkier women.  Eventually, they realize that revenge puts them on the same level of their husbands and decide to use these situations to push their men into funding their "First Wives Club", in memory of their college friend Cynthia who committed suicide.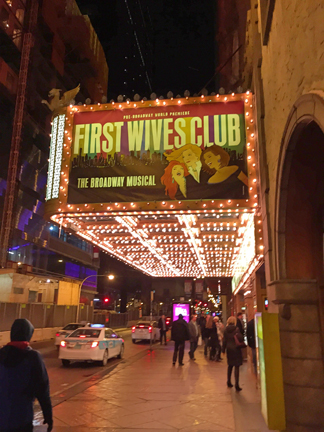 This may sound heavy and the show does start in a pretty dark place, but it is ultimately a story about the women coming back together and reuniting in a long-lasting friendship at it's strongest. The show has just enough humor intertwined throughout that makes for a time of fun and laughs with a little bit of revenge thrown into the mix.  The women had made a vow in the beginning when they were young to always be there for each other to help one another through difficult times in life.  I found a quote from one of the producers and thought it summed it up perfectly. "The First Wives Club remains one of the iconic commentaries on female empowerment.  I'm so excited that such strong female characters will be presented on Broadway."  The women all "win" at the end of the story, and rather than be broken, realize they have the strength and self-confidence to continue on regardless of tough life circumstances and hardships they have endured.
In this new stage version, the roles
are played by Tony Award-winner Faith Prince (Brenda), the star of "Wicked," Carmen Cusack (Annie) and Christine Sherrill (Elise). The night we went, we saw Carmen Cusack's understudy (Michelle Dawson) play the role as Carmen was ill.  She was amazing! 
The show is adapted by five-time Emmy Award nominee Linda Bloodworth Thomason ("MASH," "Designing Women")
and features a score by Holland-Dozier-Holland (Brian Holland, Lamont Dozier and Eddie Holland), an accomplished songwriting team of popular music for Motown.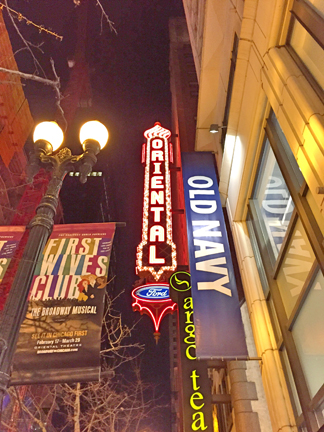 My opinions and thoughts:

I loved the music in this show!  I am all about the music when I go see show and I give it my stamp of approval.  It contained familiar oldies that I could sing along with (but didn't, of course) as well as new music and lyrics.  A few of the classic hits in the show were "Reach Out (I'll Be There)", "Stop In the Name of Love", and "Can't Help Myself" (Sugar Pie Honey Bunch).  I absolutely loved the "Payback" song during the auction scene, as well as "I am Duarto" – both are very catchy tunes.
I really enjoyed the performance from beginning to end.  The show is very energetic which kept me engaged the entire time with it's constant witty dialogue, well-developed characters, and singing voices that will blow you away.  The show, plot, actors, costumes, imaginative sets, effects, and humor make this a must see.  There was absolutely no question about the talents of each and every person involved in this funny, yet very moving show.  I have seen many Broadway musicals and I know that set changes can make or break a show – First Wives Club did this flawlessly.  This is not your classic, traditional "Les Miserables" or "Phantom of the Opera" type show, but provides a fun, spirited and entertaining night out.
 It was such an unexpected surprise to have the opportunity to see a pre-Broadway performance of First Wives Club and it was so much fun.  My husband and I thought it was very enjoyable and we both laughed throughout the show at all of the humorous moments. The wives were each so funny in their own way and the actor who played the hairdresser/interior designer (Patrick Richwood) was priceless and added a tactful and lighthearted touch to some heavy issues in the play.  All of the casting was done perfectly and the vocals were outstanding.  All of the bantering and friendship between the 3 main characters was realistic and completely identifiable. The second act was stronger and more compelling than the first and really ropes you in!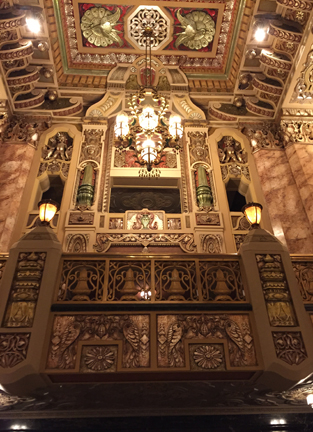 If you are in the mood for a very lively, upbeat show then this is the one for you.  Gather your girlfriends for a girls night out or a date night with your husband and have an evening full of laughs.  There was definitely a female majority in the audience but I did look around many times and see the men enjoying themselves just as much as the women.  I recommend it to both genders but parents should use their discretion when bringing children due to content and language in the show.  As I always say in my reviews on musicals, do your research first so you know exactly what to expect.
If you find yourself in the Chicago area in the very near future make sure you find the time to see this show.  I want to thank the creative team of First Wives Club for giving us a night to remember.  We are so glad we went and look forward to a great run on Broadway and seeing it again in the Big Apple!
The show is currently at the beautiful Oriental Theatre, 24 W. Randolph Street in Chicago.  It will head to Broadway later this year for the 2015-2016 season.