Lemon Chicken Quinoa Soup
This healthy Lemon Chicken Quinoa Soup recipe is super easy to make and results in an aromatic, savory soup that's perfect for both a spring lunch with the fresh lemon taste or a cold winter's evening.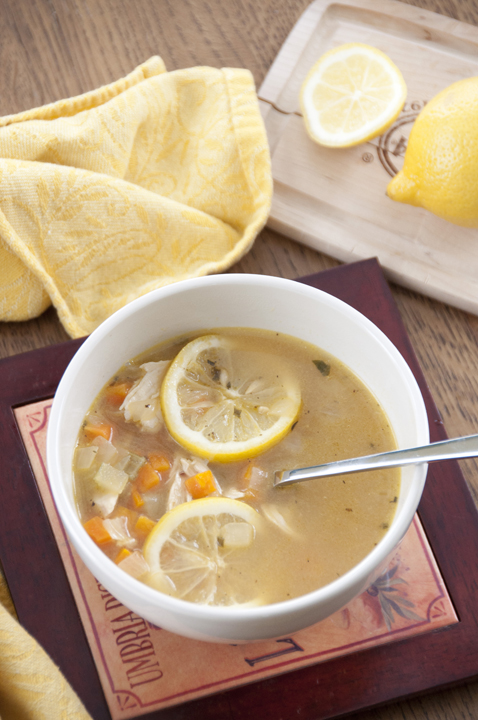 I hope everyone had a fun St. Patrick's Day and "went green" in one way or another.  I make all of my St. Paddy's day treats in the weeks leading up to the holiday in order to share them all with you in time for you to actually make them.  Therefore, on the actual holiday, I am completely spent on minty green desserts!  Soups, on the other hand, I crave all year 'round.  It doesn't matter if the weather is hot or cold, this girl wants soup (much to my soup-hating husband's dismay).  What I love most about this lemon chicken quinoa soup is that it's actually appropriate for all seasons.  Soups are normally cold weather comfort food, but this one has lemon in it making it totally fitting for spring and summer.
I have to say, I'm super excited about lemon season slowly coming back.  Lemon means warmer weather and warmer weather means SUMMER is upon us. Also, the color yellow makes me happy.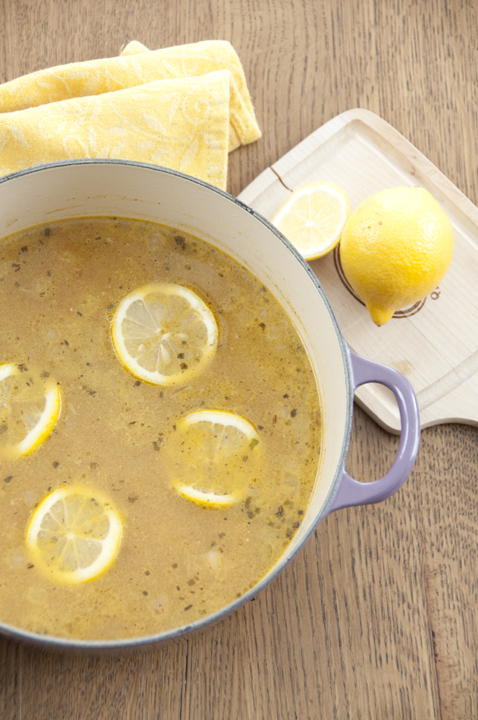 I have a really fun giveaway for you today.  I'm so excited to bring you the chance to win a prize pack of wonderful Bob's Red Mill products (1 package of quinoa, 1 package of almond flour, and 1 package of granola) along with a $50 gift card to shop on their website!  Everybody loves to shop, right? Bob's Red Mill is a personal favorite of mine and one of the most popular gluten-free brands on the market – and for good reason. Their products are quality-made and have become a staple in my home kitchen.  Everywhere you look there is Bob's Red Mill!  This is why I'm happy to host this giveaway.  My brother has Crohn's disease and is on a gluten-free diet that has helped him feel better in the past couple of years.  I made this soup for my whole family to eat for lunch the last time they came in to town to visit.  It can be a meal all on it's own or compliments sandwiches very well.  Of course, it's amazing for when you are sick with a cold.
I've mentioned in the past that Bob's Red Mill quinoa is my favorite brand of quinoa and has a wonderfully mild taste. It tastes perfect in this lemon chicken quinoa soup.  Other favorites of mine are their granola, gluten-free oats, coconut flour, cornmeal, almond flour and hazelnut flour.
To enter the contest all you have to do is go to the giveaway form below, add your name, and tell me what item you would add to your shopping cart first. Need help? Here's their entire product list for you to peruse!  Enjoy this soup and good luck!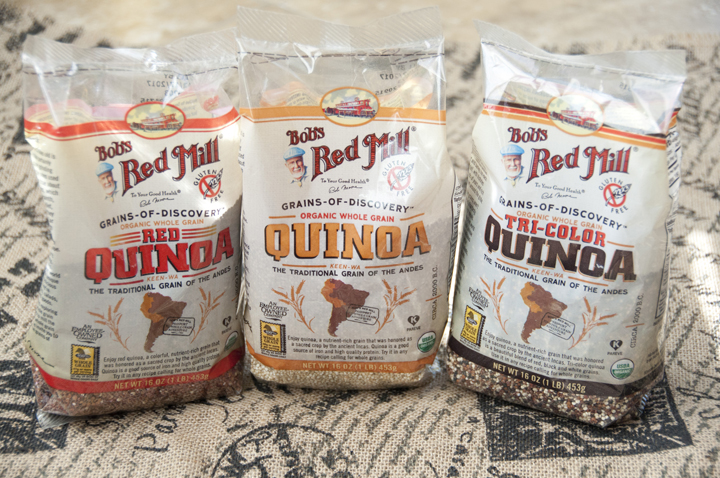 You can find my collection of soup recipes here! You may also love this mushroom quinoa soup or this sweet potato chicken quinoa soup made in the slow cooker.
Lemon Chicken Quinoa Soup and GIVEAWAY!
Recipe type:
lunch, dinner
Prep time:
Cook time:
Total time:
This healthy Lemon Chicken Quinoa Soup is super easy to make and results in an aromatic, savory soup that's perfect for both a spring lunch (because of the fresh lemon taste) or a cold winter's evening.
Ingredients
2 tablespoons olive oil
1 medium yellow onion, diced
2 cups peeled, chopped carrots
4 stalks celery
6 cups chicken stock
1 tablespoon dried thyme
salt & pepper, to taste
2 bay leaves
½ cup Bob's Red Mill quinoa (can use rice)
4 tablespoons fresh lemon juice
zest of 1 lemon
2 cups cooked, shredded chicken*
1 teaspoon chives, chopped
Instructions
In large pot, heat olive oil over medium heat. Saute onion, carrot and celery for 5 minutes to soften. Pour in chicken stock, thyme, salt, pepper and bay leaves. Bring to boil, pour in quinoa and reduce heat to simmer and cook 20 minutes or until tender. Stir in lemon juice, zest, chicken and chives. Serve hot.
*If you don't have already cooked chicken, stick 2 uncooked chicken breasts into the hot broth while the quinoa is cooking. After 20 minutes, remove, shred and return to the pot.
Thanks to Bob's Red Mill, one lucky Wishes and Dishes reader will win the prize pack and gift card!  Many thanks to them for providing the review and giveaway product. Giveaway is open to U.S. readers only.
Disclaimer:  I have received no compensation for this post. I just really love Bob's Red Mill products!
Recipe source:  adapted from laurenslatest.com