Cheez-It Crusted Jalapeño Popper Dip
Cheez-It Crusted Jalapeño Popper Dip recipe tastes exactly like a jalapeño popper with a crunchy, cheesy Cheez-It topping.  It's an easy, incredibly tasty and highly addictive appetizer!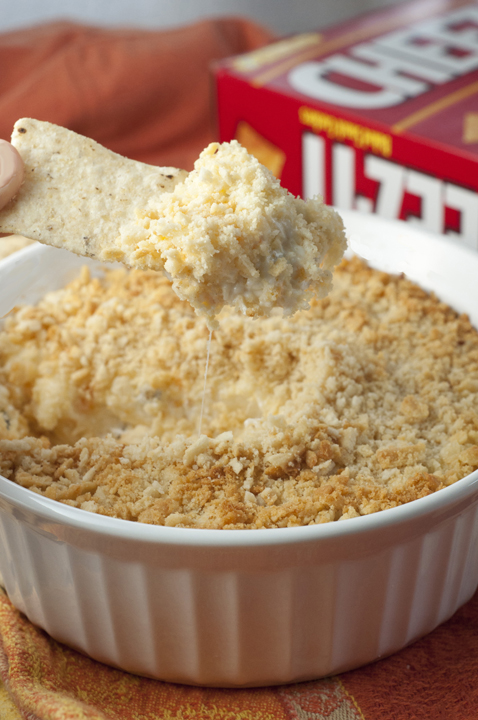 Cheez-Its have been a part of my life since I was a little kid.  I ate them like it was my job growing up.  No matter how old I get, they will always hold a special place in my heart.  I love incorporating them into recipes as this just gives me another excuse to eat them in one form or another.  That is where this Cheez-It Crusted Jalapeño Popper Dip comes in to play. This an easy, delicious dip to just enjoy at home (think holidays or game day food) or for taking to parties and potlucks (make sure you double or triple up on the recipe)!  It tastes amazing, can be made without much fuss, and you can adjust the spice level according to everyone's tastes.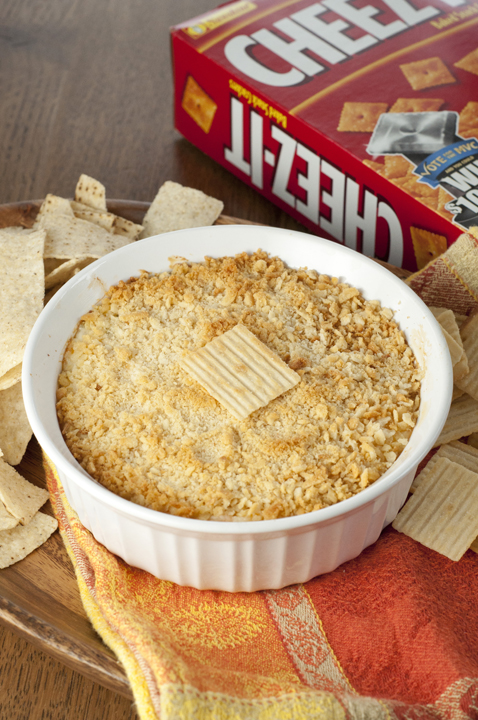 Speaking of game day food, unless you are living under a rock you know that this is the peak of basketball bracket season!  Do you fill out a bracket?  I'm not the world's biggest basketball fan by any means, but I grew up with two brothers and a father who are sports fanatics so I am no stranger to the sport.  Also, I love an opportunity to whip up some indulgent snack food to share with my readers. To me, the best basketball game day food is anything you can consume without needing a fork and knife, am I right?  Jalapeno Popper dip is an appetizer I have been dying to make for a while now because I am dip-obsessed.  Then I thought to myself – why don't I make the dip with ground up Cheez-Its on top instead of the usual bread crumb topping?
It all began when I was strolling down the food aisles at Target and I found myself on the snack & cookie aisle (big surprise). I was so excited to find a new kind of Cheez-Its:  Cheez-It Grooves!  I grabbed the Sharp White Cheddar kind and one box of original Cheez-Its and never looked back.  You know that saying "never go shopping when you're hungry"?  I like to go against that rule on a regular basis.  I had to make them into a delicious and highly addictive dip – and that is what I did.
Enjoy this madness of March and whip this bad boy up for your basketball game-watching party. This dip smelled so good in the oven!  My whole house smelled of Cheez-It Crusted Jalapeño Popper Dip goodness.  So, eat Cheez-Its plain, or cook with them – either way, just eat them.  If you like using Cheez-It's in a recipe, check out the Cheez-It Macaroni and Cheese I made recently.  It is to die for!  Have you ever used Cheez-Its in a recipe before?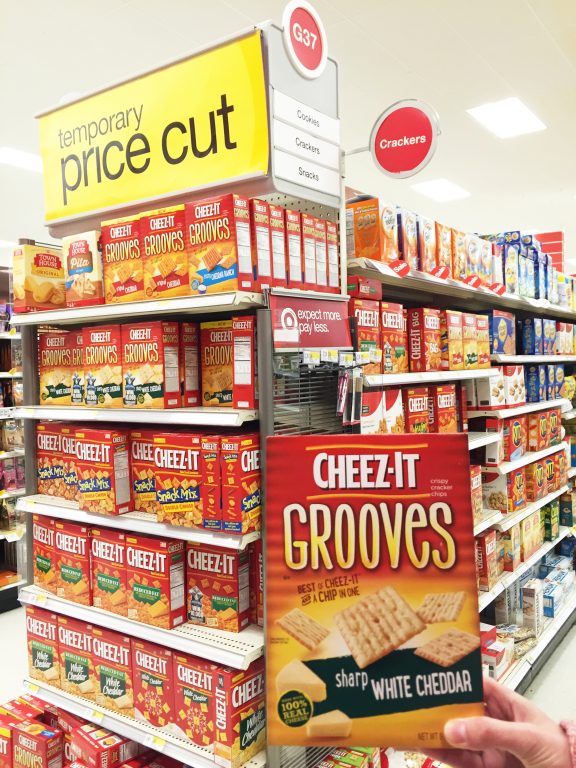 Cheez-Its are currently on sale for 3/$8 at Target can be found in the chips/crackers/cookie aisle. Shoppers can use Target's Cartwheel app to save an additional 35% off of this sale price when they buy 3 varieties of Cheez-Its. You can also head over and enter the Most Valuable Cheese Contest where you get to vote on your favorite flavors/varieties from six popular Cheez-It flavors and play some fun games for a chance to win $10,000!  Who couldn't use that kind of extra cash!? I would be beaming if one of my readers won.  The contest goes through April 2015.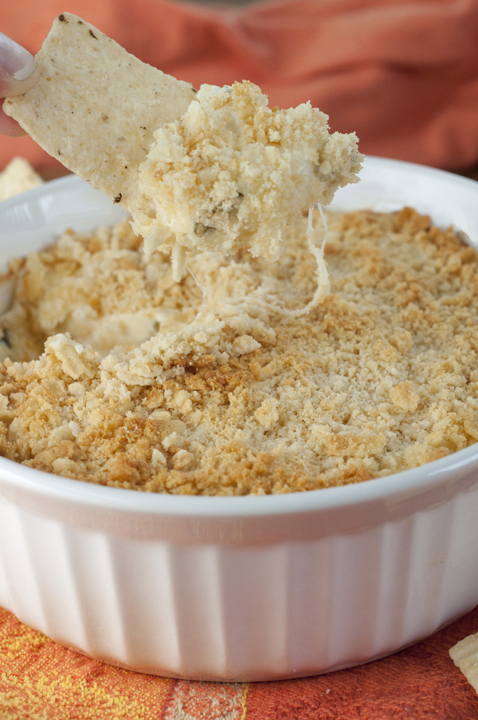 Cheez-It Crusted Jalepeño Popper Dip
Prep time:
Cook time:
Total time:
Cheez-It Crusted Jalapeño Popper Dip recipe tastes exactly like a jalapeño popper with a crunchy, cheesy Cheez-It topping. It's an easy, incredibly tasty and highly addictive appetizer!
Ingredients
1 (8 ounce) package cream cheese, room temperature
½ cup mayonnaise
½ cup cheddar cheese, shredded
½ cup parmigiano reggiano (parmesan), grated
1 (4 ounce) can sliced jalapenos (pickled), drained and chopped
2 jalapeno peppers, chopped (optional - for more heat)
½ cup Sharp White Cheddar Cheez-It Grooves, crushed (measured after crushing)
Instructions
Crush the Cheez-Its using a food processor.*
Mix the cream cheese, mayonnaise, cheddar cheese, parmigiano reggiano and jalapenos in a bowl and pour into a baking dish (Size depends on if doubling recipe or not. Mine fit in a 24 oz. casserole dish when not doubled).
Sprinkle the crushed Cheez-Its over the dip.
Bake in a preheated 350F oven until the sides are bubbling and the Cheez-It topping has turned golden brown on top, about 20 minutes.
*You can smash them in a ziploc bag with a meat tenderizer or rolling pin if you prefer, but I recommend 15-20 seconds in the food processor.
 Recipe source:  adapted from closetcooking.com
The creation of this Cheez-It Crusted Jalapeño Popper Dip recipe and shop have been compensated by Collective Bias, Inc. and its advertiser. All opinions are mine alone. #MVCheezIt #CollectiveBias