Broadway on the Brain
This is a fun recap of my first experience seeing shows on Broadway in New York City: here you will find reviews of Les Misérables, Phantom of the Opera, Aladdin, and Rock of Ages.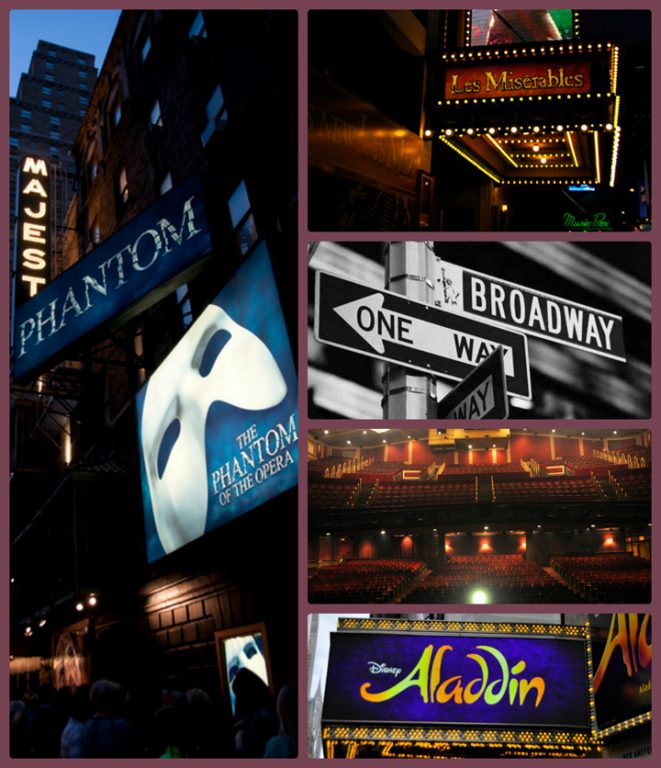 Mr. Wishes took me to NYC as a surprise at the end of August.  I had been begging (nagging?) him for about 6 months to take me to see Les Misérables on Broadway….almost on a daily basis.  Either he just loves me so much that he wanted to grant my wish, or he was sick and tired of hearing me ask (probably the latter).  He couldn't hold in the surprise any longer and informed me over dinner one night that he had booked plane tickets, hotel, and was taking me to see not only Les Miz the following weekend, but the other two shows I had also been dying to see, as well: Aladdin and The Phantom of the Opera.  Best husband ever award goes to………you know who.  I was so excited that I started packing that night, a week ahead.
Let me break it down for you.  If you don't know what shows to see, I think I can help you out.  The ones I saw that weekend varied from something new for young and old (Aladdin), to classics (Phantom of the Opera and Les Misérables), to fun shows (Rock of Ages) and I will provide thoughts and recommendations on each.  I suggest all four of these shows that I'm reviewing below, but if you only have time for one, see Les Miz.  Here they are, in particular order:
Les Misérables
 No need to save the best for last here.  I am switching things up and talking about the best first because it's my blog and I can do whatever I want. Les Misérables is the world's longest-running musical and there's a reason for that.  It was a dream come true to see it on Broadway.  Although it has been around for many years, my love didn't start until I bought the 25th anniversary Blu Ray disc of the performance from 2010.  I honestly didn't expect to love this story and music as much as I did.  It won me over so fast.  The Broadway performance did not disappoint:  in fact, I loved it so much that I tried to get my husband to take me to it again the very next day.  That says it all right there!  Such beautiful singing and astounding acting.  Ramin Karimloo as "Valjean" steals the show and he not only is an amazing singer and actor, but a really nice person.  The entire cast will blow you away.  If that hasn't sold you on seeing this show, I don't know what will.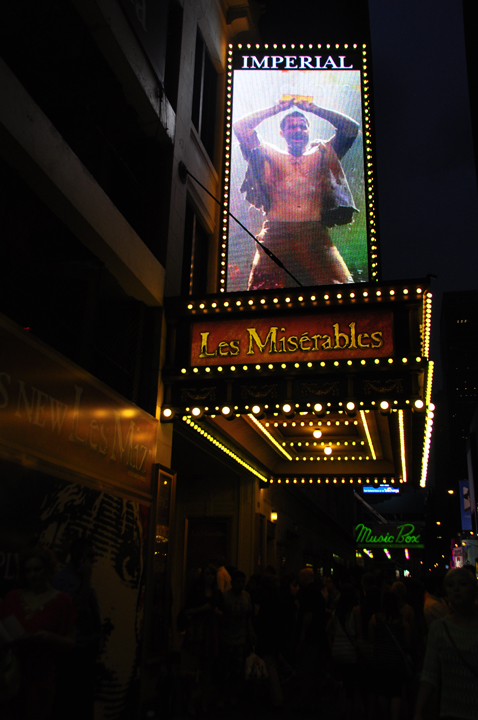 The Phantom of the Opera
This show has always been my #1 love.  It holds a special place in my heart for so many reasons.  One being that the bridal party at my wedding walked down the aisle to the song "All I ask of You" by Andrew Lloyd Weber played by a talented string quartet from the Rochester Philharmonic Orchestra (RPO).  It was the most beautiful sound coming from that sanctuary as I stood there by the doors waiting to walk in.  I had not yet begun my long walk down the aisle and I was already tearing up.  That song gets me every time.  Prior to my wedding, I would listen to it on my iPod while I would go on my runs and try to imagine how it would sound live on the stage at my wedding.  It was amazing!  Ever since then, Mr. Wishes and I consider that song "our" song.  He even got me a Phantom of Opera ornament one year for Christmas that I display all year 'round and it plays "All I ask of You" at the touch of a button.
Enough about me – this show was phenomenal.  I regret to say that Sierra Boggess is no longer playing the part of Christine and I am thankful that I had the chance to see her before she left.  Norm Lewis plays the part of the Phantom and I was very impressed by him, especially being the Phantom "snob" that I am.  He's legit, folks.  I have the 25th anniversary Blu Ray disc of the Phantom performance at Royal Albert Hall back in 2011 and am surprised I haven't worn out the DVD yet.  Seeing Phantom live on Broadway exceeded my expectations and the voices were just as good in person as I would have hoped them to be.  Nothing is more beautiful than the music in the Phantom of the Opera.  NOTHING.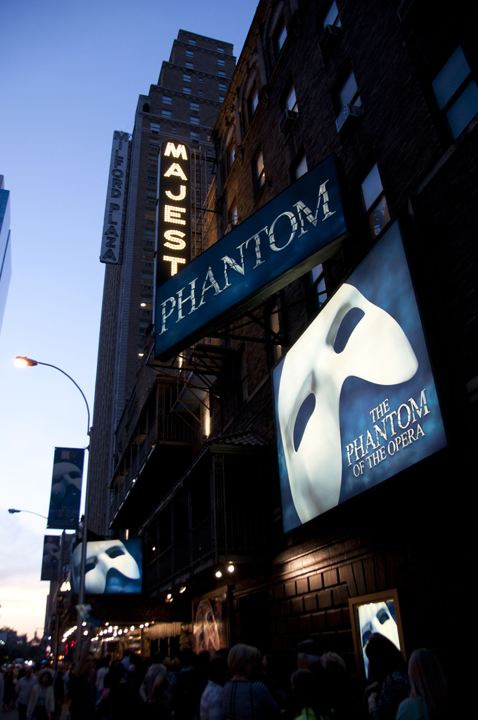 Aladdin
I decided I needed to see this show when I first saw the Tony Awards back in June.  I was sold when I saw the super energetic James Monroe Iglehart (who plays the Genie) perform "Friend Like Me".  I would tell everyone to see the show just for that song alone.  It's that good and that entertaining.  The entire musical was very colorful and kids will love it.  That being said, I feel there was enough action, fancy sets, plenty of comedy and spectacular dance numbers for adults to love it just as much as the kids.  I highly recommend it.  Good luck resisting the temptation to jump out of your seat and dance (or maybe that's just me).  My husband did have to inform me ahead of time that this was NOT a sing-along.
The set is spectacular, especially with the magic carpet where Aladdin (Adam Jacobs) and Princess Jasmine (Courtney Reed) have a little romantic moment with a twinkling sky in the background.  So cool.
Oh, and the carpet flies…..and it's awesome.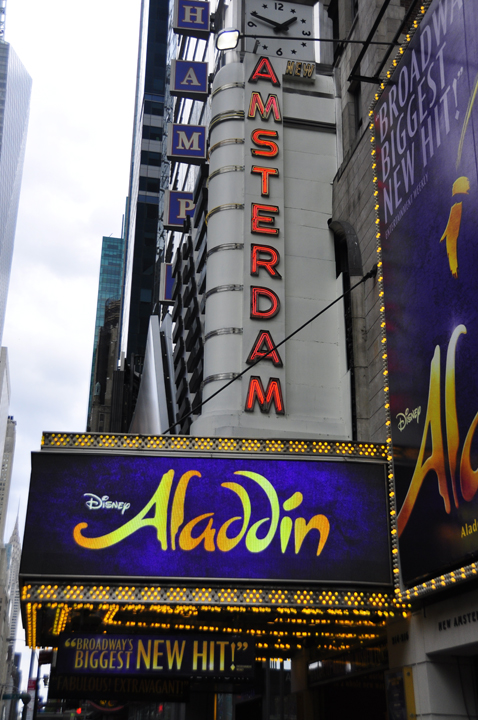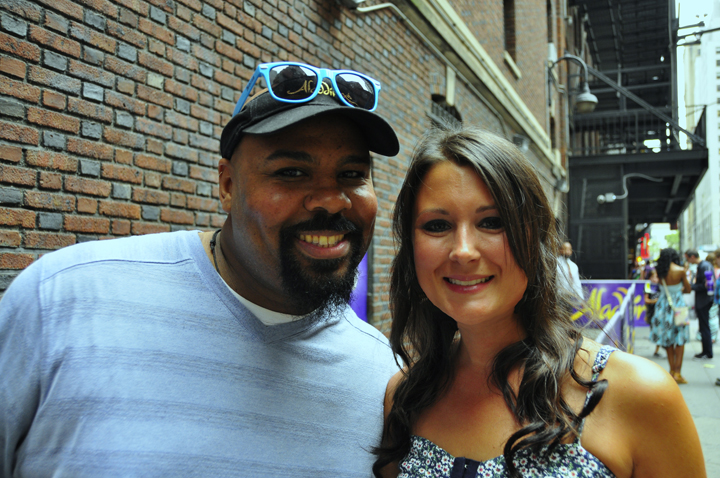 Rock of Ages
Now I was totally all about this show mostly for the music.  I am a die-hard 80's music fan and I'm not ashamed to say it!   I grew up on this music (I was a decade behind, musically) and couldn't wait to hear "Don't Stop Believin'," "Here I Go Again," and "Nothing But a Good Time" live on stage.  This show engages the audience a lot and any show where I can sing along is alright by me.  It's pretty much like being at a fun rock and roll party.  You'll love it and have a smile on your face the entire show.

The theater was pretty small (only 600 seats) so I think it's safe to say there's not a bad seat in the house for this show.  I was actually in the very front row right in front of the speaker – I'm surprised I didn't go deaf!
The show was hilarious.  The conservative side of me is going to say that you may not want to bring children to this show.  I loved the show, but there is some cussing, among other things, and you may think it was inappropriate for your kids.  My advice is to always do your research ahead of time to see the basics of a show so you know just what to expect.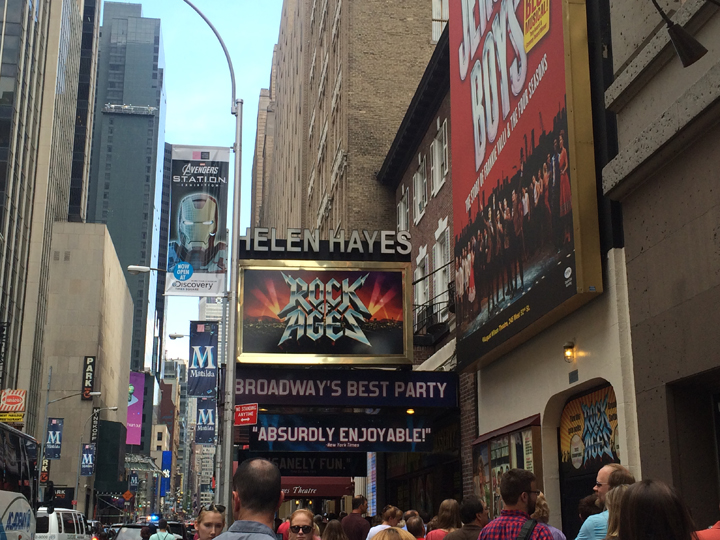 One of the most exciting parts of seeing Broadway shows is going to Stage Door of the theater afterwards (research the exact location ahead of time) where many times the actors will come out and sign your Playbills and/or sometimes let you take photographs with them.  This was a must-do when I went to NYC because I not only cared about the shows I was seeing, but a significant part of the experience for me was the actors I was seeing perform.  I knew who a lot of them were, and that makes the experience even more special.  Some of my favorite actors and singers were starring in two of the shows we were going to see:  Ramin Karimloo who currently plays "Jean Valjean" in Les Misérables, and Sierra Boggess who played "Christine" in Phantom of the Opera.  It was a dream come true to finally meet them at stage door.  Norm, Ramin, James and Adam were all so kind, friendly and patient at stage door, spending a lot of time with their fans.
Long story short, I got a special invitation to go backstage at Les Miz.  I am still in disbelief how I could ever be so lucky as to get to do something that incredible.  The Broadway show I had come all the way to NYC to see and I got to have the backstage experience.  It still blows my mind, even months later.
---
Now that I am a Broadway "expert", I thought I would give you some tips if you are planning a NYC trip and want to hit up some Broadway shows:
1.  Please, for the love of God, show up on time.  Check the time on your tickets so there's no confusion on when the show actually starts because times vary depending on the day.  Don't be that person who shows up 3 songs in and disturbs hundreds of people who actually showed up on time.  Tickets aren't cheap for these shows and nobody wants to miss anything because you are blocking their view trying to get into your seats.  The best way to avoid this is just to arrive early, with plenty of time to spare. The house typically opens 30 minutes before the stated curtain time. I found that long lines tend to move very fast.
2. Let the ticket-taker tell you where to go so you don't waste time meandering around the theater trying to find your seats.  Those ushers really know what they are doing.  Also, if you want a Playbill, you won't get one by seating yourself.  Patience, friends.
3. Be aware of the people around you and be considerate.  Self-awareness is SO underrated these days. Take your big poofy coat off.  Unwrap your food and open your bag of chips or pork rinds ahead of time (or better yet, don't bring food and eat before you come to the show) . Turn your cell phone off and actually put it away so you won't be tempted to take pictures or look at your messages.  I am in a trance when I watched these shows so I did not have a problem with this.
4.  This goes along with number 3, but I thought it deserved it's own number.  Do not talk during the show.  Two out of four shows I went to that weekend my husband and I had loud talkers sitting right next to us.  Each time the one was explaining to his significant other what was going on in the show so they could follow along with the plot.  If you know nothing about the show you are seeing, it would be a great idea to research it BEFORE the show and not act like you are sitting in your own private living room at home by talking and asking questions throughout the entire thing.  The guy next to me didn't even pretend to try to whisper and it was very distracting.  Don't compromise the enjoyment of others around you.  Just don't.
5.  Dress nice.  Don't be sloppy.  Pretend you're living decades ago where people dressed to the occasion.  It's BROADWAY!  It's a BIG deal! Enough said.
6.  A way to get discounted tickets (up to 50% off) to Broadway shows is by utilizing the TKTS booth.  There are three locations in the New York area:  South Street Seaport, Times Square, and downtown Brooklyn.  The lines move fast and a small service charge goes to the Theater Development Fund.  We were hanging out in Times Square and decided to see a last minute show and did this for Rock of Ages.  The Seaport and Brooklyn locations allow you to buy tickets for the following day Matinee performance.  If there are some shows you think you may want to see and you are willing to take your chance on getting tickets, a lot of the shows have good availability at these booths.  The newer shows, for the most part, do not have these tickets available.  They have an app that you can download to your phone with live updates of available shows and discounts that we found very helpful.
Now go see the shows I recommended, or choose ones more to your liking.  I have not yet been disappointed with any Broadway show and neither will you.  Promise.