Clif Bar Review
My review on Clif Bars, Mojo Bars, and Luna Bars.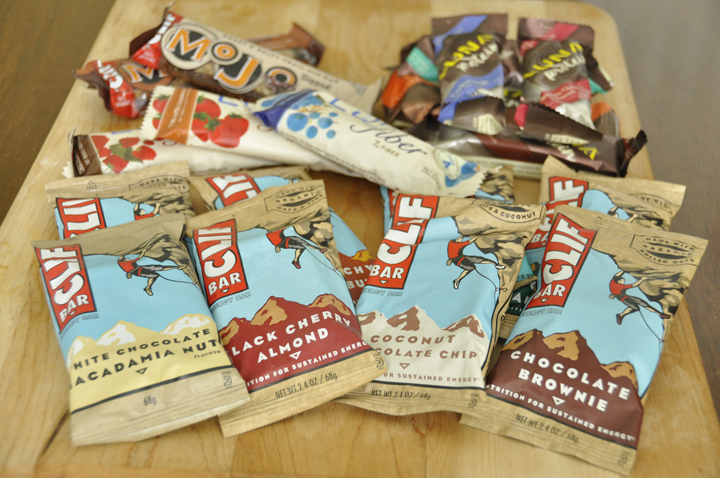 We have so many choices when it comes to nutrition bars and there's a wide variety of ingredients that go along with those bars, but I know I can always depend on Clif Bar & Company to provide not only energy packing ingredients but a tasty snack for your energy needs at a reasonable cost.
Although my husband and I have been eating Clif bars for many years now, I received a selection of their Mojo bars, Luna Protein bars, and Luna Fiber bars for reviewing and taste testing purposes.  Their bars are great for outings like day long hikes that we have often done.  I think these bars just about saved our butts when hiking 9 miles down and back into the Grand Canyon on a hot 100+ degree day a couple of years ago!  I'm pretty sure we pounded about 5 of these babies each.  They are great because they are light and don't take up much space in our backpacks.
Clif bars are your all purpose energy bar to give you a longer lasting source of energy and a pick me up while performing long distance or long duration events like biking, hiking and other rigorous exercising.  Nutrition bars are more for receiving particular nutrients, vitamins or minerals that you may be lacking but energy bars are for getting energy while out exercising…and they work great.  They contain a variety of  natural ingredients and do not have corn syrup or other common sweeteners in them like a lot of other bars.  And it's true that an energy bar that will give you calories to burn over a period of time  is a much better alternative to the spike of sugar a candy bar will give you.
If you're wanting an energy bar that is tasty, packed full of the natural sugars and energy ingredients like dried fruit, soy, barley and oats, then Clif bars are worth a try.
All of the flavors of Clif Bars I tried were great and I love that they don't leave an aftertaste like a lot of energy bars do.  They also do not taste too much like a natural food that has all kinds of healthy ingredients, which I like.  The black cherry almond is very fruity and sweet, the chocolate brownie and white chocolate macademia nut have a more mild flavor, while the oatmeal raisin is less fruity and more grainy.
My top favorites were the oatmeal raisin and the peanut butter flavors.  My least favorites have to be the chocolate brownie (I'm wierd and I'm not much of a chocolate person.  What is wrong with me?!) and the mint chocolate chip (also not a mint person).  I am definitely much more into peanut butter than the other flavors being offered.  I would highly recommend the peanut butter crunch or the peanut toffee buzz!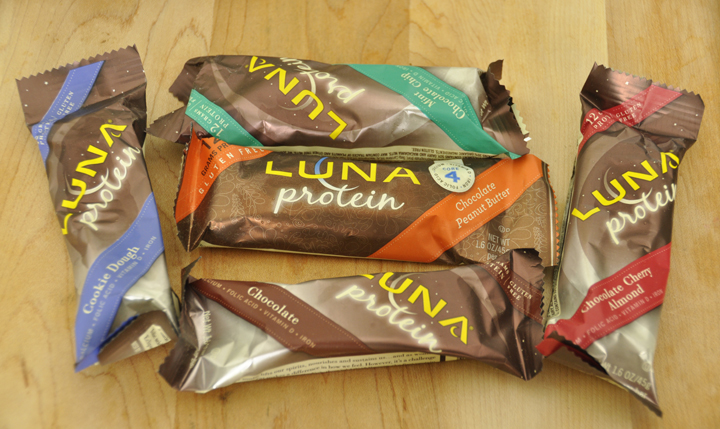 The Luna bars say that they are, "Created by and for women, LUNA bars were the first bars just for us, with the vitamins and minerals our bodies need to stay healthy.  Wholesome nourishment and delicious indulgence, they are 70% organic and just plain yummy".  They are not actually gender-specific, they are just marketed that way.
 My first bite of the cookie dough flavored bar , which contains 12 grams of protein, and loaded with calcium, folic acid, iron and Vitamin D, was filled with chocolaty goodness, with a strong cookie dough flavor coming through on top of it.  The bar actually looks like a candy bar, and it didn't hurt that it also tasted like one as well.  The texture of this bar is denser than their traditional Luna bar and was a nice change to other protein bars I've had in the past.  If you're looking for a tasty nutrition bar, I recommend you give Luna's line of 5 different flavors of protein bars a shot.
These bars also have no high fructose corn syrup and no fake man made sugars.  Overall, they tasted pretty good and kept me going, but I definitely prefer the taste of the clif bars over these.
 I ADORE trail mix and when I'm at a party that offers it, I always find a way to gravitate toward it and eat my weight in it.  Needless to say, I was a fan of these Mojo sweet and salty trail mix bars.
The bars do a good job of achieving that perfect balance of sweet and salty that we all know and love when it comes to trail mix.  My favorite of this variety was the chocolate peanut butter.  While they may not be noticeable on their own, the chocolate chips mix in with the peanut butter to add in a nice sweet component to go along with the saltiness of the pretzels and nuts.  I could have definitely went for more of a peanut butter flavor, but I am a peanut butter fanatic – so maybe it's just me 🙂
   Overall, these would make a great tasting energy-boosting snack, and a great approximation of trail mix in bar form.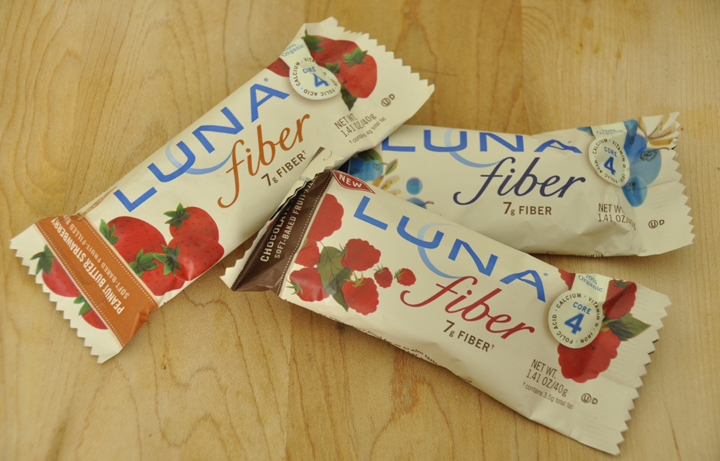 LUNA Fiber bars are soft-baked, fruit-filled, and offer 7 grams of  fiber in each bar. They range from 110-120 calories and contain a "Core 4" combination of calcium, iron, folic acid, and vitamin D which makes them spot-on as far as providing nutrition.  The bars are full of fiber and are 70% organic, which is a bit ambiguous to me, but Clif Bar & Company is committed to supplying ingredients that are not genetically engineered in all of their products, to which I approve.  Luna bars market to women, and these are vitamins that women especially need.
My flavor of choice was the peanut butter strawberry – it is amazingly delicious and tastes just like a peanut butter and jelly sandwich in bar form. The strawberry filling was very gooey and added  just the right amount of sweetness.  All in all, Luna Fiber bars are a good choice as a quick snack.
What are your favorite snack or energy bars?
Disclaimer:  I received a complementary samples of Clif Bar products, but was not paid to write this review and all opinions are entirely my own and not influenced by the company at all.