Easy Taco Pie
Easy Taco Pie with ground beef is a great recipe when you're wanting a low carb easy Mexican dinner idea without complicated ingredients and it comes together so quickly!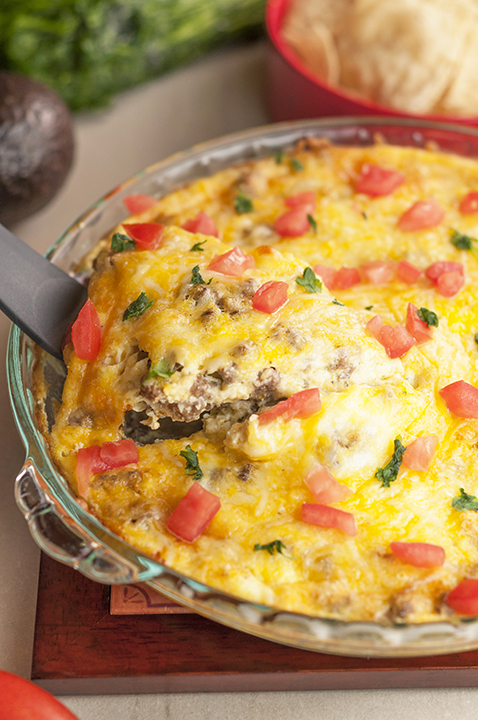 Any meal that goes well with my best homemade ultimate guacamole is alright by me. We eat Mexican food at least once a week in our house. Next to Italian food, it's our absolute favorite. We do tend to go a little crazy on the chips and guacamole, but hey, you only live once. Sometimes you gotta eat the chips, am I right? This Easy Taco Pie goes perfectly with guacamole, but in my world, almost everything does.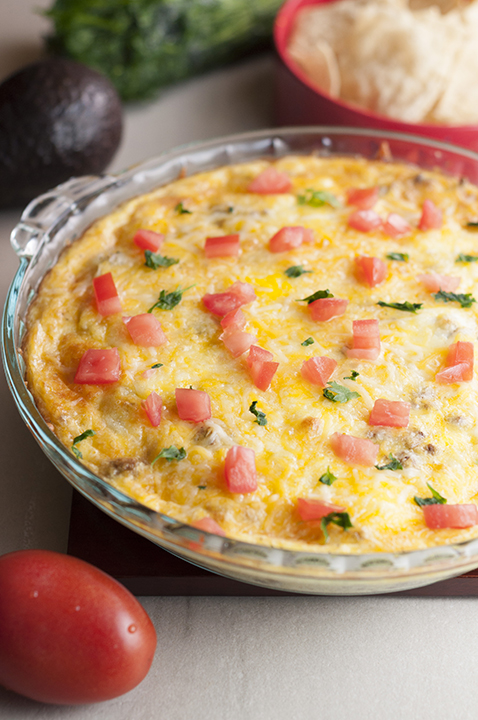 I hope you're all having a good May so far. I can't believe we are halfway through it already! Seriously, where it the time going? My baby girl is due in less than a month and time is almost going by TOO fast – I don't have a lot ready for her yet! I feel like I have so much left to do, but then Mr. Wishes reminds me of all we have done already to get ready for her.
I have her car seat, her stroller, some diapers, and some clothes. I plan to breastfeed but I do have bottles and "emergency" formula just in case. We are working on the bassinet situation. I hope to have them within the next couple of weeks! If worst comes to worst, I just bought a beautiful used pack 'n play that has an option for tiny babies to be able to sleep in. OK, now I'm just talking to myself and trying to reassure myself. Feel free to shut me up at any point here.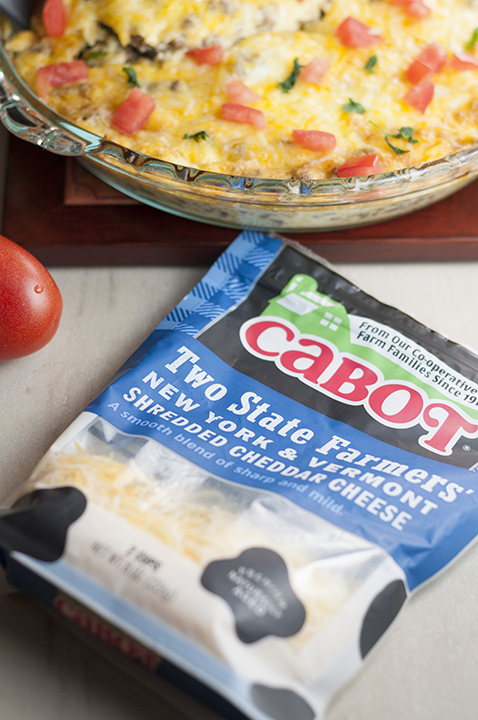 If you're still reading, this easy taco pie came together so quickly and I was amazed at the easy list of ingredients. The simplicity reminded me a lot of my One Pan Sour Cream Chicken Enchilada Skillet. If you're in a pinch and need a quick dinner idea, definitely make this one! Keep this recipe in your back pocket because you probably already have the ingredients laying around and it's very family-friendly.
There are a lot of different versions of "taco pie" out there, but this one is my favorite. You can even use this recipe for homemade taco seasoning! Use a good quality cheese (like Cabot cheese) in this taco pie to get the most delicious flavor you can possibly achieve! I also can't wait to try this turkey taco stuffed spaghetti squash from my friend Dara! I also found this amazing looking Spaghetti Squash Low-Carb Taco Bowl from my friend Kalyn. Enjoy!

Cheesy Taco Pie
Prep time:
Cook time:
Total time:
Easy Taco Pie with ground beef is a great recipe when you're wanting a low carb easy Mexican dinner idea without complicated ingredients and it comes together so quickly!
Ingredients
1 pound ground beef
1 medium onion, chopped (about half a cup)
1 package Taco Seasoning mix
1 can chopped green chiles, drained
1 cup heavy cream
6 large eggs
3 cloves garlic, minced
½ teaspoon salt
¼ teaspoon black pepper
¼ teaspoon cumin
1.5 cups shredded sharp cheddar cheese (I used Cabot)
Instructions
Heat the oven to 350°F and grease a 9-inch glass or ceramic pie pan.
Cook the ground beef and onion in a large skillet over medium heat until beef is no longer pink, about 7 minutes. breaking up any clumps with a wooden spoon. Add the taco seasoning and chiles and stir for a minute or two until combined. Spread the beef and onion mixture in the greased pie pan.
In a large mixing bowl, combine the cream, eggs, garlic, cumin, salt and pepper. Pour slowly over the beef mixture in the prepared pan.
Sprinkle evenly with the cheese and bake for 25-30 minutes or until the center is set and the cheese is slightly browned on top (mine took 30 minutes). Remove from the oven and let sit for 5 minutes before cutting into "pie" slices and serving.
Serve with your favorite taco toppings: diced tomato, sour cream, avocado, salsa, cilantro, etc.
Recipe source: adapted from BettyCrocker.com