Baked Beef Empanadas
I made very non-traditional empanadas last week on the spur of the moment.  I had a lot of leftover taco salad that I made and wasn't sure what to do with it!  So to convince myself that I wasn't eating taco salad again (I'm weird and I dislike eating the same thing 2 days in a row) I decided to get creative and use it for a filling in some delicious empanadas.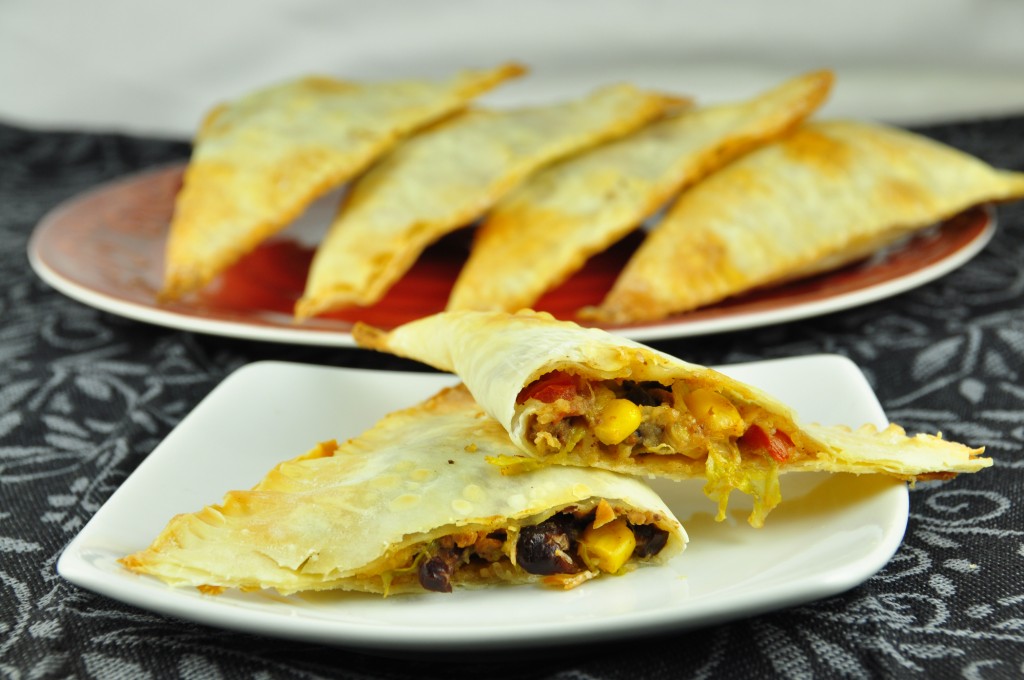 Empanadas are essentially a stuffed bread or pastry and are very popular in a variety of countries, such as Spain, Argentina, Brazil, Chile, Colombia, Dominican Republic, Ecuador, Mexico, Portugal, Puerto Rico,  and Venezuela. The contents of empanadas can be anything from fruit fillings for a dessert version to ground beef for a dinner meal – and they are normally round in shape.  So like I said, these are very unconventional, but they are so good no matter how you make them!  I think I will try making a dessert empanada sometime soon, so you can have that to look forward to 😉

In the past I have avoided making empanadas because of the hard work involved in preparing the flour wrap.  I had a brilliant idea, if I do say so myself!  I used store-bought egg roll wraps…this makes this recipe very simple and the crispiness of the baked wraps bring an extra fun and tasty texture to the empanadas.  Enjoy!
INGREDIENTS:
1 package egg roll wraps (look for them in the freezer section of your local grocery store)
Leftover Taco Salad (recipe is here OR use your favorite empanada filling)
DIRECTIONS:
Place an egg roll sheet on a flat surface. Place about about 1/3 of a cup of your filling in the center. Wet the edges of the wrap with your finger. Fold the wrap over on the diagonal and press to seal.  Continue this process for as many empanadas as you wish to make.
Brush with oil and bake on an oiled baking sheet in a 425°F oven until golden, about 10 minutes – watch so that they don't burn. (They will not be as crisp as fried empanadas, but still crisp…and healthier.)
You can fry these if you would like:
Heat about 1/2 inch of oil in a frying pan, and drop your empanadas in one at a time (depending on the size of your frying pan you may only be able to fit two or three at a time). Adjust your temperature so that it doesn't brown too quickly. Turn them to brown on both sides, about 2-3 minutes on each side. Place on a paper towel lined plate.