Cheesy Taco Pie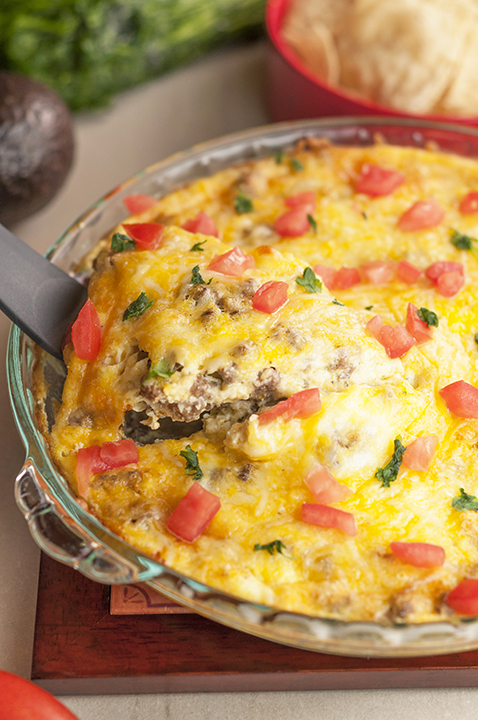 1 pound ground beef
1 medium onion, chopped (about half a cup)
1 package Taco Seasoning mix
1 can chopped green chiles, drained
1 cup heavy cream
6 large eggs
3 cloves garlic, minced
½ teaspoon salt
¼ teaspoon black pepper
¼ teaspoon cumin
1.5 cups shredded sharp cheddar cheese (I used Cabot)
Heat the oven to 350°F and grease a 9-inch glass or ceramic pie pan.
Cook the ground beef and onion in a large skillet over medium heat until beef is no longer pink, about 7 minutes. breaking up any clumps with a wooden spoon. Add the taco seasoning and chiles and stir for a minute or two until combined. Spread the beef and onion mixture in the greased pie pan.
In a large mixing bowl, combine the cream, eggs, garlic, cumin, salt and pepper. Pour slowly over the beef mixture in the prepared pan.
Sprinkle evenly with the cheese and bake for 25-30 minutes or until the center is set and the cheese is slightly browned on top (mine took 30 minutes). Remove from the oven and let sit for 5 minutes before cutting into "pie" slices and serving.
Serve with your favorite taco toppings: diced tomato, sour cream, avocado, salsa, cilantro, etc.