Baked Parmesan Asparagus Fries with Creamy Lemon Dipping Sauce
Crispy Baked Parmesan Asparagus Fries with Creamy Lemon Dipping Sauce is a great recipe for a summer BBQ, summer side dish idea, or a picnic – no need for a deep fryer with this recipe!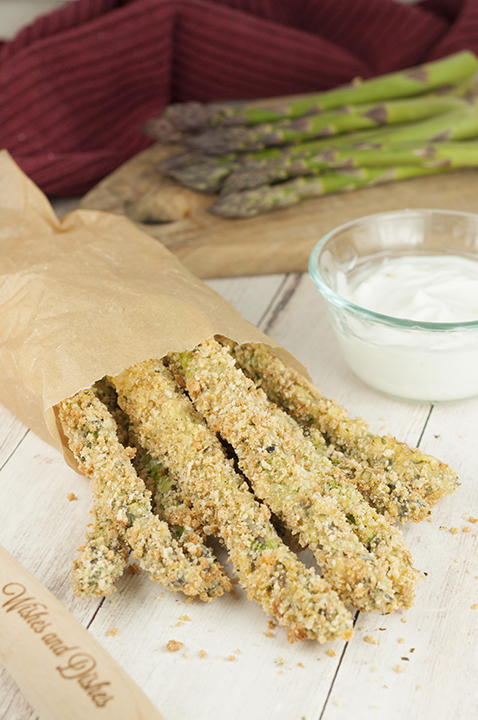 The asparagus is so fresh this time of year and I love it with these Baked Parmesan Asparagus Fries! I haven't had a chance to get down to the public market yet this season because we've been so busy with getting ready for the baby and our kitchen renovations.
I have, however, been picking up some delicious, fresh asparagus right at my local grocery store whenever I get the chance. Just one more reason to love spring – the beautiful fresh produce! Now, my summer beach bod is just not happening this year since I am currently almost 37 weeks pregnant, so I will try again next year. For those of you who still have a chance at one, you will love these Baked Parmesan Asparagus Fries. A healthy "fry" recipe is always much appreciated this time of year, am I right?
Spoiler alert: there's a huge giveaway at the bottom of this post!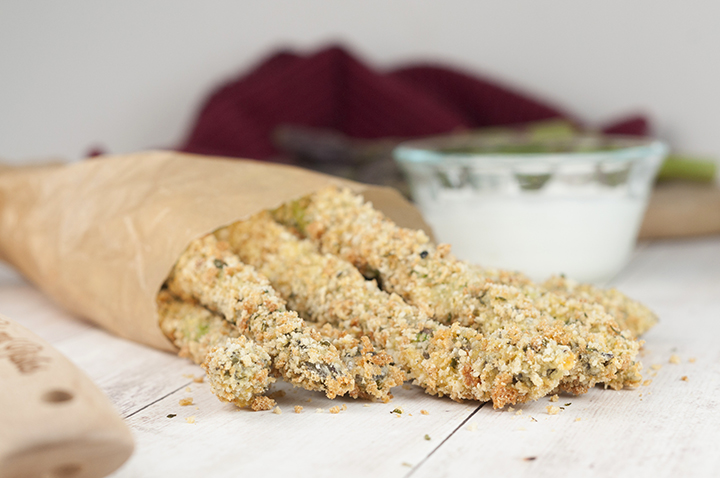 Dredged in breadcrumbs and Parmesan cheese, these fries will because a favorite with your family and friends. They make an excellent side dish or just a healthy snack to enjoy. Anyone who knows me knows I am the world's most pickiest eater, especially when it comes to vegetables. Asparagus is one of those veggies and I will happily eat and actually enjoy. It works out perfect that May is National Asparagus month! I have to say this is my new favorite way to eat it. It's a bonus that asparagus is a "Clean 15" food, meaning it has a low pesticide load and is one of the safest conventionally grown crops to consume.
I used my beautiful Michigan asparagus in this recipe. Did you know that Oceana County, Michigan is nicknamed the "asparagus capital of the world" and home to the National Asparagus Festival held in June? Michigan is actually the nation's leading asparagus producer. Honestly, before putting together this post, I never knew all of the TLC that goes into growing asparagus and I really enjoyed reading up on it. It is all hand harvested and has to be planted in the ground 3 years before it can be harvested for a full season. Since asparagus season is dependent on the weather, the season was delayed because of the unseasonably cold temperatures in April. The growing season is short as it is, so it's always smart to find great ways to preserve it such as pickling and freezing! By doing this, you can have fresh asparagus at your disposal long past the end of asparagus season. Fun fact: an asparagus spear can grow up to 10 inches in ONE day!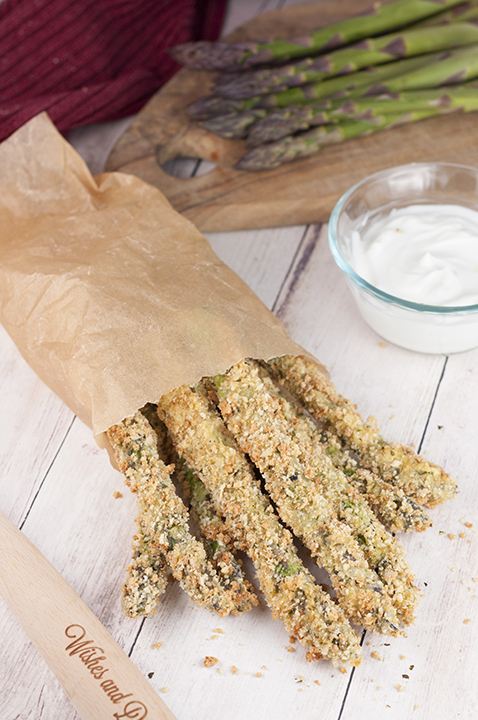 Once these Baked Parmesan Asparagus Fries are nice, crisp, and brown, remove them from the oven and dip them in this delicious creamy lemon dipping sauce. You can also use a BBQ sauce, ketchup, or your dipping sauce of choice! I think it would taste amazing with my Southern Mississippi Comeback Sauce. Go crazy! This recipe would go perfectly with a Grilled Ribeye Steak this summer.
You can follow along with Michigan Asparagus by visiting their website or connecting with them on their social media! I'm sure they would love to hear from you. I linked to all of their social media below. Make sure you scroll down past the recipe for a $1000 giveaway! Happy asparagus season!
Baked Parmesan Asparagus Fries with Creamy Lemon Dipping Sauce
Recipe type:
Appetizer, Side Dish
Prep time:
Cook time:
Total time:
Crispy Baked Parmesan Asparagus Fries with Creamy Lemon Dipping Sauce is a great recipe for a summer BBQ, summer side dish idea, or a picnic - no need for a deep fryer with this recipe!
Ingredients
1 lb thin asparagus stalks, trimmed
2 large eggs, whisked
⅓ cup all purpose flour
non-stick cooking spray
½ cup shredded parmesan cheese
2 cups seasoned panko bread crumbs
salt & pepper
Dipping Sauce:
½ cup mayonnaise
2 ½ tablespoons lemon juice
1 teaspoon thyme OR two teaspoons fresh minced thyme
1 tablespoon Italian parsley fresh, minced
1 large scallions/green onions, minced
½ teaspoon salt
ground black pepper, to taste
Instructions
Preheat oven to 375°F.
Line a baking sheet with parchment paper or silicone baking mat.
Spread panko crumbs in one layer across the lined baking sheet. Spray panko crumbs surface with cooking oil spray.
Bake panko crumbs for about 4-5 minutes or until golden - be sure not to let them burn. Remove from oven and let cool.
Turn oven up to to 425°F.
Mix in ½ cup parmesan cheese with the breadcrumbs while still on the baking pan. Then spread out mixture evenly across baking sheet again in one layer.
Line a separate baking sheet with parchment paper or non-stick baking mat.
In a large bowl/pan long enough to fit asparagus, pour in whisked eggs. In a separate container long enough to fit asparagus, pour in flour and season four with salt and pepper.
Coat asparagus lightly in egg. Shake off excess egg and then lightly coat asparagus in flour. Shake off excess flour. Coat asparagus in egg again and shake off excess egg.
Place asparagus in panko mixture (that is still on the baking sheet) and press panko crumbs onto the asparagus.
Set coated asparagus onto empty lined baking sheet.
Bake for 10-12 minutes at 425 degrees, or until asparagus is cooked on the inside and the outside coating is nice and crispy, flipping asparagus halfway through cooking.
Serve with the lemon dipping sauce OR your favorite dipping sauce/ketchup/BBQ sauce.
Dipping Sauce:
Add all ingredients into a small bowl and whisk together.
Cover with plastic wrap and refrigerate for at least 30 minutes or overnight to allow the flavors to blend.
Store for up to one week in the refrigerator.
a Rafflecopter giveaway

Disclaimer: Thank you to Michigan Asparagus for sponsoring this conversation. All opinions remain 100% my own, as always. Thank you for allowing me to share the brands and products I use regularly and love.
Recipe source: adapted from justapinch.com, kirbiescravings.com