Potato, Apple and Chicken Sausage Bake + GIVEAWAY!
This is a wonderful Potato, Apple and Chicken Sausage bake for anyone who loves a good meat and potatoes meal.  A delicious midweek dinner recipe with minimal effort but maximum taste!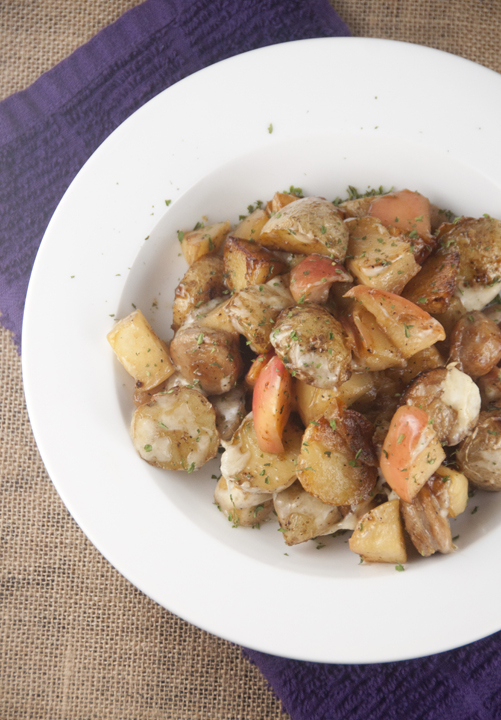 How was your Easter?  I had a wonderful day with family. I had brunch at my aunt and uncle's house and then dinner with my in-laws.  I did a pretty good job of pacing myself with the eating which is something new for me as every holiday I normally stuff myself 'til I feel sick.  I think I finally learned my lesson and I was proud of myself!  I can't wait to share some new spring recipes with you soon that I whipped up this past weekend for all of the Easter festivities.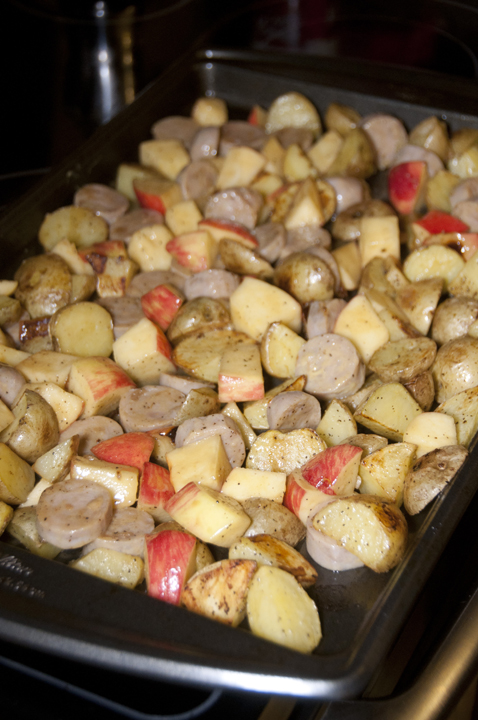 If you still have family and friends visiting and are looking for an easy recipe to feed your house guests then I have the perfect meal for you today.  The flavors in this Potato, Apple and Chicken Sausage Bake are amazing and it is now a treasured family favorite.  I was a little nervous about how I would like it as I'm not a huge meat and potatoes meal type of person but this has completely won me over.  Do you want to know what the best thing about this meal is?  It it great served for lunch or dinner, but the sausage and potatoes also make this a perfectly acceptable breakfast dish.  The aroma while it is cooking is unbelievably good!  This dish comes straight out of Cabot Creamery's new cookbook and is a big 'ol plate of comfort food.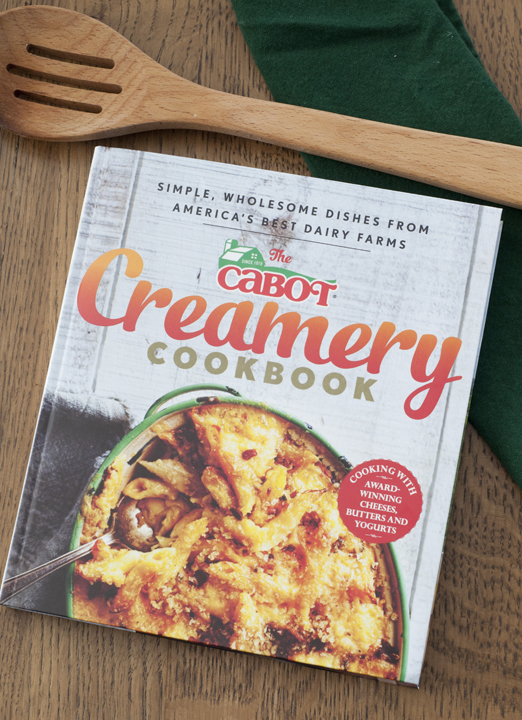 I heart cheese, specifically Cabot cheese, which is exactly why I am beyond excited that Cabot Creamery has been so generous to sponsor a Cookbook and Cheese giveaway right here at Wishes and Dishes!  That's right – the lucky winner will receive a copy of their new cookbook and a $25 Cabot Gift Box of goodies.  Free cheese anyone?!  Very recently, I became a proud member of the Cabot Cheese Board.  I can't even express how much I love the cheese that Cabot produces and also what they stand for, in general.  My favorite cheese dishes always taste better with Cabot Cheese and that is 100% the truth. I especially like Everything Bagel cheese and the plain extra sharp cheddar, which brings a sharp tangy taste to different dishes.  I would love for you to have a box of their cheese delivered right to your doorstep along with this cookbook full of stories, beautiful photographs and 150 delicious recipes from their dairy farm families.  Oh, it would make a great Mother's day gift, as well!
Entering my contest today is easy – all you need to do is leave a comment in the giveaway form below the recipe for this Potato, Apple and Chicken Sausage Bake letting me know your favorite way to cook with cheese.  It's as simple as that.  You can also see how to gain additional entries to increase your chances!
Also, as a way to celebrate the new cookbook, Cabot is running a cool sweepstakes that goes until April 15th. The grand prize winner will receive a ONE YEAR Supply of Cheese plus a copy of their cookbook, and 10 winners will receive a $25 gift box and a cookbook (the same prize that I'm giving away today).  You can enter to win here.  I'm not gonna lie – I would be ecstatic if one of my readers won the grand prize!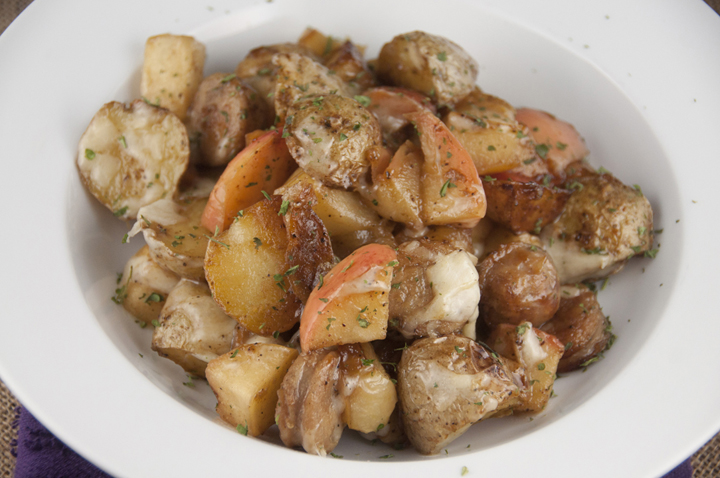 Have a great, cheesy day!
Potato, Apple and Sausage Bake and GIVEAWAY!
Prep time:
Cook time:
Total time:
This is a wonderful Potato, Apple and Chicken Sausage bake for anyone who loves a good meat and potatoes meal. A delicious midweek meal with minimal effort but maximum taste!
Ingredients
1½ pounds small potatoes (I used red) cut into 1-inch chunks (about 6 cups)
1 tablespoon extra-virgin olive oil
1 teaspoon kosher salt
½ teaspoon freshly ground pepper
4 fully-cooked chicken sausage links, sliced (12-ounces)
2 golden delicious or Gala apples,cored and cut into 1–inch chunks (leave peels on)
2 tablespoons Dijon mustard
2 tablespoons honey
1 tablespoon red wine vinegar
4 ounces Cabot Alpine Cheddar or Cabot Seriously Sharp Cheddar shredded (about 1 cup)
Parsley for garnish
Instructions
Preheat oven to 450°F.
Toss potatoes, oil, salt and pepper in a large bowl until coated. Spread out in a large heavy roasting pan. Roast 20 minutes, stirring once or twice. While potatoes roast, stir sausage, apples, mustard, honey and vinegar together in the bowl.
Reduce oven temperature to 375°F. Remove roasting pan from the oven. Scrape potatoes up from the pan with a spatula.
Add sausage, apples and the mustard mixture to the potatoes and toss to combine.
Return to the oven and bake, stirring once or twice until the potatoes and apples are tender and the glaze is caramelized, 30 to 35 minutes.
Scrape potato mixture into the center of the roasting pan. Top with cheese and return to the oven only until melted, 2 to 3 minutes.
Sprinkle with parsley. Enjoy!
Thanks to Cabot, one lucky Wishes and Dishes reader will win the gift box and cookbook!  Many thanks to them for providing the giveaway product.
Deadline: Monday, April 20th at 11:59 (EST). I'll announce the winner on Tuesday 4/21. Good luck, everyone!
Winner:  Must be a U.S. resident to enter.  The winner will be chosen at random using Random.org and announced in this post. I will email the winner and if he/she does not respond within 48 hours, another winner will be selected.
Recipe source:  adapted from The Cabot Creamery Cooperative Cookbook
;