Peach Crumb Bars
Peach Crumb Bars recipe made with fresh peaches from my peach tree and made into the best summer dessert bars ever!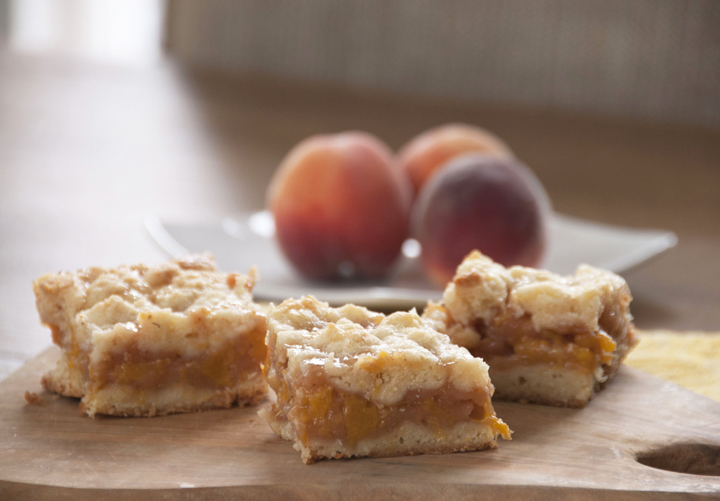 Ahhh, summer peaches! They are one of the sweet and juicy gems of late summer.  This Peach Crumb Bars recipe I'm sharing with you today is sort of a peach cobbler meets sugar cookies meets crumb cake to ultimately create one delicious peach crumb bar that you will just love.
These summer inspired dessert bars are loaded with fresh, sweet, juicy peaches that were picked right off of my peach tree in my backyard.  So fun!
This baby has put out about 3,000 peaches this year (that's an exaggeration, but it's a LOT); so much so that it's branches were bending and practically reaching the ground.  That poor, poor tree must have been so happy and grateful when we finally went out there and picked several pounds off of it.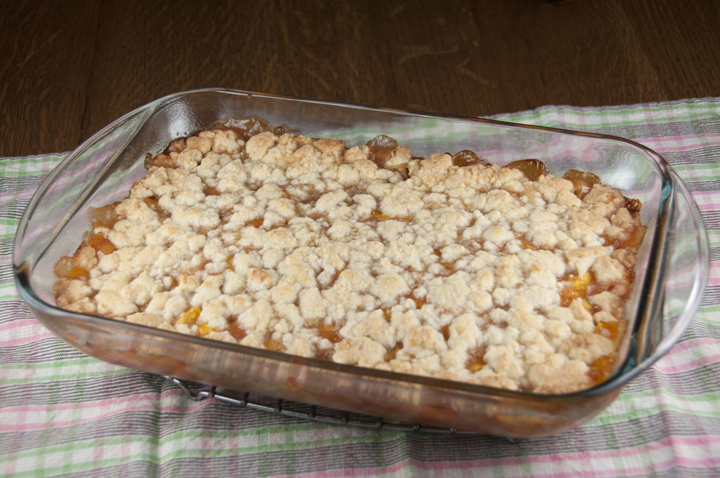 You can use this Peach Crumb Bars recipe for virtually any fruit – raspberries, blueberries, strawberries, or a combination of fruits!  It is a versatile recipe for any fruit that you love that is in season.
We loved eating these crumb bars warm, but did have to let them cool for a couple of hours beforehand so that they held together and didn't make a huge mess while cutting into them.  They were also great right out of the fridge.
I shared a video in my crock pot peach cobbler recipe post on how to very easily peel peaches.  You just put a shallow "X" on the bottom of each peach with a knife and boil them for about 45 seconds, then quickly transfer them to a bowl of ice water to halt the cooking process and then the skins come off very easily.  This saves a lot of time and is called "blanching".
Today is the most important day of the year.  It was this day many, many years ago that my dear, wonderful hubby was born.
I am sending out a VERY happy birthday to "Mr. Wishes".  I love you and hope you have the best day today because you deserve it!
Enjoy!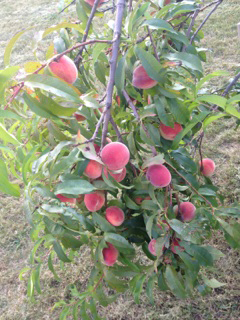 Peach Crumb Bars
Prep time:
Cook time:
Total time:
Peach Crumb Bars recipe made with fresh peaches from my peach tree and made into the best summer dessert bars ever!
Ingredients
For the Dough:
3 cups all-purpose flour
1 cup granulated sugar
1 teaspoon baking powder
¼ teaspoon salt
1 cup (2 sticks) unsalted butter, cold
1 egg, lightly beaten
For the Filling:
5 cups diced peaches (about 7 regular size peaches, peeled)
2 tablespoons lemon juice
½ cup all-purpose flour
1 cup granulated sugar
¼ teaspoon salt
½ teaspoon ground cinnamon
¼ teaspoon ground nutmeg
Instructions
Preheat the oven to 375 degrees F. Grease a 9x13-inch baking pan.
For the Dough: In a medium bowl whisk together the flour, sugar, baking powder and salt. Use a pastry blender to cut in the butter, and then the egg. The dough will be crumbly. Pat half of the dough into the prepared pan. Place the pan and the remainder of the dough in the refrigerator while you prepare the filling.
For the Filling: Place the diced (or sliced) peaches in a large bowl and sprinkle with lemon juice. Mix gently. In a separate bowl whisk together the flour, sugar, salt, cinnamon and nutmeg. Pour over the peaches and mix gently.
Spread the peach mixture evenly over the crust. Crumble the remaining dough over the peach layer.
Bake in the preheated oven for 45 minutes, or until the top is slightly brown. Cool completely before cutting into squares.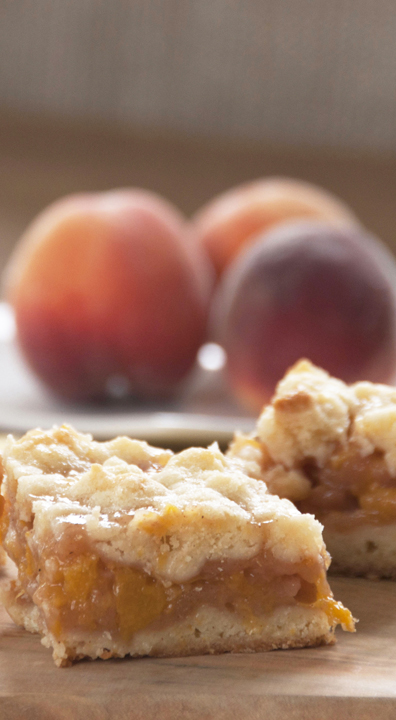 Recipe source:  adapted from browneyedbaker.com