Creamy Apple Butter Macaroni and Cheese
Creamy Apple Butter Macaroni and Cheese recipe has a slight sweetness to it and is great as a main course or holiday side dish.  This is a fall food you will want to make over and over again and kids will love it!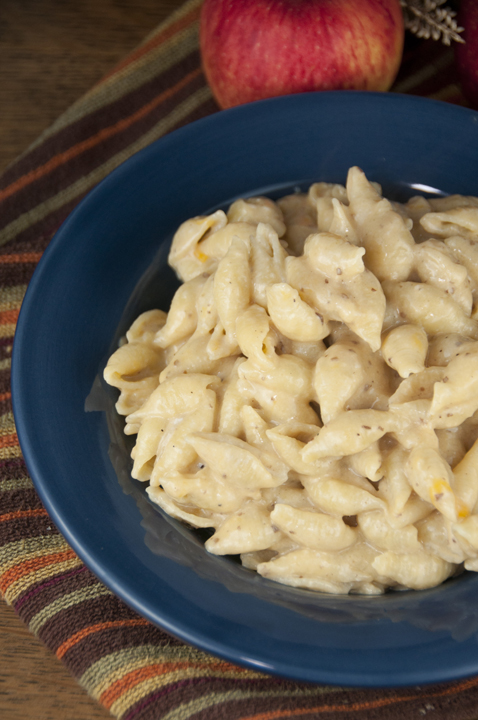 This is one of the best foods that I have consumed in a long time.  I am ridiculously obsessed with macaroni and cheese (always have been – and here is my collection of recipes you can peruse) but now my taste buds have "matured" and I like to switch it up by adding atypical ingredients.  I like to call this my new favorite  "fall macaroni and cheese", although this Autumn Chicken Mac & Cheese still holds a special place in my heart.  The addition of the apple butter here really takes mac and cheese to the next level.  Particularly, the "beyond awesome" level. I even used my own homemade easy stove top Apple Butter!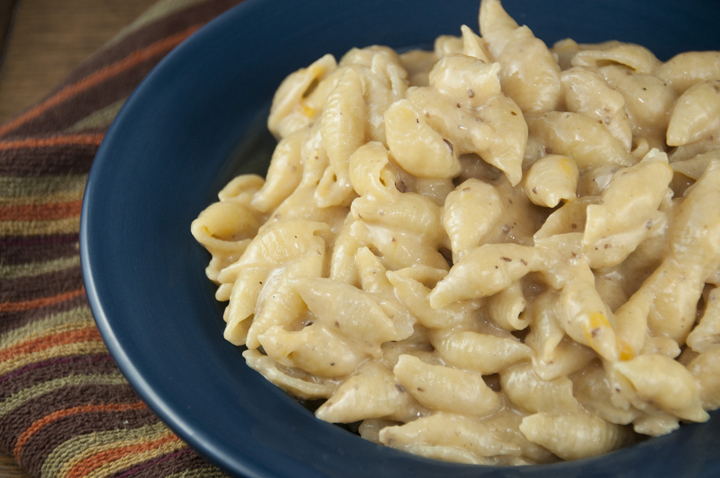 This entire dish is made in one pan and takes less than 30 minutes.  No excuse not to make a homemade version anymore, people!  I used my absolute favorite sharp cheddar Cabot cheese in this recipe.  I love all of Cabot's cheese but the plain sharp cheddar is one I always have on hand – nothing beats the taste.
The combination of sweet and savory has always had a special place in my heart.  The other day, my mom and I were looking at a huge case of gelato….all of which looked mouth-watering.  My eyes immediately went to the Salted Caramel Pretzel gelato.  Something about that sweet and salty!  I know it doesn't appeal to everyone, but I strongly urge you to give this a try.  I am a mac and cheese snob by nature and I think all the apple butter does here is make it more tasty.  Apples and cheese do indeed belong together.
This can absolutely be served as the main course and hold it's own like a champ, but it's also great as a side dish.  If you do serve it as the main dish, just add a side salad and you're good to go.  Enjoy!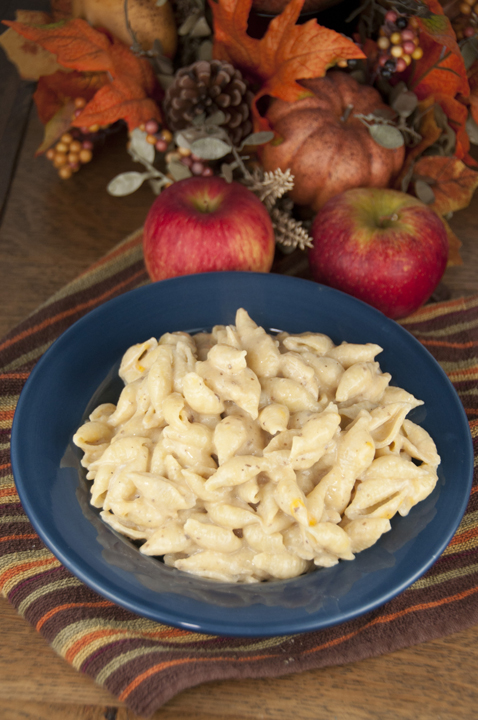 Creamy Apple Butter Macaroni and Cheese
Prep time:
Cook time:
Total time:
Creamy Apple Butter Macaroni and Cheese has a slight sweetness and is great as a main course or side dish. This is a fall food the whole family will love!
Instructions
Combine the uncooked pasta, milk, and garlic powder in a 5-quart heavy-bottomed pot.
Bring the mixture to a soft boil and reduce heat to low.
Stir frequently so the bottom doesn't burn and cook until the milk has been absorbed by the pasta and is soft. This takes 15-20 minutes.
Stir in the cheese and apple butter.
Remove from heat and let sit, covered, for 5 minutes as to let the cheese fully melt.
Stir once more and season with salt and pepper before serving. Serve warm.
Recipe source: my friend over at healthy-delicious.com.  Give her a visit!