Autumn Chicken Mac and Cheese
This is a creamy baked autumn mac and cheese recipe made with butternut squash, brussels sprouts, and chicken. This is a great fall comfort food recipe!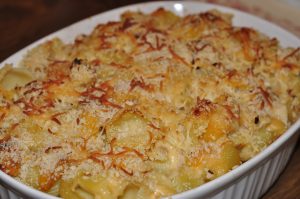 This autumn mac and cheese recipe is so yummy and has a "fall twist" to it.  Be prepared to see a plethora of mac and cheese plastered all over this blog over time.  I am trying to pace myself as to not scare my blog followers away too quickly.
Of all the mood-warming meals that are to be had, noodles and cheese are at the top of the list. At the very top is my Sloppy Joe Macaroni and Cheese. I hope they are at the top of yours, as well. Mac and cheese is my absolute favorite meal and the perfect comfort food!
I added chicken because Nick thinks a meal has to have meat in order to be good. Are you noticing a pattern here? Also, I was naughty and omitted the brussels sprouts. I actually love brussels sprouts now, but I didn't back when I made this. Funny how tastes change, right?
The butternut squash was about all I could handle for one meal from the land of vegetables.  But you should leave them in – it will add color to your dish!
I'm always looking for new and improved mac and cheese recipes to try, so if you have come across a winner make sure you share the wealth! I will probably make it that same day.
If you're more of a mac and cheese purist, be sure to check out my Easy Stovetop Macaroni & Cheese. It is the best of the best!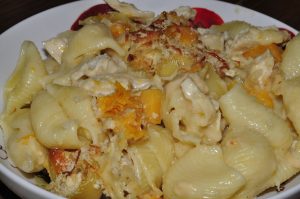 Autumn Chicken Mac and Cheese
Prep time:
Cook time:
Total time:
This is a creamy baked autumn mac and cheese recipe made with butternut squash, brussels sprouts, and chicken. This is a great fall comfort food recipe!
Ingredients
1 pound whole wheat pasta (I used shells)
1-2 chicken breasts
½ small butternut squash, peeled and chopped into small cubes
1 large apple, peeled and chopped
½ sweet onion, chopped
2 cups brussel sprouts, chopped (optional)
2 tablespoons olive oil
½ teaspoon nutmeg
1 tablespoon butter
1 tablespoon flour
2 cups milk
8 ounces cheese, shredded (I used smoked cheddar)
½ cup shredded parmesan cheese + more for topping
¼ cup Panko bread crumbs
Instructions
Preheat oven to 400 degrees.
Lay chopped squash and apples on a baking sheet and drizzle with 1 tablespoon olive oil, salt and pepper and ¼ teaspoon nutmeg. Roast for 25 minutes, flipping once.
While the squash is roasting, heat a skillet over medium heat and add 1 tablespoon olive oil. *Cook the chicken breast(s), if adding, then cut into bite-size pieces.*
Add onions and brussels sprouts with a pinch of salt and pan roast for 6-8 minutes, turning frequently.
Heat a large pot of water to a boil, and begin to cook your pasta.
Set aside squash/apples and sprouts/onion mixture. If pasta is cooked, set it aside as well. Reduce oven heat to 350.
In a medium saucepan, heat one tablespoon of butter on medium heat and whisk in the flour to create a roux. Add the milk while continuing to whisk, and begin adding cheese as well. I find that adding cheese in batches about 3 minutes apart works best. Continue to whisk together so the cheese melts and doesn't stick to the bottom. The entire process takes about 10 minutes and you want the heat on medium-low, this will help thicken the cheese sauce. I find you don't want it too thick, as it will thicken in the oven.
Spray a large casserole dish with non-stick spray. Begin to layer pasta, chicken, vegetables and apples, and cheese sauce in batches, just mixing to make sure all is combined. Top with Panko (I put lots on top) and another sprinkling of parmesan. Bake for 25-30 minutes.
 Recipe Source: adapted from www.howsweeteats.com