Creamy Italian Chicken and Zucchini Skillet
Creamy Italian Chicken and Zucchini Skillet all made in one pan with a delicious creamy tomato sauce.  Serve this over pasta or rice for an easy weeknight dinner!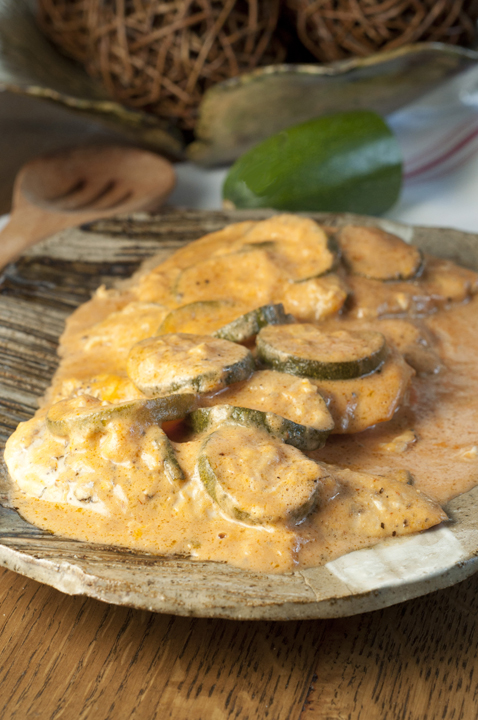 I wanted to share this Creamy Italian Chicken and Zucchini Skillet with you just in time for the weekend.
This is an EASY meal you can make that looks all fancy and stuff.  You all know what I am talking about – the best kind of meal there is.  Also, anything with the world "Italian" in the title has to be good, right? (you can see my Italian food collection here). Maybe I'm just biased.
Mr. Wishes and I loved this Creamy Italian Chicken and Zucchini Skillet for dinner and I have a good feeling that you will too.  The chicken comes out nice and tender, the spices are just right, and the sauce is the real show-stopper.  I love creamy tomato sauces loaded with good-quality melted cheese!  Just like my Lemon Butter Chicken recipe, you can make this entire dish in one skillet – gotta love it.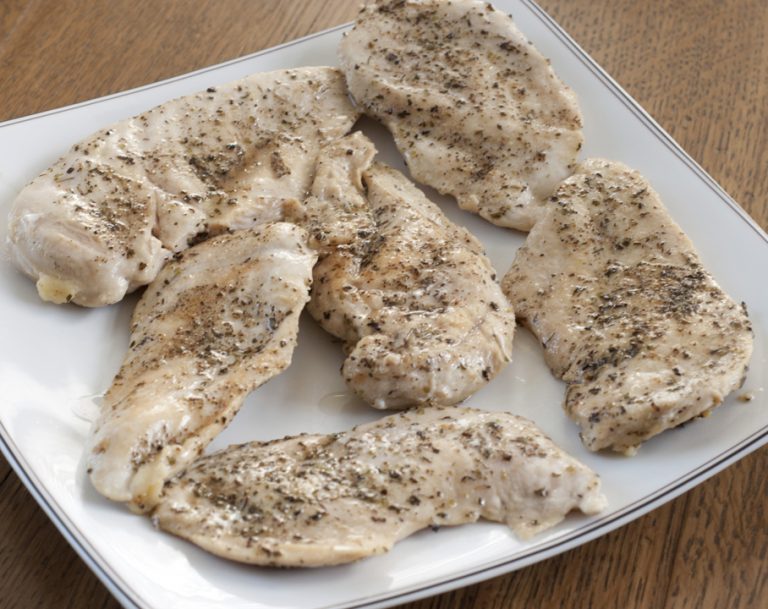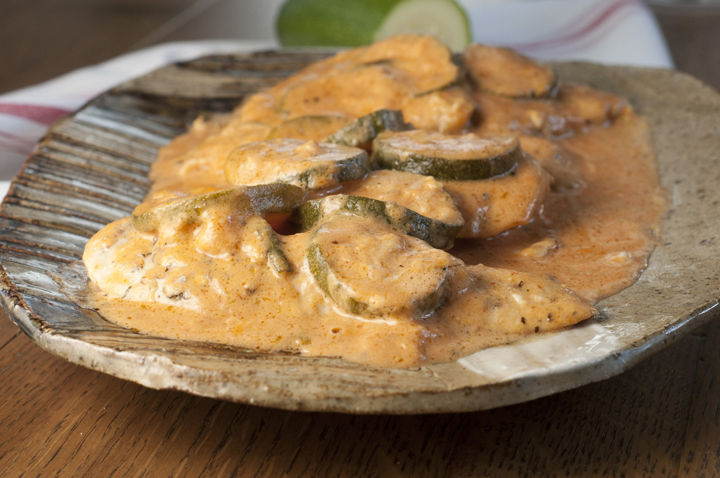 This meal is not low-fat by any means, so put on your stretchy pants before consuming.  You can consider that your warning.  Also, it still can be considered healthy despite the cream sauce and added cheese, because, hello….zucchini is added in to the mix.
I am WAY behind in the times with zucchini season but I wanted to at least get one out there before summer is over.  I can't believe I just said that – I'm in total denial over here about my precious summer winding down.  On that note – I'm going outside to sit in the sun.  I've done enough "work" for the day, right?  Enjoy!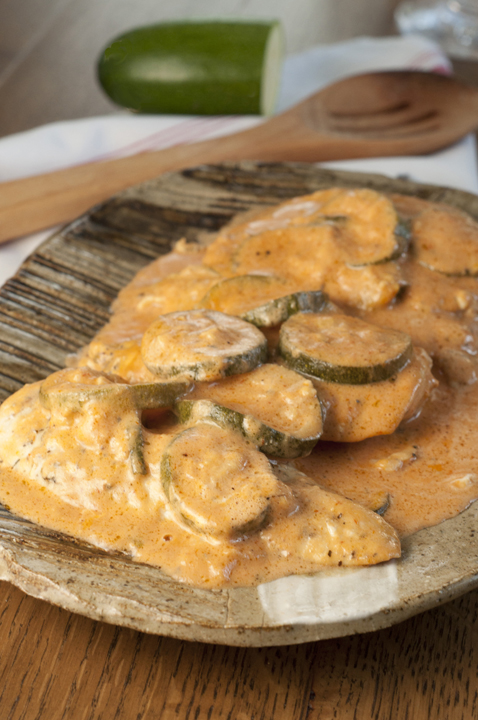 Creamy Italian Chicken and Zucchini Skillet
Prep time:
Cook time:
Total time:
Delicious skillet chicken and zucchini with a cheesy tomato cream sauce.
Ingredients
1 pound chicken cutlets (4 or 5 cutlets)
3 tablespoons olive oil
¼ tsp salt
¼ tsp pepper
½ tsp Italian seasoning
1 zucchini, cut into rounds about ½ inch thick
2 cloves garlic, chopped
½ cup chicken stock
1 cup heavy cream
14.5 ounce can tomato sauce
½ cup Parmesan cheese, grated
⅓ cup Garlic & Herb flavored soft cheese (I used President Cheese brand)
Instructions
Heat skillet over medium high heat.
Add olive oil to the pan. Pat the chicken cutlets dry with a paper towel, then season them with salt, pepper, and Italian seasoning.
When oil is hot, add chicken breasts and cook 4-5 minutes.
Flip chicken breasts and cook another 4-5 min until chicken is cooked through. Don't overdo it or chicken will end up dry.
Remove chicken breasts from pan and place on a plate; set aside.
Add zucchini and garlic to skillet. Saute for about 1 minute on each side, turning zucchini over with a fork.
Add chicken stock to skillet and bring to boil over medium heat, about 2 minutes. Stir frequently, scraping up any chicken or zucchini pieces stuck to the bottom of the pan.
Stir in cream, allow to simmer for about 4 minutes.
Add tomato sauce to the skillet. Allow to simmer for 1-2 minutes.
Reduce heat, add cheeses, stir. Return chicken to pan and allow to simmer until ready to serve and chicken is heated through.
Serve over pasta or rice - this recipe makes plenty of sauce to cover it. Enjoy!