Coconut Crusted French Toast
There are a ridiculous number of foods I always claimed or thought I hated my whole life and then all of a sudden grew on me and now I love them.  Coconut is one of these foods.  I guess it's true that your taste buds change with old age!  I have learned to love the flavor and think it smells heavenly.
French toast, however, is something I have always loved.  It's just such a classic breakfast and is my favorite sweet morning treat…but I really love it anytime of the day.
A certain someone that I'm married to has said on occasion that he just can't understand how I can make a meal out of bread soaked in syrup.  He doesn't know what he's missing!  I added some chicken sausage on the side to make him happy 🙂
P.s. If you are a coconut fan, you just might love these cookies 🙂  Have a great day!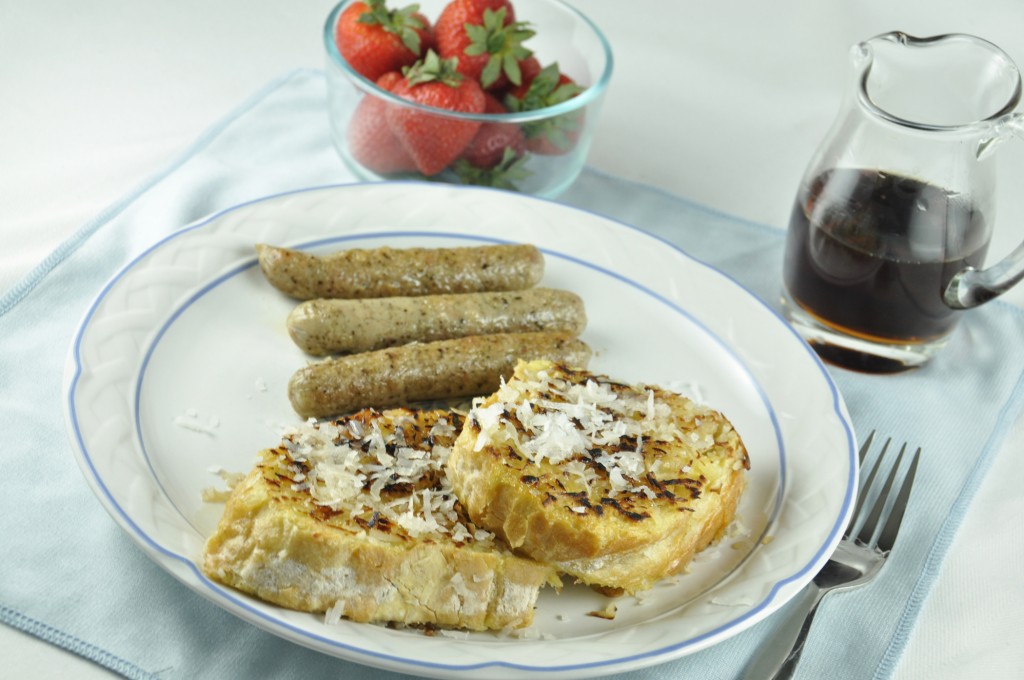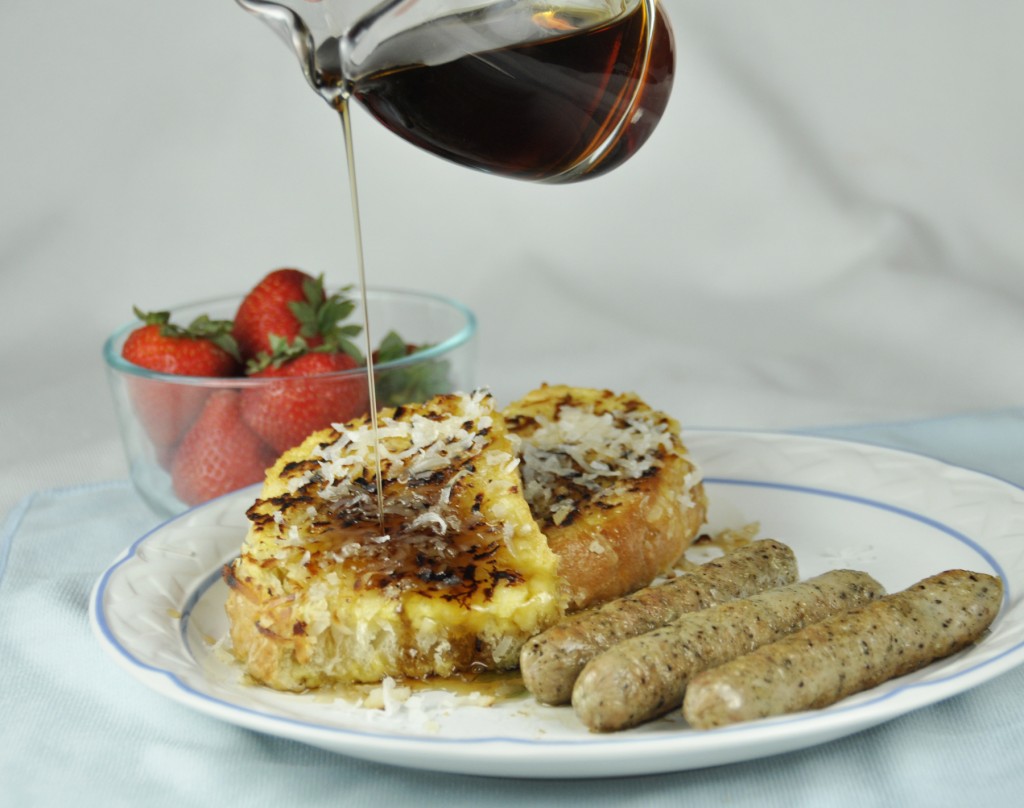 INGREDIENTS:
3 large eggs
3/4 cup coconut milk
1/2 teaspoon coconut extract
1/4 teaspoon vanilla extract
1/8 teaspoon salt
1 cup shredded sweetened coconut
6 slices of French bread, cut into 1/2 inch slices
Butter, maple syrup, and strawberries-for serving, if desired
DIRECTIONS:
In a shallow dish, whisk together the eggs, coconut milk, coconut extract, vanilla extract, and salt. Place the shredded coconut on a plate. Dip both sides of each slice of bread into the egg mixture (let it really soak in to the bread). Dip both sides of the coated bread into the shredded coconut. Drizzle a little egg mixture on top of the coconut to make it stick to the bread.
Meanwhile, heat a large non-stick frying pan or a griddle to medium to medium-high heat. Cook the slices of bread until golden brown on one side and then turn and cook the other side. Serve immediately or keep French toast warm in a 250 degree F oven.
Serve with butter (this doesn't really need it), pure maple syrup, and/or strawberries.
Recipe source: adapted from www.twopeasandtheirpod.com
- Craving more?
Sign up for the Wishes & Dishes Newsletter
for a fresh serving of content delivered every week to your inbox! And stay in touch on
Facebook
,
Twitter
,
Pinterest
and
Instagram
for all of the latest updates!