Mini Coconut Chocolate Chip Cookies
Chewy, soft cookies without butter or shortening?  Believe it!
Coconut oil is actually a fantastic alternative to other fats used in making food.  Better yet, I learned that it's super easy to substitute coconut oil for butter in your baked goods!
Although butter and coconut oil both do contain saturated fats, coconut oil contains more medium-chained fatty acids (specifically, it contains 50% lauric acid) and has many health benefits!  Coconut oil withstands higher temperatures than butter and doesn't turn stale or bad as easily.  I actually read that the body processes coconut oil much more efficiently than it does butter.
Swapping out butter for coconut oil is simple—when a recipe calls for melted butter, melt the coconut oil or let it remain in a liquid state if it is already, and when it calls for solid butter, cool the oil down in the refrigerator until it solidifies.  Make sure you measure the oil in the state in which it will be used.  Remember, coconut oil does have somewhat of a  "coconut-y" taste,  so using it works best in recipes where that coconut flavor will be appreciated.  It is appreciated in this recipe, for sure!
I made these delicious cookies small so that I can eat five of them at a time and not feel guilty (because they are mini, of course!).  By the way, why is everything in miniature form so darn cute?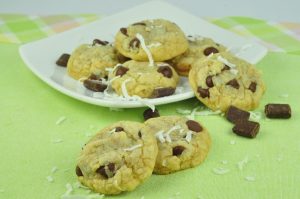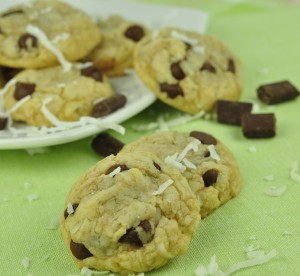 INGREDIENTS:
3/4 cup coconut oil (measured solid), melted (measure again) and slightly cooled
1 cup loosely packed brown sugar
1/3 cup granulated sugar
1 large egg + 1 large egg yolk
2 teaspoons vanilla extract
1/4 teaspoon coconut extract*
2 cups all-purpose flour
1/2 teaspoon baking soda
1/4 teaspoon salt
2/3 cups shredded coconut
2/3 cup mini chocolate chips
DIRECTIONS:
Preheat oven to 325 degrees F.
In a large bowl, whisk together melted coconut oil and sugars. Let sit for 15 minutes.
Whisk in egg, egg yolk and extracts, mixing until completely smooth.  Break up any remaining brown sugar chunks with the whisk and keep stirring!
Add in 1/2 cup flour, baking soda and salt, stirring to combine.
Add remaining flour 1/2 cup at a time, stirring to bring it together.
Fold in coconut and chocolate chips.
Take 1 to 1 1/2 tablespoons of dough and roll it into a ball, placing it on a nonstick baking sheet. Place dough about 1-2 inches away from each other.
Bake for 7-8 minutes, or until just set. Let cool completely.
*You can omit the coconut extract if desired.  It won't change the taste much. You can also make these as normal-sized cookies.
Recipe source: howsweeteats.com