Mini French Toast Sausage Roll-Ups
This sweet and savory recipe for Mini French Toast Sausage Roll-Ups served with warm maple syrup for dunking will be the best addition to your next holiday breakfast or brunch!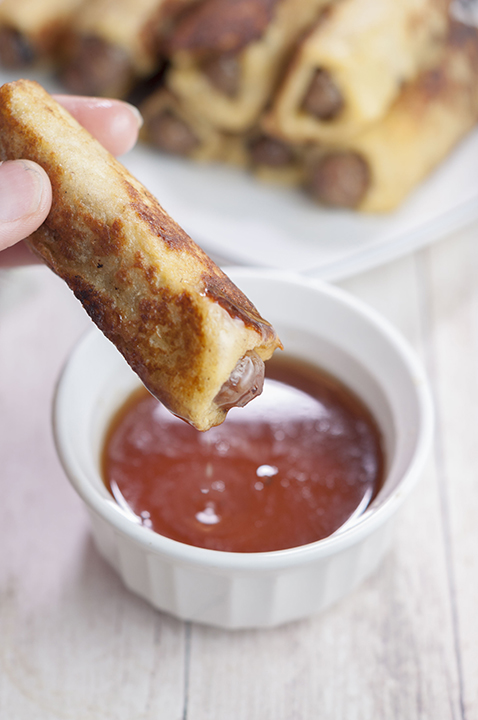 Happy Friday, everyone! We made it through the week (I barely made it, let's be honest). I'm going to keep it real for a second here and say I am normally not a breakfast person, but love these Sausage Roll-Ups.
I am not a huge fan of the morning (much to my hubby's dismay) and I am infamous for skipping this most important meal of the day. These Mini French Toast Sausage Roll-Ups and my Overnight Blueberry French Toast Casserole have me completely sold on breakfast. I may even wake up early on the weekends for this one! OK- let's not get too crazy here.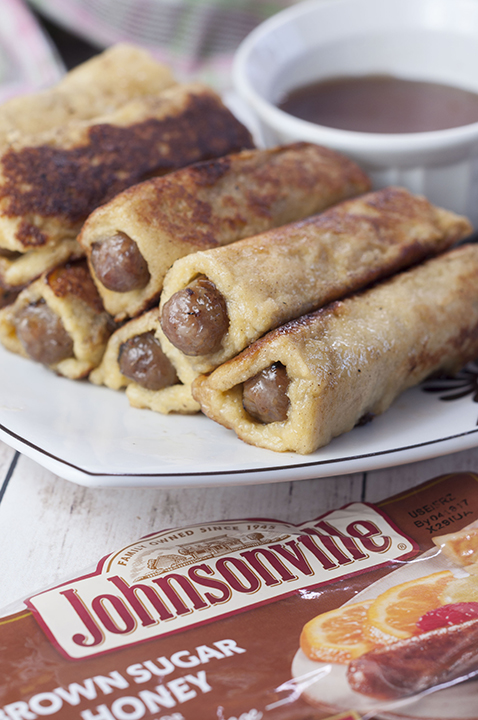 Easter and brunch recipes go hand in hand and it's going to be here before you know it! It's time, folks. Time to start thinking about what you're going to be making for the holiday and all of your brunch guests.
Are you in charge of bringing a dish to a brunch outside of your home? I have some "Brunchspiration" for you today and this one is sure to impress, guys.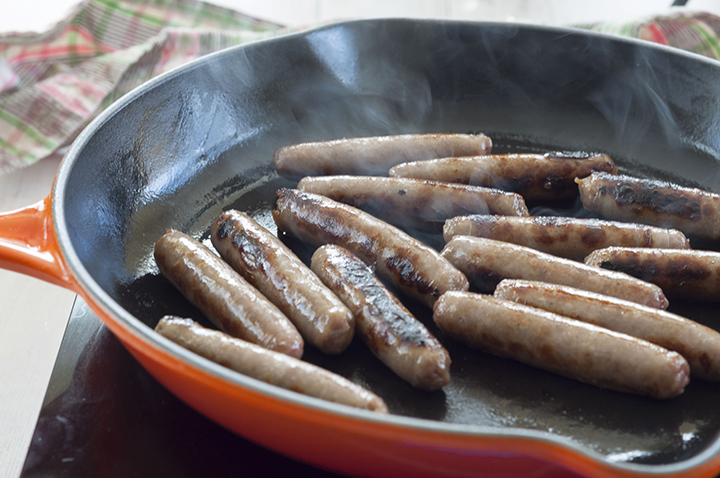 If you're like me, you don't want to spend the morning pulling your hair out trying to make it all come together. More time with your family and friends is ideal, right? Right.
I used Johnsonville Brown Sugar & Honey breakfast sausage in these Mini French Toast Sausage Roll-Ups to make things super quick and easy. They have a variety of flavors, but this one sounded the best to me!
The size is perfect while still having the big, bold flavor of their regular sausage, the flavor is perfect. Everything is perfect about their sausage. It's the secret to a successful brunch or breakfast!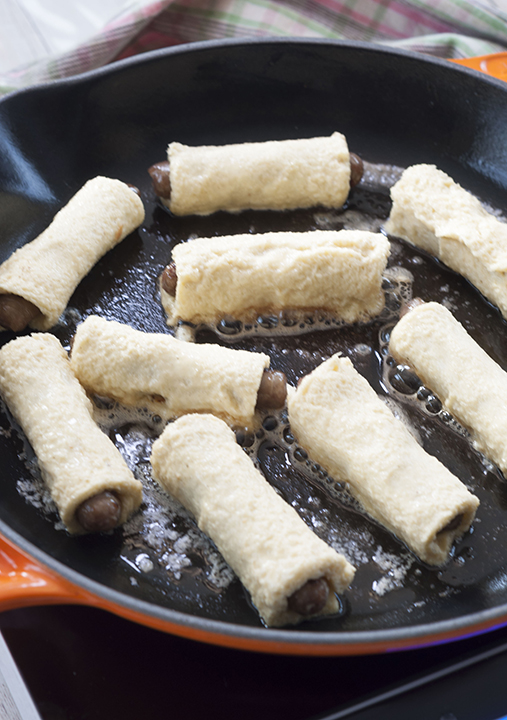 These Mini French Toast Sausage Roll-Ups are fun to make and fun to eat. The brown sugar and honey sausages are wrapped in a sweet cinnamon french toast batter and dunked in warm maple syrup. It's like French toast sticks with the added bonus of sausage links inside which makes them more filling and hearty.
Sweet and savory is the best combination! And isn't dunking something in syrup always exciting and appealing? Holiday brunches give us the chance to get creative with what to serve guests, so make something they wouldn't expect this year! Kids (even picky eaters) are sure to love these.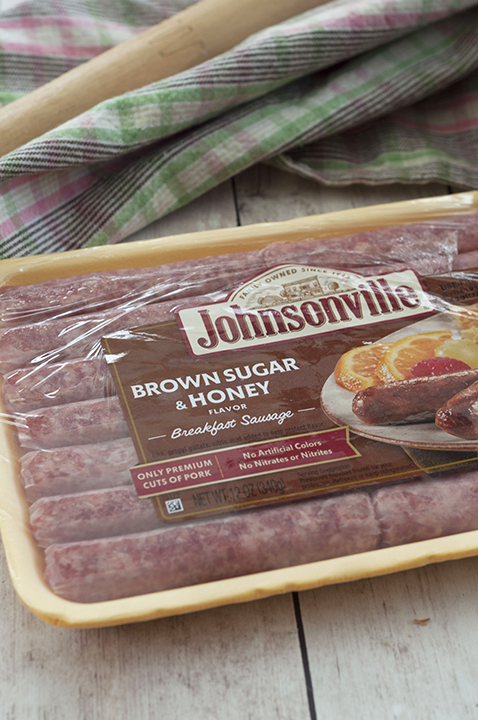 Don't save this one just for Easter – this is easy enough to be made for your weekend breakfasts! Using Johnsonville sausage is so convenient to work into your favorite breakfast or "brinner" dishes. Oh, and these Mini French Toast Sausage Roll-Ups are super addicting, so consider yourself warned.
If you're a fan of these, you might like my Coconut Crusted French Toast or my Banana Nutella Stuffed French Toast. So, tell me, Wishes and Dishes readers – what is your favorite brunch recipe using breakfast sausage? I am always looking for more ideas!
You might also love my post on how to make French toast.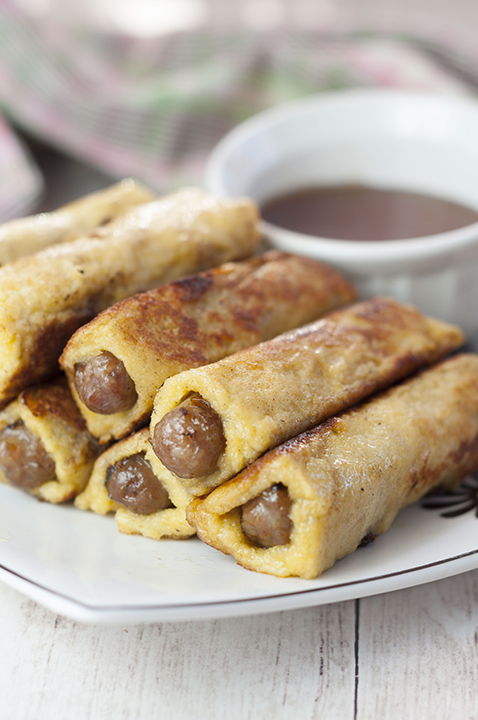 Check out my "how to" video on making these roll-ups!
Mini French Toast Sausage Roll-Ups
Prep time:
Cook time:
Total time:
Sweet & savory recipe for Mini French Toast Sausage Roll-Ups served with warm maple syrup for dunking are the best addition to holiday breakfasts or brunch!
Ingredients
10 Johnsonville breakfast sausages
10 slices regular size sandwich bread
2 eggs
¼ cup heavy cream
½ teaspoon ground cinnamon
¼ teaspoon vanilla extract
butter, for greasing the pan
maple syrup, for dunking
Instructions
Cook the breakfast sausages in a skillet according to directions on package.
While they are cooking, trim the crusts off the bread slices and flatten them with a rolling pin.
In a small mixing bowl, whisk together the eggs, cream, cinnamon and vanilla until combined..
Roll each sausage link up in one piece of bread and trim the ends off, if needed, to fit the sausage. If the sausage sticks out a bit, that's fine.
Heat a skillet or non-stick pan over medium heat and add about a tablespoon of butter; melt.
While butter is melting, dunk each sausage roll into the egg mixture, coat completely on all sides, let excess batter drip off, and place in the hot pan. Turn with tongs to cook on all sides. This will only take a few minutes.
When each side is nicely browned, immediately remove from pan to prevent burning.
Serve with maple syrup for dunking. Enjoy!
This is a sponsored conversation written by me on behalf of Johnsonville. The opinions and text are all mine.