Cilantro Lime Rice
Cilantro lime rice recipe is a close copy-cat to the popular Mexican-inspired restaurant chain, Chipotle, cilantro lime rice.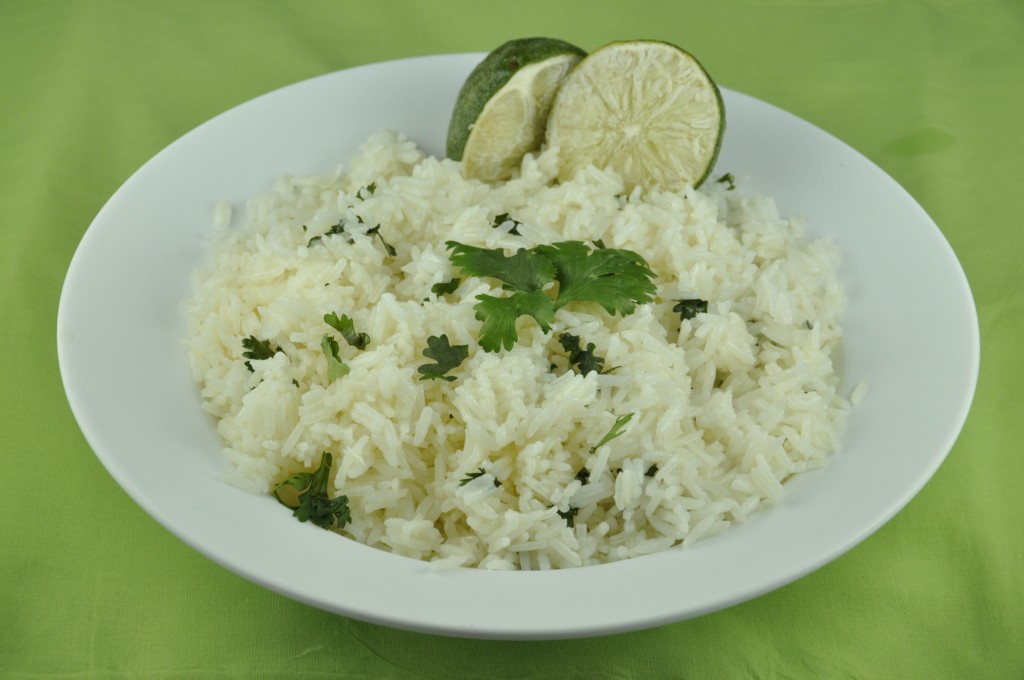 I am a huge fan of the cilantro lime rice at Chipotle Mexican Grill.  I am a huge fan of Chipotle everything, really.  I am very picky about Mexican food and usually a little skeptical, but this place meets my approval.
So much of their meat is from naturally raised sources and this all-natural approach really works for them.  It's just nice when a fast food restaurant doesn't seem to have much to hide as far as what they put in your food.
The food is fresh, delicious and it definitely has it's own unique taste….and it at least looks healthy, which makes me feel better as I'm about to consume their 3 pound burrito.
Yeah, by the way, the portions are humongous!   Also, I'm a very picky eater and horrible decision maker when it comes to deciding what to eat.  Ask my friends or hubby, who moan and groan every time we go out to a restaurant because they know how long it takes me to order.
So, it works out for everyone that there's only like 1.4 choices on the entire menu at Chipotle.  Maybe I'm not bad at making decisions…maybe I'm just a little too good at looking at all the possible angles.
Oh, before I forget, for a little more than a dollar extra they'll give you a paper bag full of some very yummy tortilla chips that are seasoned with salt and lime.  I always tend to judge a Mexican place by the chips they serve.  Chips are a very big deal to me at these restaurants!  Chipotle has them perfectly mastered.
Moving on. This is a copycat recipe for the amazing rice they serve there and I thought the flavor was spot on.  This is the perfect side dish, especially to accompany a Mexican dinner….but you can also serve it inside a burrito, burrito bowl or taco!  One thing is for sure – this rice will be completely devoured.
This cilantro lime rice would be perfect alongside my Grilled Flank Steak Tacos with Avocado and Cilantro Lime Crema.

Cilantro Lime Rice
Cilantro-lime white rice recipe is a close copy-cat to the popular Mexican-inspired restaurant chain, Chipotle, cilantro lime rice.
Ingredients
1 cup extra long grain white rice (Jasmine or Basmati work well)
2 cups water
2 tbsp olive oil
1 lime
¼ cup chopped cilantro (or more, to taste)
salt, to taste
Instructions
Combine the rice, water, and 1 tbsp of the olive oil in a small sauce pan. Bring to a boil and continue boiling over medium heat until the water just skims the top of the rice.
Reduce heat to low, cover the pan, and continue cooking for 15 minutes.
Remove from the heat and keep covered for 5 more minutes.
Remove the lid and transfer the rice to a large bowl and add the remaining tablespoon of olive oil, the juice of the lime, and the cilantro. Mix well and salt to taste.