Christmas Sugar Cookie Bites
Bite-size soft and buttery Christmas Sugar Cookie Bites are one of my favorite Christmas desserts and a unique take on a classic frosted sugar cookie!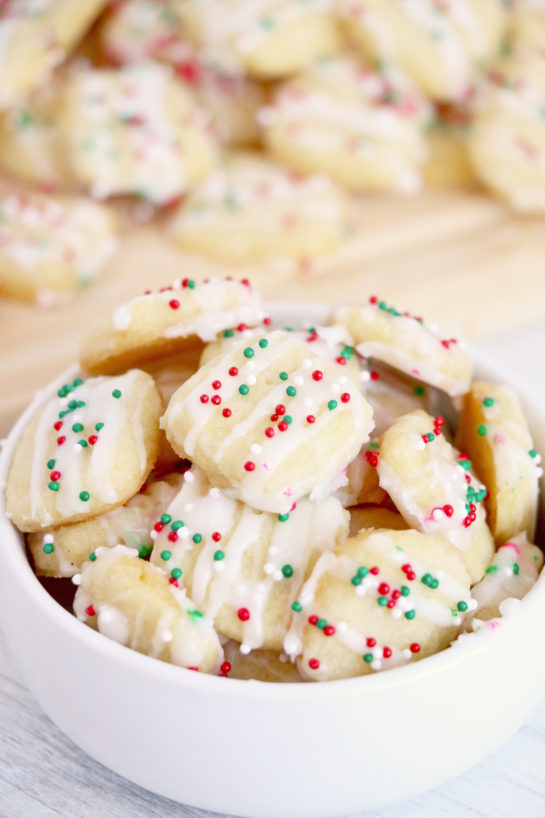 Christmas Sugar Cookie Bites will make you the absolute happiest this holiday season! Drop what you're doing and go make these right now.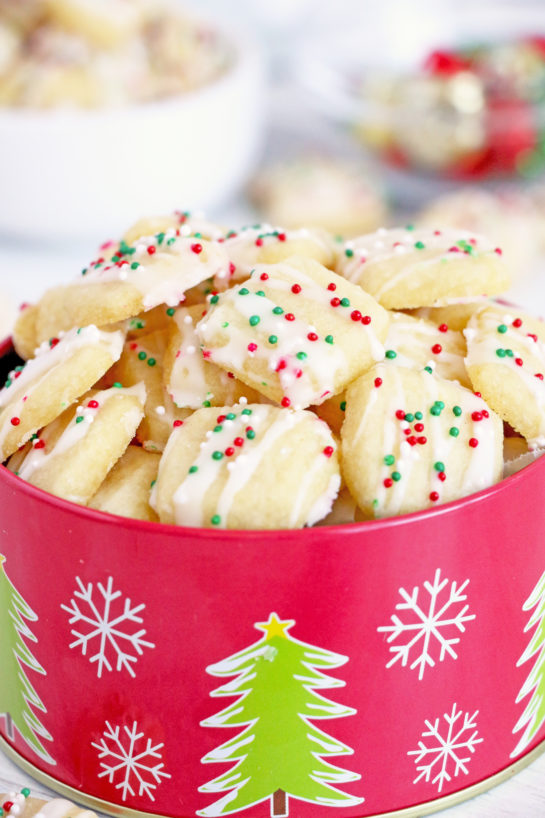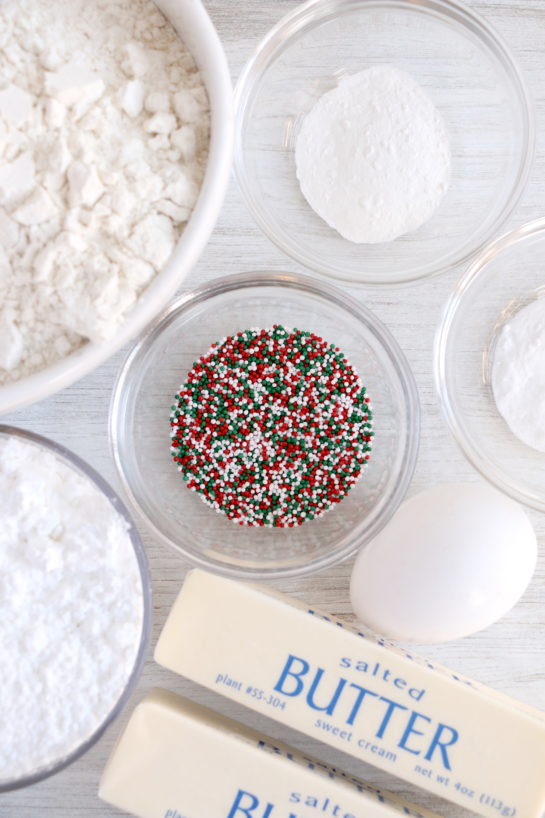 All this Christmas cookie business going on since September has me continuing my compilation of what I'm going to bake for the holidays. I'm so behind this year in the baking! I mean, how are we in December already? I haven't even made my Italian Ricotta Cookies yet.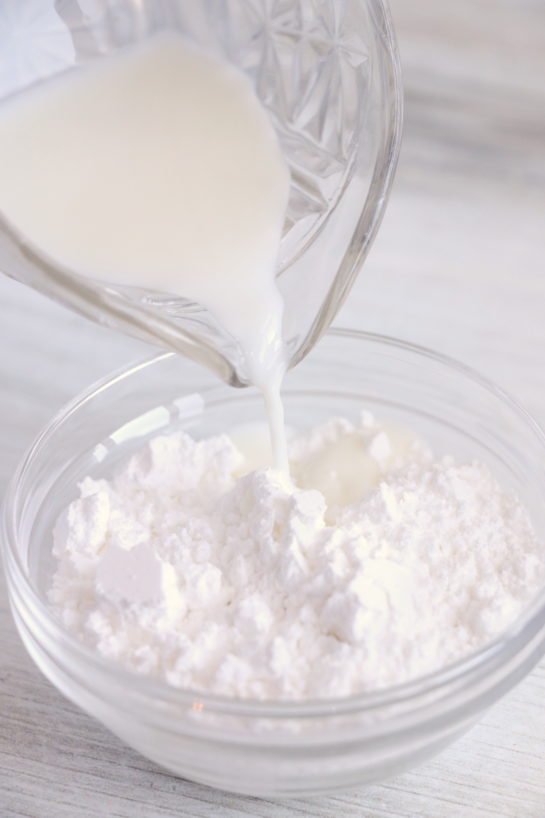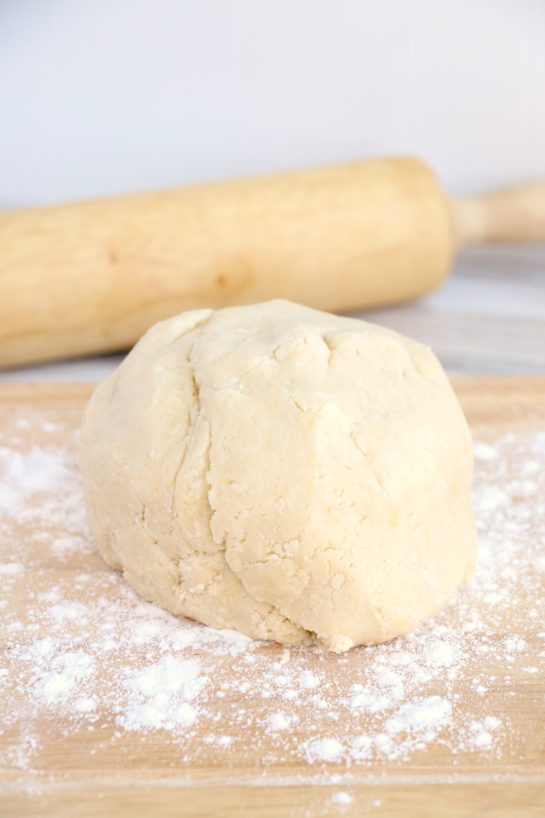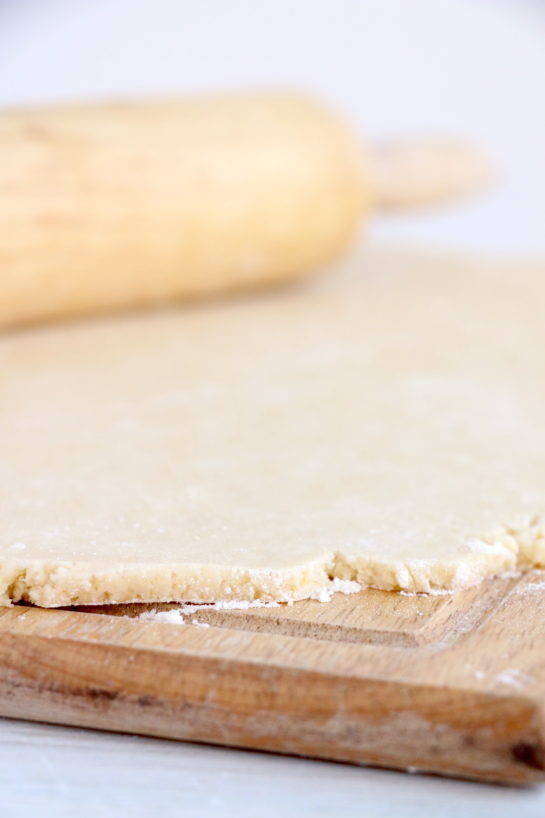 Normally I'm that person that ends up sharing Christmas desserts with you annoyingly soon as I tend to do every year. Like Christmas-trees-out-in-September too soon.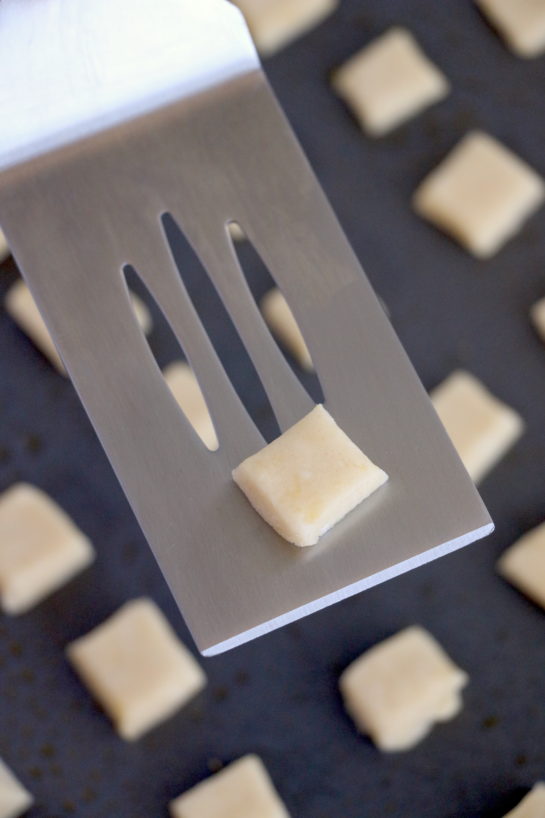 So, since I have been baking cookies for Christmas for about a billion years, and really love all the ones on my list, sometimes it makes it pretty much impossible to find a new cookie that I love so much that it's delicious enough to include on the regular Christmas rotation. And I'm pretty sure that was a run-on sentence. Sorry.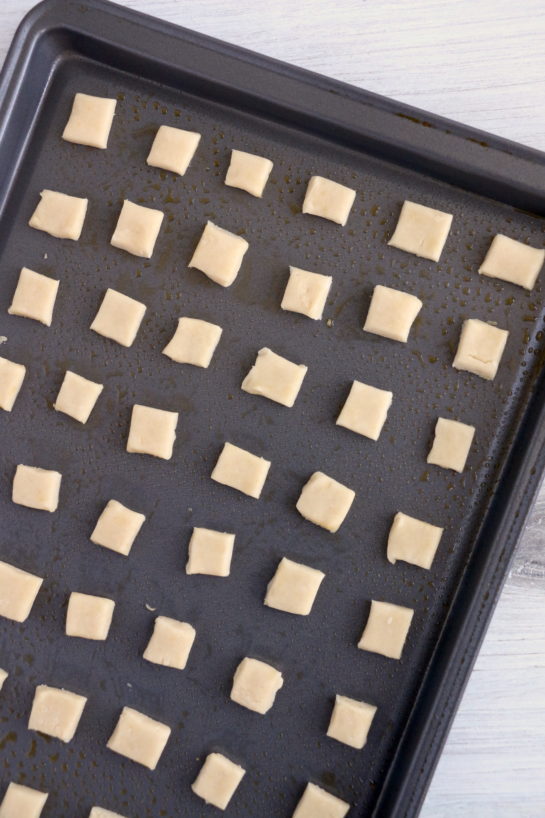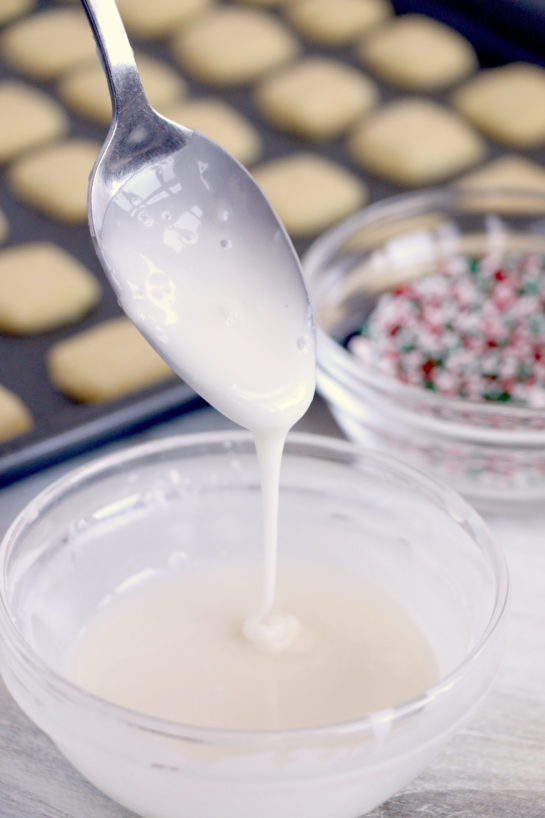 My point is, they are just fantastic enough to make it into my annual rotation along with my Heart Linzer Cookies. You will feel the same way.
These are serious melt-in-your-mouth little cookies. Rather than making a dough that requires a rolling pin and special holiday cookie cutters, these cookie bites come together a bit easier.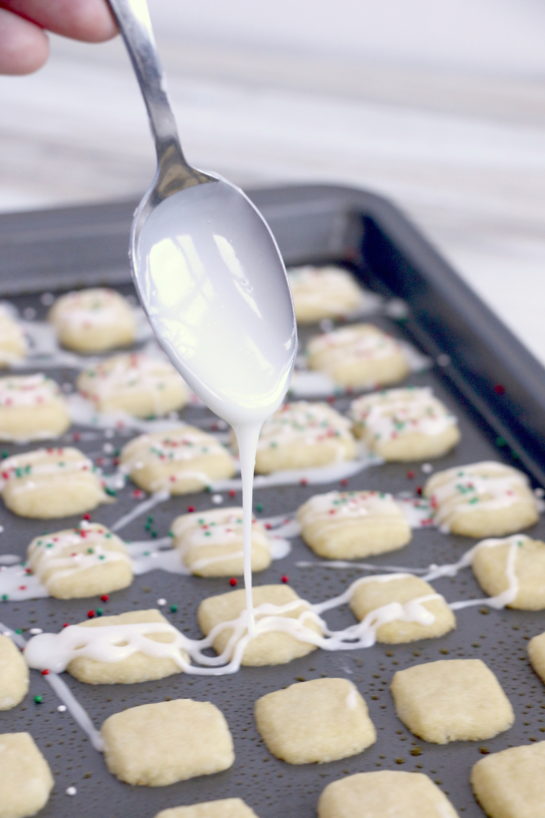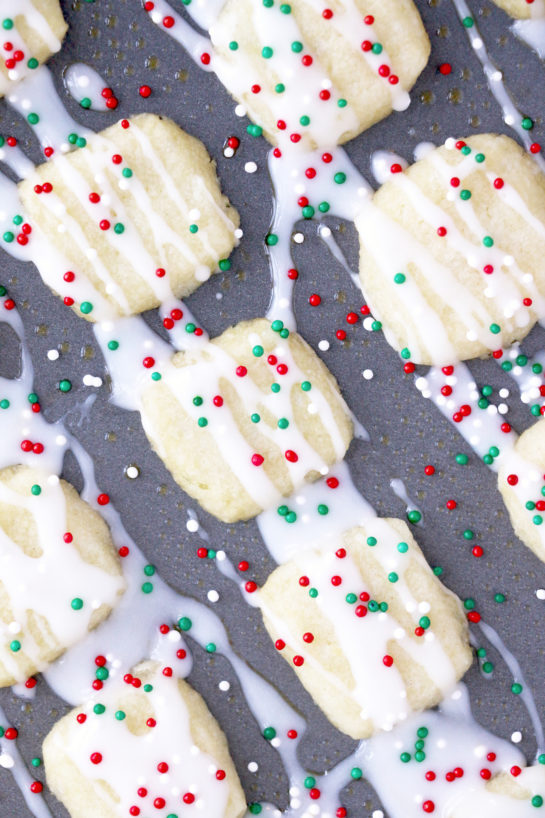 Cut-Out Sugar Cookies and Frosted Swig Sugar Cookies are our absolute favorite to make at Christmas time, but these are so much easier and cuter. I swear they are always one of the first desserts on my baking trays to go! They are always a hit and if you have kids, this is the only kind of cookie they will care about. Promise.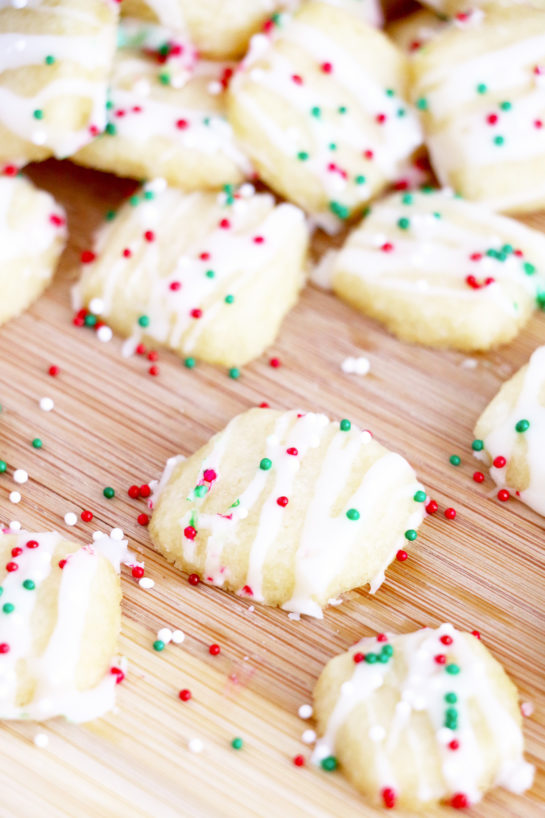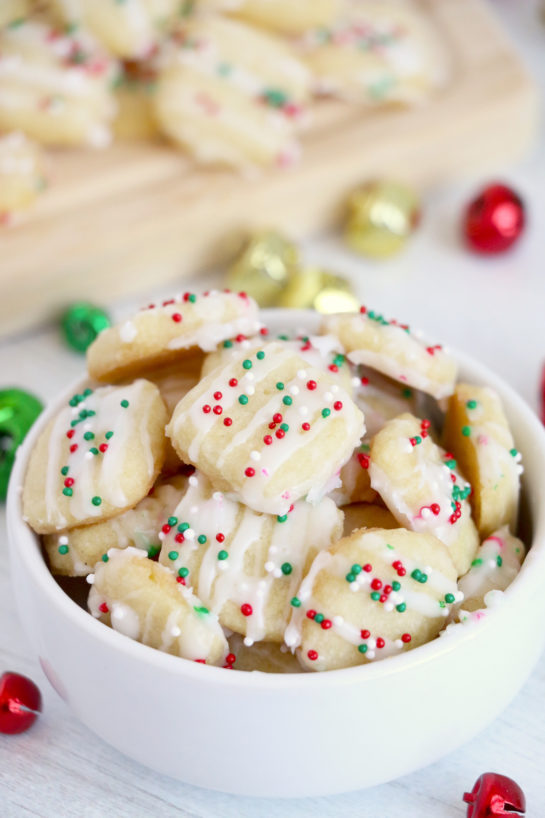 They are so very easy to make and you probably have all the ingredients on hand! I am always up for these Sugar Cookie Bites. Always. All the dang time. Forever and ever. Oh, and Cookie Bark. I'm always down for that, as well.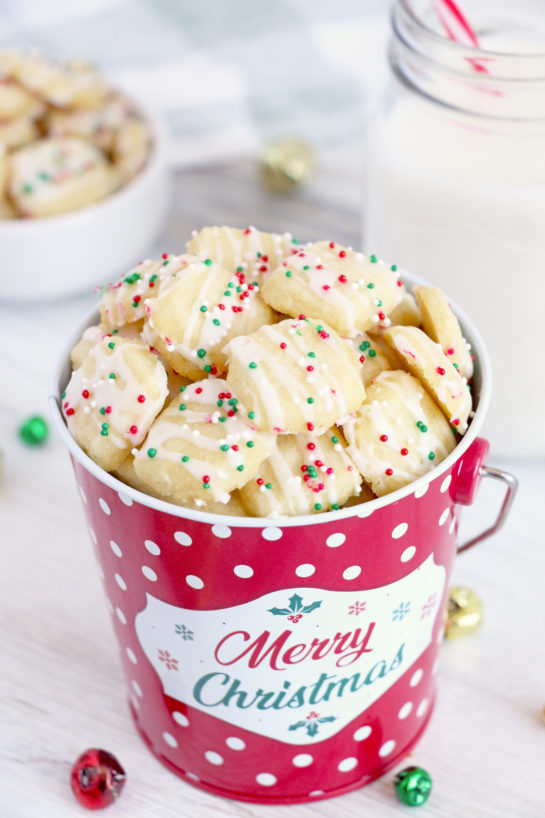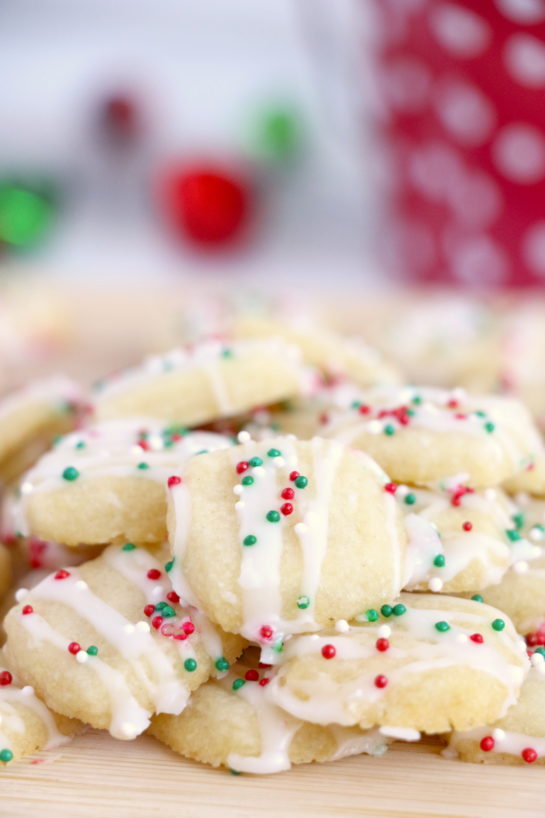 Christmas Sugar Cookie Bites
Prep time:
Cook time:
Total time:
Bite-size soft and buttery Christmas Christmas Sugar Cookie Bites are one of my favorite Christmas desserts and a unique take on a classic frosted sugar cookie!
Ingredients
Cookie Ingredients:
2½ cups flour
1½ cups powdered sugar
1 tsp baking soda
1 tsp cream of tarter
1 large egg
1 cup salted butter, softened
Icing Ingredients:
1 cup powdered sugar
2-3 tbsp milk
Instructions
Preheat oven to 350ºF.
Place all cookie ingredients in a large mixing bowl. Beat until contents seem blended. The dough may appear to be a bit dry, but it will come together when you begin working it with your hands.
Form dough into a ball.
Place it on a lightly floured surface.
Using a rolling pin, roll dough until it is about ¼-inch thick.
Using a pizza cutter, cut dough into small squares that are about ½-inch to 1- inch wide, depending on your preference. They will expand a bit while baking. Place squares on a greased baking sheet. Bake for 5 minutes or until edges just begin to brown.
Cool cookie bites prior to icing.
Icing:
Prepare icing by combining powdered sugar and milk.
If icing is too thick, add more milk. If it is too thin, add a bit more powdered sugar.
Drizzle over cookies, add sprinkles of your choice, and enjoy!