Chipotle Chicken Taco Salad
This healthy Chipotle Chicken Taco Salad recipe is covered with a creamy lime Greek yogurt dressing, avocado, tomatoes, and shredded chicken.  This is the only salad recipe I can honestly say I have LOVED and it's perfect for a summer picnic, grilling out, 4th of July or Memorial Day side dish!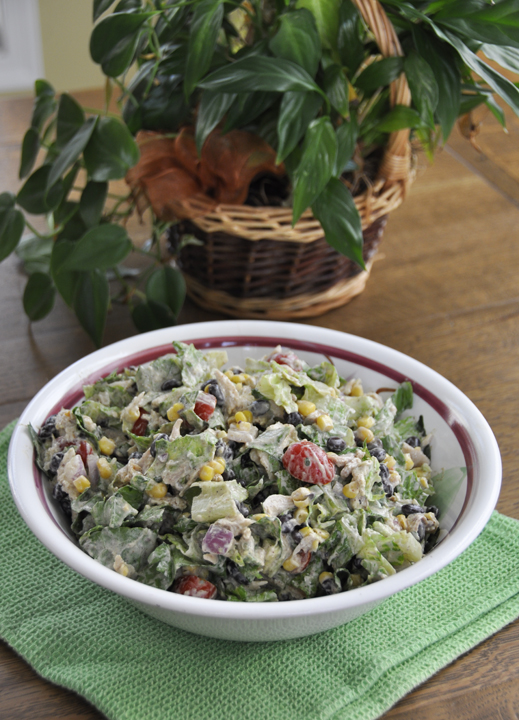 Hi there, everyone!  I have a quick and easy salad recipe for you today that is perfect for busy summer (or spring!) evenings.  This Chipotle Chicken Taco Salad would make for a great side dish for your Memorial Day or 4th of July picnics!  I'm hardly ever….as in maybe it's only happened once or twice in my life….impressed by a salad – ESPECIALLY when it's the main course for my dinner.  I was very, very skeptical how this salad would turn out, but I ended up loving it and am going to make this regularly.  Mr. Wishes gave his stamp of approval which made me realize that it was definitely a one-of-a-kind salad and sufficed for dinner.  It was very filling and so tasty!  Loaded salads are the only kind of salad that I can pass off as a meal in itself.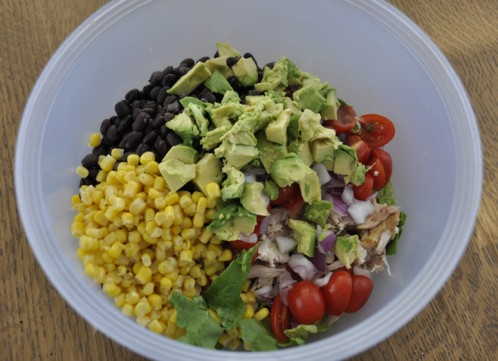 Be sure and use chopped romaine lettuce in this Chipotle Chicken Taco Salad as it is sturdy enough to stand up to the moist ingredients and won't wilt as quickly. This flavorful dish is just as good on the second day!  This Taco Salad really has such a nice ratio of carbs to protein.  This baby sure is a winner for my Mexican food loving self.   I also love that you can make a big batch and it's good for a few days.  I even ate it for lunch the following day.  If you make ONE salad from my blog, make this one!  Have a great day!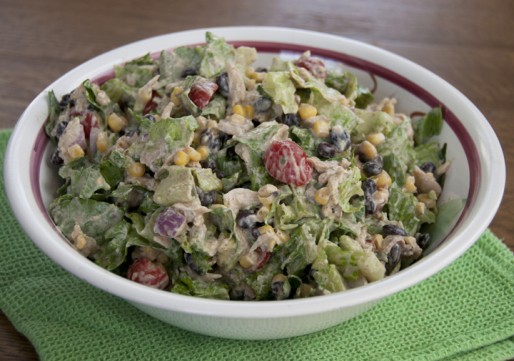 Chipotle Chicken Taco Salad
Healthy Chipotle Chicken Taco Salad has a lime Greek yogurt dressing, avocado, tomatoes, and shredded chicken. I love this salad recipe - great for summer!
Ingredients
Dressing:
½ cup chopped fresh cilantro
⅔ cup Greek yogurt
1 tablespoon minced chipotle chile, canned in adobo sauce OR ½ teaspoon Adobo seasoning
1 teaspoon ground cumin
1 teaspoon chili powder
4 teaspoons fresh lime juice
¼ teaspoon salt
Salad:
4.5 cups shredded romaine lettuce
2 cups chopped roasted skinless, boneless chicken breasts (about 2 breasts)
1.5 cups cherry tomatoes, halved
1 diced & peeled avocado
⅓ cup thinly vertically sliced red onion
1 (15-ounce) can black beans, rinsed and drained (can also use Pinto beans)
1 (8 ounce or close to it) can no-salt-added whole-kernel corn, rinsed and drained
Instructions
To prepare dressing, combine first 7 ingredients, stirring well.
To prepare salad, combine lettuce and remaining
ingredients in a large bowl.
Drizzle dressing over salad; toss gently to coat. Serve immediately so lettuce doesn't get soggy (will still taste good the next day, though).
Tip: Add a spoonful of adobo sauce for a spicier salad
Recipe source:  adapted from nutmegnotebook.com