Chinese Chicken Salad with Sesame Dressing
OK, I have never been a fan of salads, but I'm trying my darndest to start really eating them and maybe actually even liking them.  Why oh why can't I embrace leafy green salads like every other girl in the world?  Well, for this salad I actually went back for seconds.  I loved that there are so many textures and different flavors in it.  It is truly the perfect summer meal and a nice change of pace from your standard chicken salad.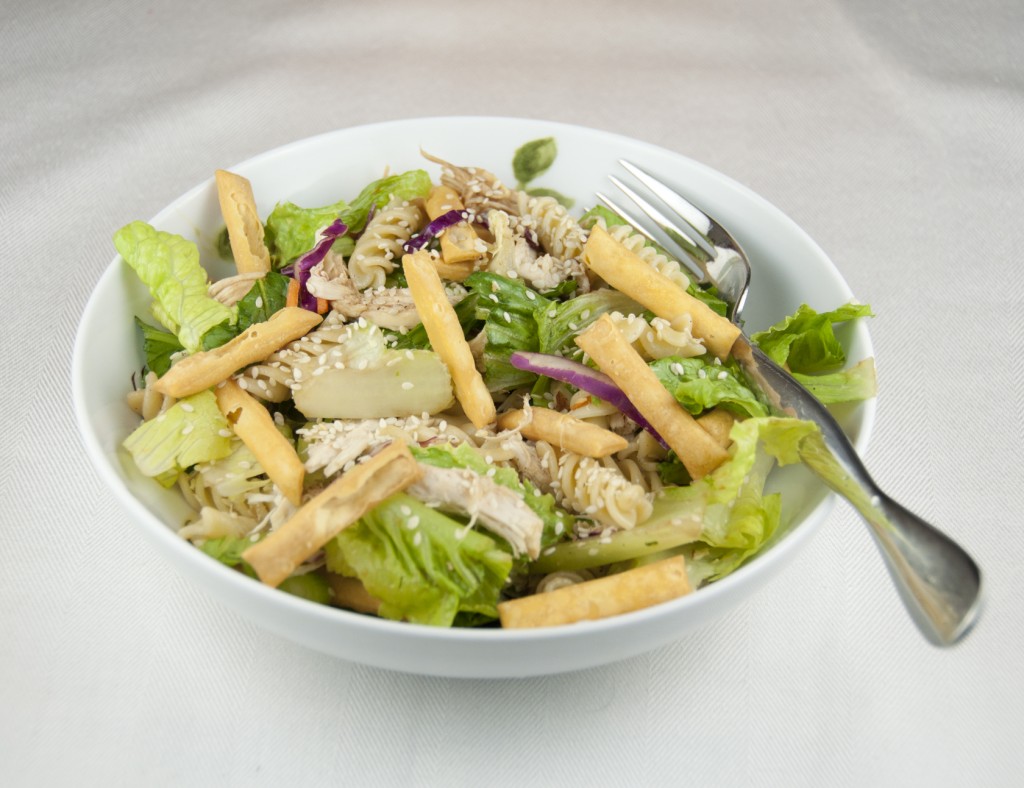 This recipe is great for a small gathering or just for the busy week nights.  You can use chicken already roasted at the grocery store and shred it up to make things even easier for yourself.
So moral of the story is, maybe chopped salads are the way to go for me….they are less like eating a mouthful of leaves!  Salads can definitely be awesome, they're a blank slate only limited by your imagination…..well, and your diet, budget, what you have handy in your kitchen….you get the point.
Try this and let me know how you like it 🙂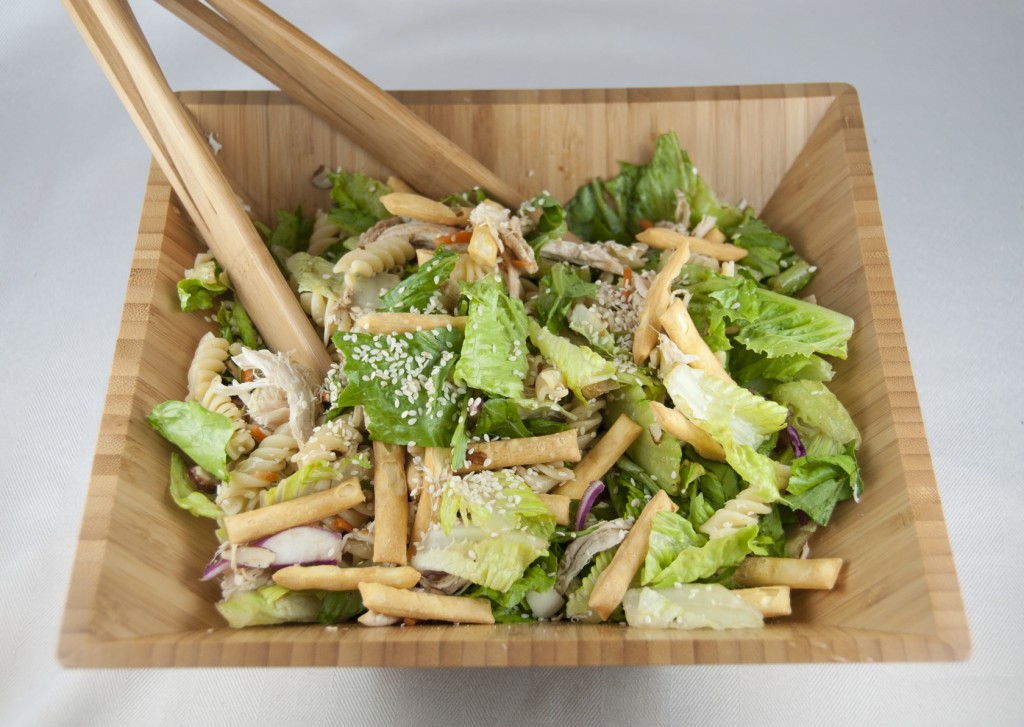 INGREDIENTS:
12 3-inch wonton skins, sliced into 1/4″ strips (or use store bought Chinese Noodles!)
1/4 cup canola or corn oil for frying
4 cups chopped romaine lettuce
1 chicken breast, shredded
2 green onions, chopped
1/4 cup sliced almonds, toasted lightly
1 tablespoon sesame seeds
2 cups cooked fusilli pasta noodles, cooled
Dressing:
1 1/2 tablespoons vegetable or grapeseed oil
6 tablespoons seasoned rice vinegar
1 teaspoon sesame oil (add more to taste if you prefer a strong sesame taste)
1 1/2 teaspoons sugar
2 teaspoons light soy sauce
2 tablespoon sesame seeds
1/2 teaspoon fresh ground pepper
1/8 teaspoon salt
DIRECTIONS:
If making homemade wonton skins: heat canola or corn oil in a skillet over medium-high heat. When oil starts to shimmer, fry wonton skins in batches of 5-7 strips for 30 seconds each side or until lightly browned, working quickly so they don't burn. Remove from oil and drain on paper towels until cooled.
In a large bowl, combine lettuce, chicken breast, green onion, almonds and pasta.
Combine dressing ingredients in a small bowl. Whisk well until sugar dissolves. Dress lettuce mixture with 2-3 tablespoons of sesame dressing and top with sesame seeds and wonton strips or chinese noodles and serve.