Pear Almond Barley Salad
This is a salad that I have embarrassingly had on my list of things to try for over a year now and just got around to it.  Thanks to the sweet Mr. Wishes for reminding me 😉
This idea is inspired by an amazing salad I used to order at Hillstone restaurant while we were temporarily living down in Miami for 5 months last year.  Their barley salad had such wonderful textures and flavors to it and I vowed to try to recreate it once I was home.  A year later, here it is!   And you know what? It's FAN-tastic.  One of the best salads I've had in a long time.  The sweet/salty combination is marvelous and it is the perfect 4th of July side dish.  But, if you plan on feeding more than 3-4 people, you might just want to double the recipe.  You can replace the pears with apples and the almonds with walnuts or pecans, if you prefer.
Whether your plans include packing a picnic basket or hosting a BBQ, make sure to put this barley salad on the menu.  Those trying to eat healthy will appreciate it most of all.  It's great served hot, cold or room temperature, which makes it perfect for summer, in general.  It will also go well with other foods, so you won't have to fuss too much with your menu.  And, last but not least, everyone will love it!
This year, why don't you reach beyond your grandma's potato salad and make this.  Or, maybe, just make room on your plate beside it 😉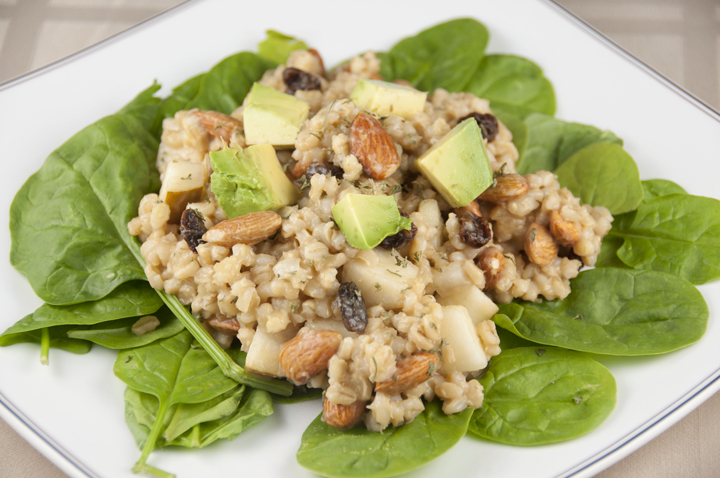 INGREDIENTS:
*makes 3-4 servings, more if using as just a side dish*
1 cup barley (I used Pearl)
3 cups vegetable broth
1 ripe pear
1/2 cup raw or roasted whole almonds
1 tablespoon fresh lemon juice
1 tablespoon brown rice vinegar
1 tablespoon finely minced vidalia onion (can also use shallots)
1/3 cup raisins. optional
1/4 cup chopped fresh parsley
Lettuce or baby spinach
1 avocado, sliced
DIRECTIONS:
In a sauce pan, bring the barley and vegetable broth to a boil over a high heat.
Turn the heat down to low, cover the pot and cook for 30-35 minutes or until the all of the broth is absorbed.
Take the top off the pot and let it cool for 10 minutes.
While the barley is cooking, mix together the lemon juice, vinegar and shallots in a small bowl
When the barley is done, cut the pear in small slices or cubes.
Mix the almonds and lemon juice mixture into the barley.
Add the pears and mix gently.
Serve over a bed of lettuce or baby spinach.  Top with sliced avocado just before serving.
Leftovers can be refrigerated and eaten the next day cold.