Asian Chicken Wraps
So Mr. Wishes and I are up to our ears in paint this week.  We are very fortunate new homeowners in that all we really had to do as far as work goes on our house is to (heavily) clean and paint most of the rooms in our house.  Our front and back yard that is 99% weeds and 1% grass?  Well, that is another story.  Let's only count the INSIDE of the house for now 😉
One thing I hate do even more than anything else I hate to do – clean.  I know, I have no business even owning a home if I hate to clean but thankfully I have had a lot of help from my mother-in-law who, God bless her soul, LOVES TO CLEAN.  I didn't even know people like that existed, did you?  All I know is I would be buried in dirt and dog hair if it weren't for her helping me slowly but surely get this place spic and span.  The piles and piles of dog hair were left here for us as a housewarming gift from the previous owners, we do not own a dog ourselves. Ha, ha.  I'm sure all you dog owners know that the hair just inevitably gets everywhere in a house.
This is one of my fave tortilla dishes thus far, because it's A. simple and B. scrumptious.  I don't have kids, but I know it's a busy time for everyone with the holidays approaching, after-school events, sports, you name it – I'm sure it's going on.  This meal will make your lives easier, if only for one night!  There are so many things you can do with a wrap.  You can even buy flavored wraps such as whole wheat, tomato basil, or garlic and herb, etc.  Get creative!  I served these with my favorite salad – Chinese Chicken Salad with Sesame Dressing.
Now, back to plugging away at the painting…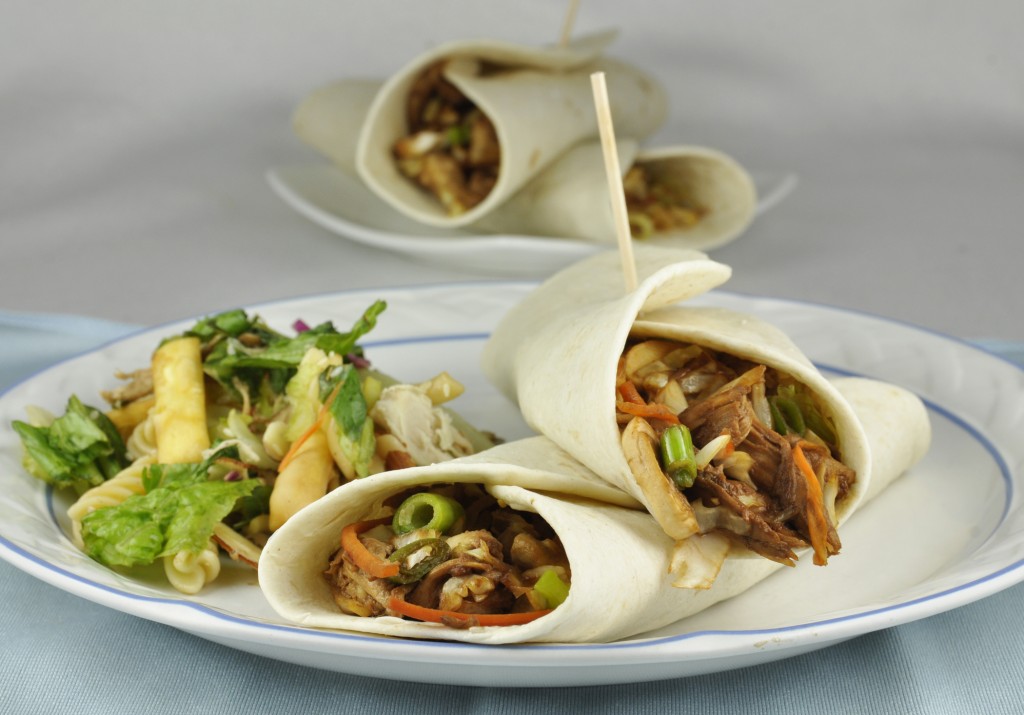 INGREDIENTS:
CHICKEN:
2 Tbsp. soy sauce
1 Tbsp. dry sherry
1 tsp. cornstarch
2 boneless skinless chicken breast cut into 1/2 inch thick strips
1 Tbsp. vegetable oil
VEGETABLES:
1 Tbsp. vegetable oil
1 1/2 cup sliced button mushroms
2 scallions, white and green parts, chopped
1 garlic clove, finely chopped
Half of a 1lb bag (about 3 cups) coleslaw mix
3 Tbsp. chicken broth or water
1 Tbsp. soy sauce
2 tsp. hoisin sauce
4 flour tortillas, heated
DIRECTIONS:
For the chicken, mix the soy sauce, sherry, and cornstarch in a small bowl. Add chicken and mix to coat. Heat oil in a large skillet of high heat. Add chicken and cook until it turns white, about 3-5 minutes. Transfer to a plate.
For the vegetables, heat the oil in the same skillet over high heat. Add the mushrooms and cook until they give off their juices and begin to brown, about 3 minutes. Stir in scallions and garlic, and cook until the garlic is fragrant, about 30 seconds. Stir in the coleslaw mix, broth, and soy sauce. Add the chicken. Cook, stirring often, until the coleslaw is wilted and heated through, about 3 minutes. Stir in hoisin sauce.
For each wrap, place the chicken mixture on a tortilla and roll up. Serve hot.
Recipe Source:  Kitchen Life: Real Food for Real Families – Even Yours! by Art Smith