Chicken Pad Thai
Chicken Pad Thai recipe in chili sauce that is just as good as take-out or what you order at the Asian restaurants!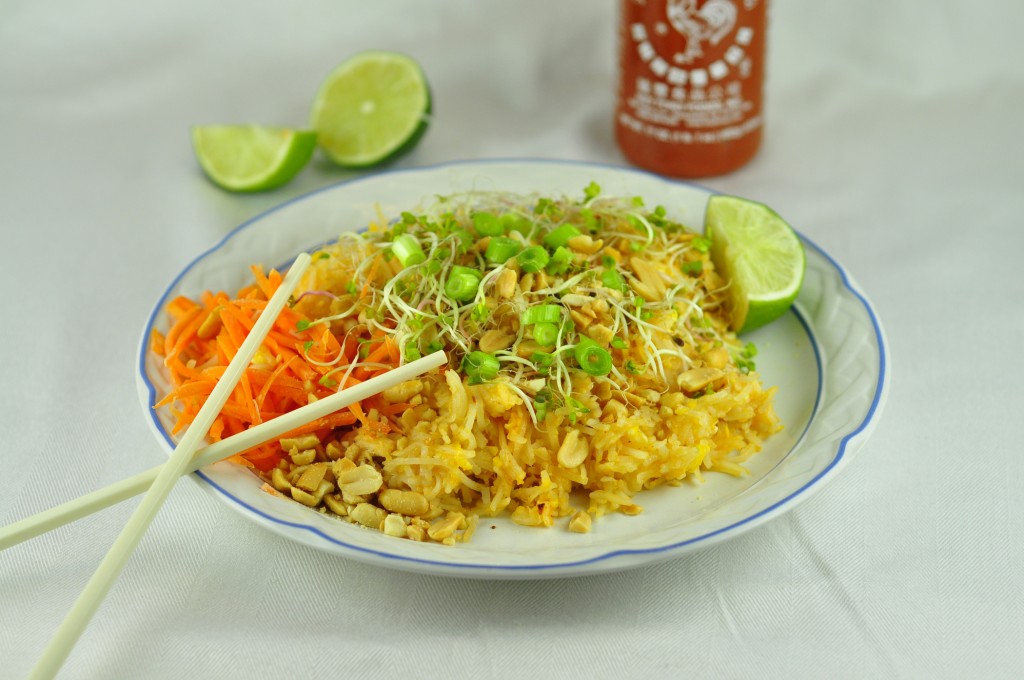 Chicken Pad Thai holds a very special place in my heart. It is a noodle dish that is tasty and savory and often called the signature dish of Thai cuisine. I'm a huge fan of Thai food and anytime I go to a Thai restaurant I always go straight for the Pad Thai.
I think good chicken pad Thai and Thai sticky rice are really a good judge of how good the restaurant is compared to the others. Also, because, let's be honest, I'm a creature of habit.
I'm not gonna chat your ear off today, but just want to tell you that you can use chicken, shrimp, pork, beef, tofu, or a combination of any of those in this recipe! Also, this makes a somewhat spicy pad Thai, so if you don't like spicy food you may want to start with less crushed red pepper and work your way up.
I like mine with a little bit of a kick but not so much that my nose is running before I even take a bite. I have to be in the right mood for that.
If you like Thai food, be sure to try my Thai Chicken Quesadillas.
Tip for making Pad Thai:
Remember that if left too long in boiling water, rice noodles will simply turn to mush! Take special care that they don't stick together when you're done. Rice noodles aren't like wheat noodles and tend to be gummier and will stick if you're not careful. (I might be saying this because it happened to me!)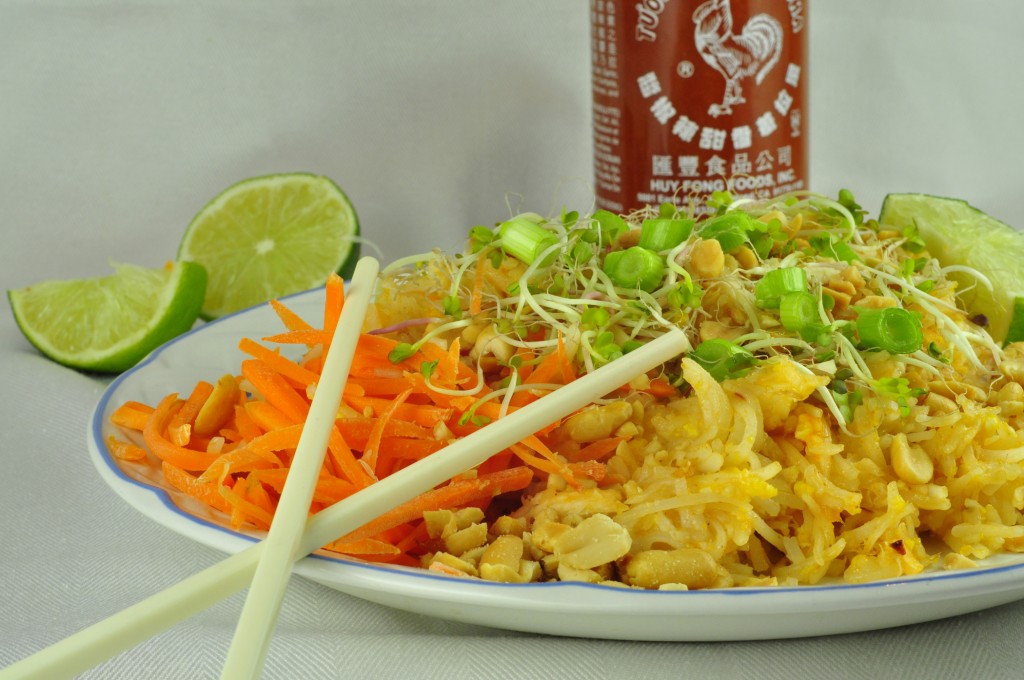 Chicken Pad Thai
Prep time:
Cook time:
Total time:
Chicken Pad Thai recipe in chili sauce that is just as good as take-out or what you order at the Asian restaurants!
Ingredients
1-12 ounce package rice noodles
2 tablespoons peanut oil
1 pound boneless, skinless chicken breast halves, cut into bite-sized pieces
¼ cup peanut oil
2 cloves of garlic, minced
3 green onions, chopped
4 eggs
2 tablespoons white wine vinegar
4 tablespoons fish sauce
6 tablespoons white sugar
1 tablespoon hot chili sauce (I used Sriracha)
1½ teaspoons crushed red pepper
⅛ teaspoon cayenne pepper
2 cups bean sprouts
¼ cup crushed peanuts
1 green onion, chopped for garnish
1 lime, cut into wedges
shredded carrot and purple cabbage, for garnish
Instructions
Cook noodles according to package instructions.
Drain, and set aside. (*see above note)
Heat peanut oil in a wok or large heavy skillet over medium-high heat. Sauté chicken, garlic, and green onions until browned. Remove, and set aside.
Return the wok to the burner and add ¼ cup of peanut oil.
Heat oil in wok over medium-high heat. Crack eggs into hot oil, and cook until firm. Stir in chicken, softened noodles, vinegar, fish sauce, sugar, sweet chili sauce, red pepper, and cayenne pepper.
Adjust seasonings to taste.
Mix while cooking, until noodles are tender. Add bean sprouts and a squirt of lime, and mix for 2-3 minutes.
Garnish with crushed peanuts, green onions, and a lime wedge.