Giant Pina Colada Cookie Cups
These simple, moist pineapple flavored Giant Pina Colada Cookie Cups with rich, creamy coconut frosting are your favorite drink made into a dessert!  It will feel like Summer every day with these delicious jumbo cookie cups.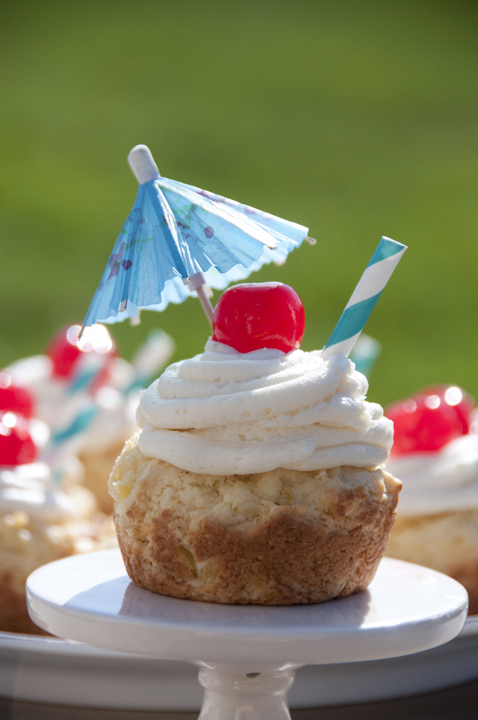 Another giant cookie cup recipe is coming at ya today – this makes #3!  Did you miss this Carrot Cake version?….or this Lemon Mousse Sugar Cookie version? With the warmer days we've had lately, it has really put me in a summer kind of mood.  Yesterday was 75 and sunny!  Pina Coladas have always been my favorite drink of all time and nothing reminds me of the warm weather and the beach more than a perfectly made Pina Colada in my hand – these cookie cups would be perfect for Cinco de Mayo coming up!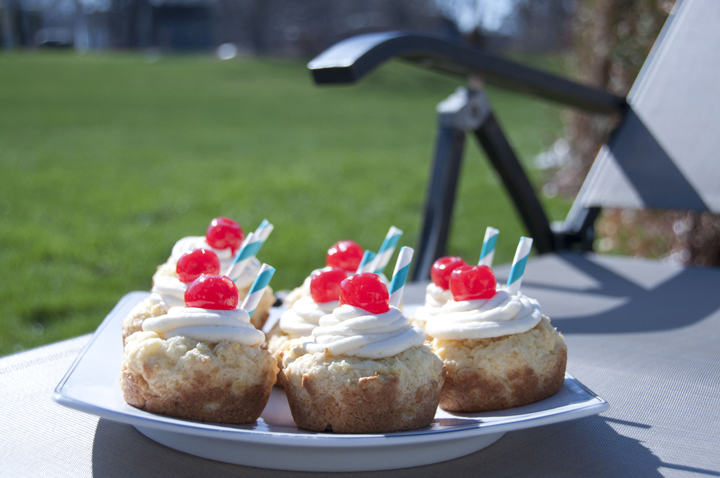 Now you can have your Pina Colada and eat it, too! 🙂  I love pineapple in baked goods – the taste is so refreshing and vibrant!  Both the cookie cup and the frosting have a bit of coconut extract to give it that coconut flavor and this can be found in the baking aisle at your local grocery store or online.  Definitely try your best to find it, but if you can't, use extra vanilla so the texture of the frosting and cookie cups doesn't change.  You can add some toasted coconut shavings to the top of the cupcakes so as to not lose out on the coconut flavor if you can't find the extract! Another tip: don't substitute milk for the heavy cream in the frosting – it won't turn out as creamy or velvety (however, half-and-half would work OK).  You can also find these fun straws here.
Note:  You can get a jumbo muffin tin on Amazon if you don't already have one.  They are also great for making bakery style muffins, etc!  I also use these reusable Wilton cupcake decorating bag and decorating tips for piping on the frosting.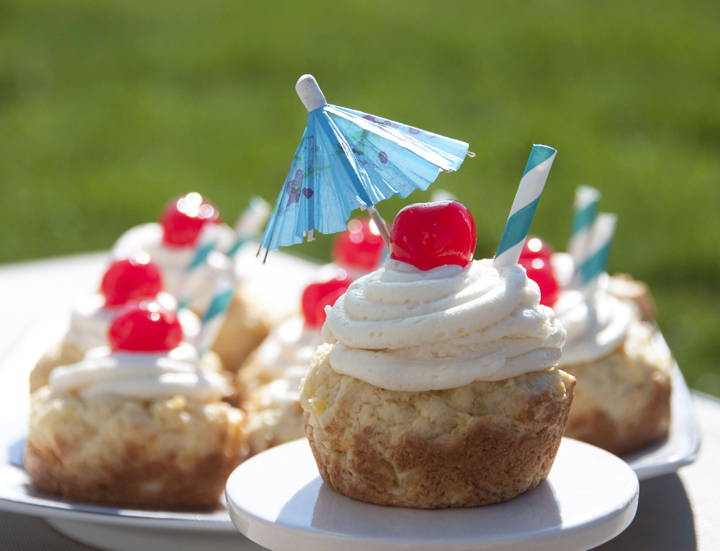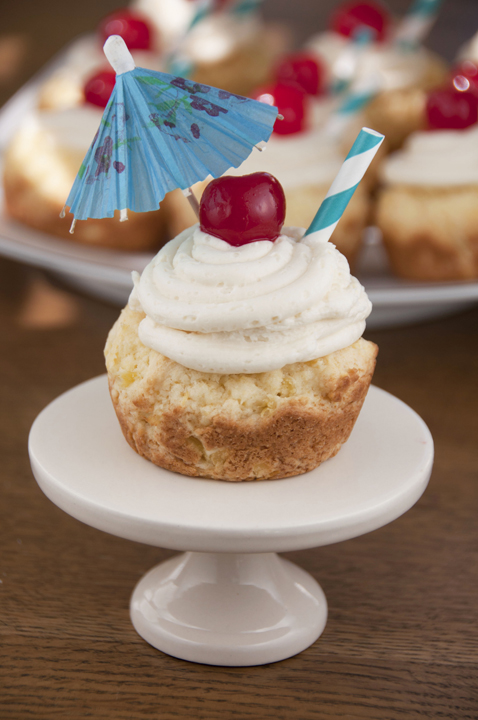 Giant Pina Colada Cookie Cups
Prep time:
Cook time:
Total time:
Serves:
10 cookie cups, depending on size
Giant Pina Colada Cookie Cups dessert recipe have the best flavors of summer: pineapple and coconut. Quick and easy jumbo dessert recipe!
Ingredients
Cookie Cups:
1 stick butter, softened to room temperature
2 large eggs
8 oz crushed pineapple, drained very well!
1 box white cake mix
1 tsp. coconut extract
3 Tbsp all purpose flour
Frosting:
¾ cup unsalted butter, softened to room temperature
3 cups confectioners' sugar
¼ cup heavy cream
2 teaspoons vanilla extract
½ teaspoon coconut extract
¼ teaspoon salt
Instructions
Cookie Cups:
Preheat oven to 350 degrees F (175 degrees C). Grease jumbo muffin tin with cooking spray.
Mix all the ingredients together in a bowl with an electric mixer. Drop batter into muffin tins (fill about half way).
Bake for 17-18 minutes or until set.
Make indentation/craters in cookie cups while still hot with the back of a tablespoon or small cookie scoop (step pictured above). This indentation is where you will put frosting into.
Cool completely IN the pan on a wire rack.
Run a butter knife around the edges of the cooled cookies to loosen and gently lift out. I didn't need to do this, I just pulled them out with my fingers.
Frosting:
In a bowl of a stand mixer or hand-held mixer fitted with paddle attachment, beat the softened butter on medium speed until smooth and creamy (about 2-3 minutes). Turn mixer off and add confectioners' sugar, heavy cream, vanilla, and coconut extract. Mix on low for 1 minute then increase to high speed and beat for 3 full minutes to get it nice and creamy. You can add powdered sugar if frosting is too thin or more cream if frosting is too thick, but mine was perfect.
Transfer frosting to a piping bag, or make your own piping bag using a ziplock bag (put filling in bag, work it to the bottom of one corner, twist off the top and snip off a small bit of the corner).
Frost the cookie cups (I used Wilton #12 piping tip) once they are completely cooled. Pipe the filling in high, swirling mounds into the indentation you made earlier and mound it on top, like frosting a cupcake. There may be leftover frosting depending how much you use on each cookie cup.
Top with a cherry, shaved coconut, and/or cup up straw pieces.
Store in an airtight container at room temperature for up to 3 days or refrigerator up to 4 days.
Recipe source:  Cookie Cups: Wishes and Dishes original. Frosting: sallysbakingaddiction.com