M&M Cookies
How was everyone's weekend?  We had a wonderful weekend of hanging out with friends, visiting with my brother and sister-in-law who were here from Syracuse, seeing a minor league baseball game (hooray for my first baseball game of the summer!) and Mr. Wishes ran in his first Tough Mudder endurance race with some of his friends on Sunday.  This race is a 12 mile course that contains many unique obstacles that include running over fire, army crawling through a mud pit with barbed wire overhead and sprinting through a field of live wires, carrying as much as 10,000 volts of electric shock.  I'm convinced that this race is only for CRAZY people!  But I'm proud of Mr. Wishes for challenging himself and all of the hard work he put into training for it.
Now let's talk cookies.  M&M cookies are my weakness as you can't go wrong with a soft and chewy cookie chock full of M&M's.  Not only do these cookies have M&M's, but they have chocolate chips also.  To top it off, they have a secret ingredient that make them moist and soft. Who would have ever guessed that this secret ingredient is instant vanilla pudding mix?!  The pudding mix helps keep the inside soft and the outside crisp while adding a little flavor.
These will cure your Monday blues.  Enjoy!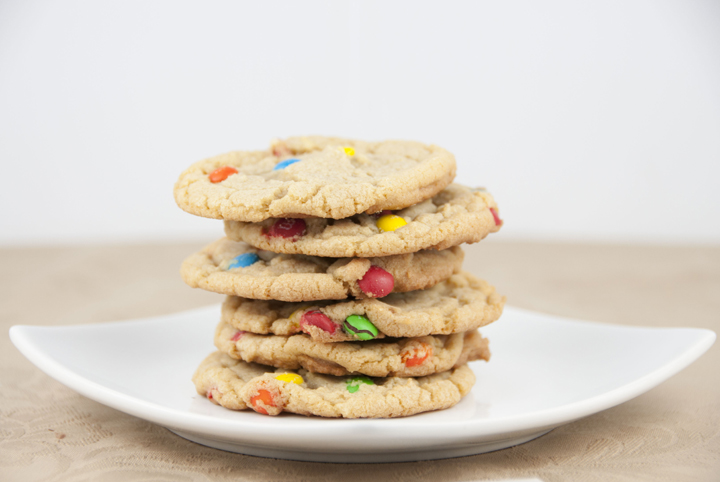 INGREDIENTS:
*makes 2 dozen cookies*
1 stick (1/2 cup) unsalted butter, softened
1/2 cup granulated sugar
1/2 cup packed light brown sugar
1 large egg
1/2 teaspoon pure vanilla extract
1 1/2 cups all purpose flour
3 tablespoons instant vanilla pudding mix
1/2 teaspoon baking soda
1/2 teaspoon salt
3/4 cup mini chocolate chips
1-1 1/2 cups Mini M & M's
DIRECTIONS:
Preheat oven to 350 degrees F.
Line a large baking sheet with a silpat mat or parchment paper.
In a large mixing bowl, cream your butter and sugars until well combined.  Add your egg and vanilla mixing to combine.  Add your flour, pudding mix, baking soda and salt, stirring to combine. Add chocolate chips and M and M's  – stir to combine.
With a medium cookie scoop, place dough 1 inch apart from each other. Bake for 10-12 minutes until cooked through.  Let cool on cookie sheet for 10 minutes before transferring to cooling rack.
Recipe source: adapted from pickypalate.com