Cheesy Taco Pasta
Cheesy Taco Pasta is an easy dinner idea with ingredients you most likely already have in your kitchen! This recipe is my go-to meal when I don't know what else to make!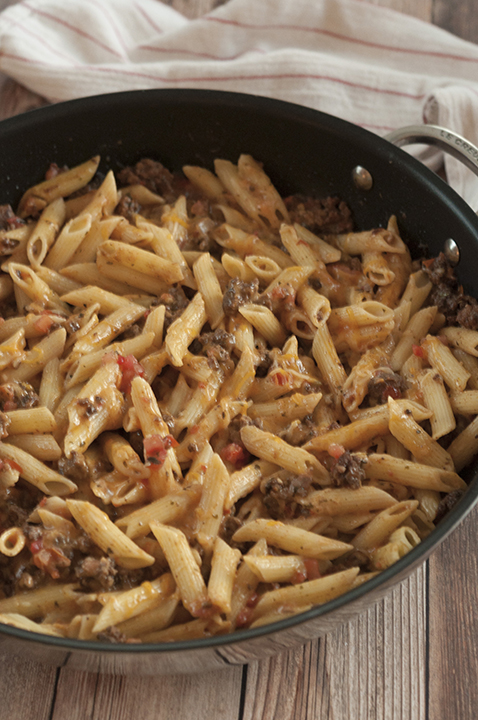 You know those days when you have absolutely zero things planned for dinner and it's already dinner time? I did this prior to having a baby, so I am not saying it's a new thing with me. However, it's happening a lot more often lately. Mr. Wishes calls me on his way home from work and says the dreaded "What are we doing for food?" question and I have to say "ugh, I haven't thought about that yet today".
Dinner is usually the last thing on my mind. Our dinners have been less than fancy or planned out since Eliza was born, but things are slowly getting a little bit better. I can't believe she is 3 months old now! Now let's talk about this Cheesy Taco Pasta.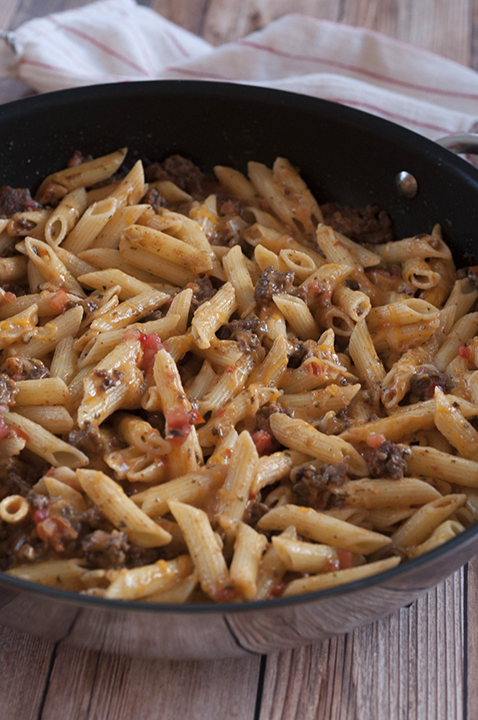 A few times when this happened, I started to think about what I could make at home with food I already had on hand. I usually end up going the pasta route when I have no idea what else to make, such as this One Pan Pizza Pasta Casserole.
Pasta is something I always have about 48482929 different kinds of in my pantry. Thanks to being a brand ambassador for Cabot Cheese, I also have an endless supply of cheese in my fridge. I thaw out some ground beef from the freezer, and BAM – this Cheesy Taco Pasta dinner is served.
This recipe is easily adaptable and you can feel free to add your favorite taco toppings to it. I find it fun to turn my favorite dishes (tacos, etc.) into pasta dishes. Have you tried my Philly Cheesesteak Pasta yet? Any time I can add pasta to a dish, I take full advantage. Another example would be my Sloppy Joe Macaroni and Cheese.
I hope you make this super simple Cheesy Taco Pasta soon – it's kid-friendly, too! If you're more of a chicken fan, I'm loving this Tex Mex Chicken Casserole from my friend Joanne. Enjoy!

Cheesy Taco Pasta
Prep time:
Cook time:
Total time:
Ingredients
8 oz. of short cut pasta
1 pound ground beef
1 packet taco seasoning
1.5 cups salsa
2 cups sharp cheddar cheese or Mexican blend cheese, shredded
Instructions
Prepare pasta according to package directions. Drain and set aside.
In a large skillet, cook ground beef until no longer pink, breaking apart.
Drain grease, return skillet to stove top, season with taco seasoning.
Add cooked pasta to skillet with cooked and seasoned ground beef along with salsa and mix well.
Add the cheese to skillet and mix together until fully melted. Remove from heat and serve warm. Enjoy!