Cheesy Artichoke French Bread Pizza
So I've been a huge slacker lately with the posts.  But, yes, I'm still here.  Well, sort of.  I'm physically here, but my mind is thinking of a million and one things I need to accomplish before Monday because….I can't keep the secret any longer….Mr. and Mrs. Wishes bought a HOUSE and are moving in a few days!  I haven't really "announced" it officially because I'm not one to like to draw attention to my major life's happenings, but what the heck….there ya have it.  We are really excited and definitely have outgrown our apartment that we have lived in for 3.5 years, which is seemingly getting smaller by the week.
Dude, moving is stressful.  But I guess everyone knows that, right?  (side note: did I really just say "dude"?)  It is a good change though, in our case.  Can you all guess what I'm most excited about with the new house?   To finally do away with the world's smallest kitchen and upgrade to a big kitchen that has major openness and will be wonderful for cooking/baking/entertaining in.  So that wraps it up in a nutshell.  I'm sure you'll be hearing a lot more about the new house in the future.
Let's talk briefly about this recipe.  This is another easy meal and yet so good.  French bread pizza used to be on the menu in my elementary school cafeteria every Friday.  If you were one of the privileged ones to also have this served at your school, let me assure you that this is NOT the brown sauce and plastic looking cheese french bread pizza that we experienced as children.
You can make these crunchy, cheesy french bread pizzas for lunch, dinner or as an appetizer.  Just be sure you make them, regardless.  Artichokes, cheese, carbs… yes, please!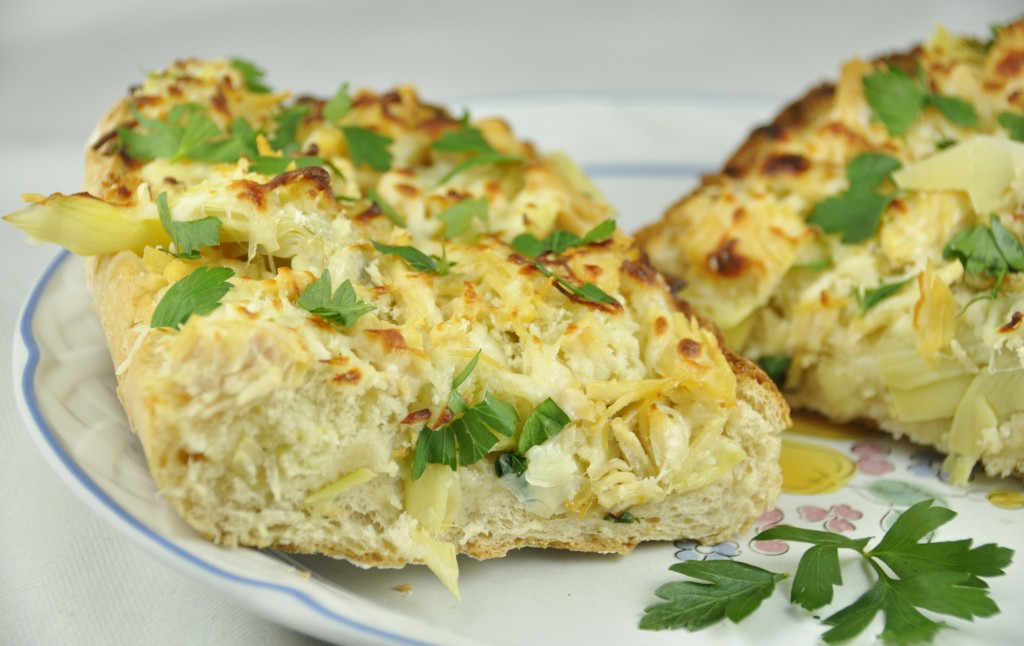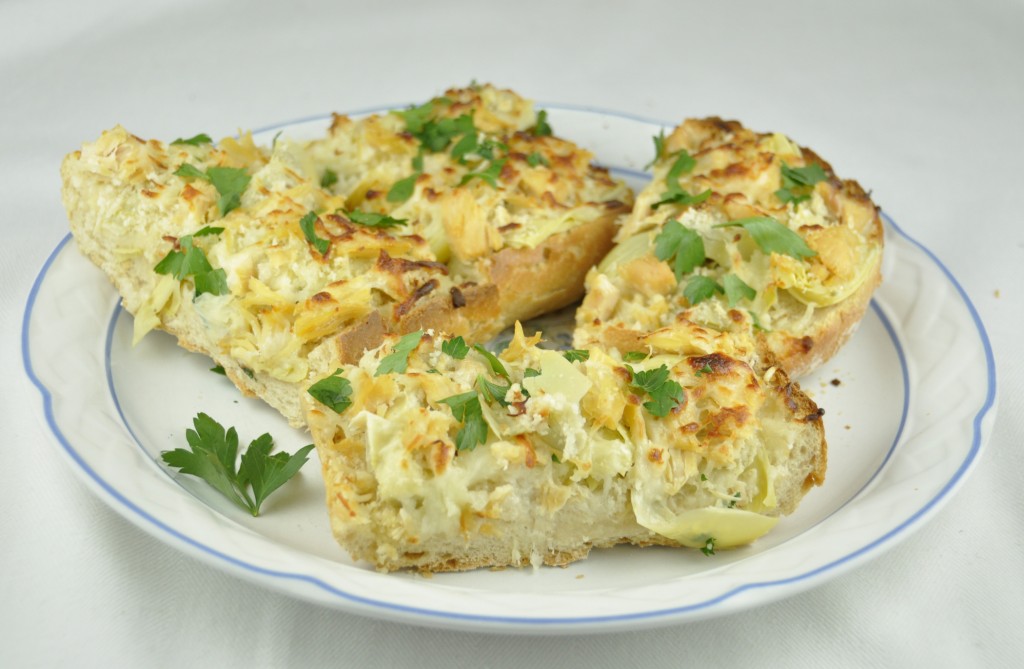 INGREDIENTS:
serves 4 (depending on the size of your bread)
2  french baguettes (I used 1 loaf of plain french bread)
1/4 cup olive oil
1 14-ounce can of artichokes in water or brine, drained and chopped (about 10-12 hearts)
4 garlic cloves, minced
1 1/2 cups freshly grated parmesan cheese
1/3 cup grated mozzarella cheese
1/4 cup seasoned panko bread crumbs
fresh parsley for garnish
DIRECTIONS:
Preheat oven to 400 degrees.
Cut the baguettes or bread in half lengthwise and brush with the olive oil. Equally distribute the minced garlic and chopped artichoke hearts. Top each with a good handful of cheese, about 1/3 cup each. Sprinkle on a few breadcrumbs. Bake for 8 minutes, then heat the broiler and broil for 2 minutes, or until cheese is golden brown. Garnish with chopped parsley.
Recipe source: adapted from howsweeteats.com