Caramel Macchiato Cheesecake
This decadent Caramel Macchiato Cheesecake is a treat you don't want to miss!  A Caramel Macchiato drink turned into the best cheesecake recipe ever.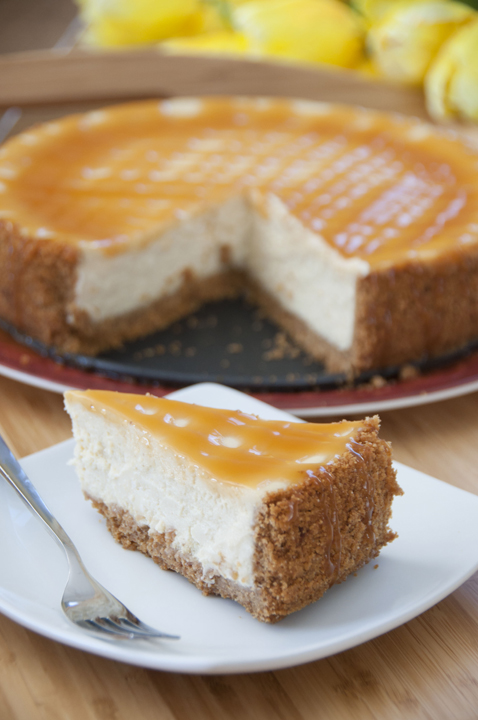 You will love this caramel macchiato cheesecake. It's National Cheesecake Day, AKA the best day ever!  Being a self-proclaimed food junkie, of course I have to celebrate and I joined up with 65 other food bloggers to all post a different cheesecake recipe on our sites today. How cool is that?!
I am ashamed to say that this is only the SECOND cheesecake I have ever made in my entire life.  I always just found them daunting (I find most cakes daunting for some reason).
It could be because the last cheesecake I made was about 3 years ago and the water from the water bath leaked into the cheesecake and made the crust all kinds of soggy.  This one, however, came out perfect.  I was shocked – nothing ever comes out perfectly for me the first time I make it!
Especially not cakes of any kind.  This cheesecake was so creamy, velvety and dense, just like a cheesecake is supposed to be.  The coffee taste was very subtle and not overpowering.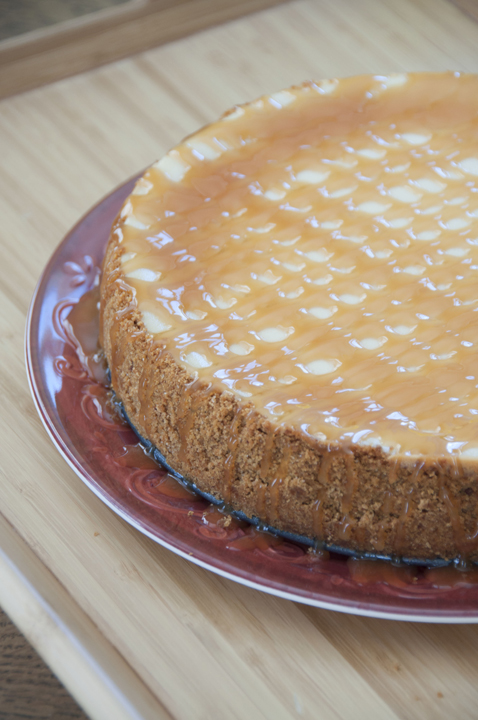 One of my favorite drinks from Starbucks is the caramel macchiato. I was pretty much obsessed with them when I lived down in Miami and walked by a Starbucks every single day and found myself wandering in there far too often.
So, naturally, I had to try making a caramel macchiato cheesecake!  My waistline was saying "noooooooooo" while my mouth was saying "yessssssssss".
Since this cheesecake is probably about 5,625,721 total calories, I made sure to have a cheesecake party on our patio and invited a bunch of friends over to get fat along with me.  It pretty much disappeared immediately.
Let me tell you, this cheesecake got SO many compliments!  The most probably came out of my own mouth (I'm so vain!) but everyone truly loved it and couldn't stop eating it.  It just truly was the best cheesecake I can ever remember eating.  Ever!  Get. In. My. Belly.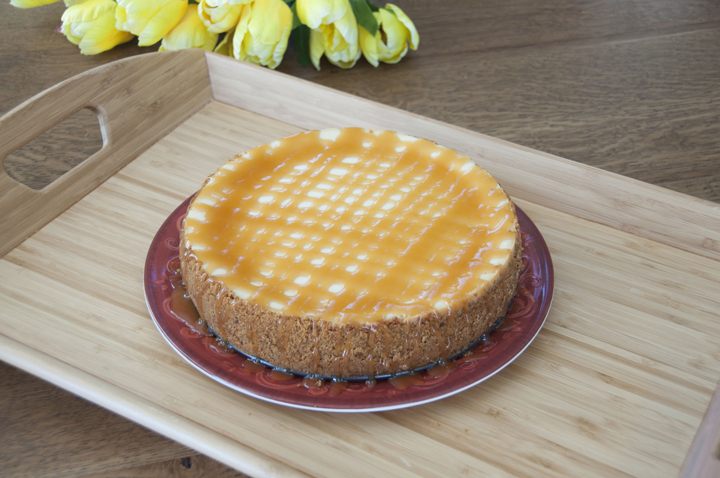 Two tips for cheesecake making:
1. Make sure ALL of your ingredients are room temperature. Leave them on the counter for at least an hour before making your cheesecake – this ensures everything will blend together without lumps.
2. Bake it in a water bath. This is simple to do!  I talk about this in the instructions below, but you need to be sure to wrap your pan in foil so no water gets in, and you need a large roasting pan or a taller baking sheet to place the cheesecake in. This helps the cheesecake cook evenly, stay moist, and there will be less chance of cracks.
Since when it comes to cheesecake the flavor combinations are endless, be sure to check out all of the other creative cheesecakes from my blogging friends – the links are below!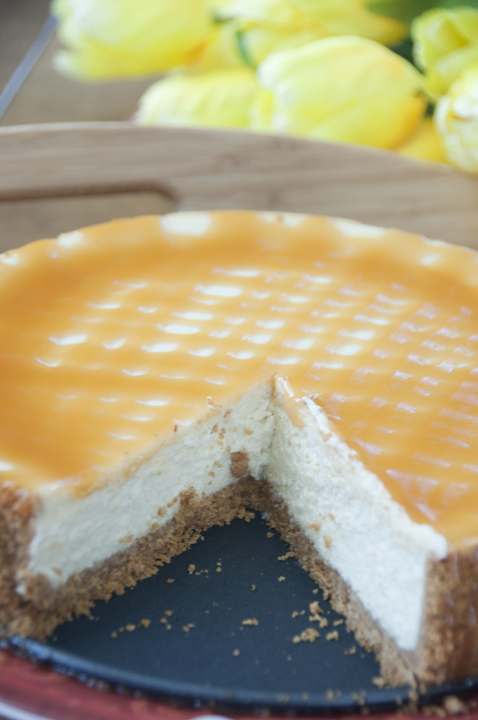 Caramel Macchiato Cheesecake
Prep time:
Cook time:
Total time:
Serves:
1 9-inch cheesecake
This decadent Caramel Macchiato Cheesecake is a treat you don't want to miss! A caramel macchiato drink turned into the best cheesecake ever.
Ingredients
2 cups graham cracker crumbs*
½ cup butter, melted
2 tablespoons white sugar
1 teaspoon ground cinnamon
3 (8 ounce) packages cream cheese, softened
1 cup white sugar
3 eggs, room temperature
1 (8 ounce) container sour cream, room temperature
¼ cup brewed espresso or strong/bold coffee, room temperature
2 teaspoons vanilla extract
caramel ice cream topping
whipped cream, optional
*measure this exactly so your crust doesn't come out too crumbly or too wet.
Instructions
Preheat oven to 350 degrees F (175 degrees C). Lightly coat a 9-inch springform pan with nonstick cooking spray.
Mix together the graham cracker crumbs, cinnamon, melted butter, and 2 tablespoons of sugar until well combined.
Press into the bottom of the prepared springform pan, and 1 inch up the sides.
Bake in preheated oven for 8 minutes, then remove to cool on a wire rack.
Reduce oven temperature to 325 degrees F (165 degrees C).
Beat the softened cream cheese in a large bowl with an electric mixer until fluffy. Gradually add 1 cup of sugar, beating until blended. Add eggs one at a time, beating well after each addition. Stir in sour cream, espresso and vanilla.
Pour batter into the baked and cooled crust.
Place a kettle of water on to boil for the water bath.
Wrap the bottom of springform pan in two layers of heavy duty aluminum foil. You will be baking your cheesecake in the water bath and you want to make sure no water gets into the pan from the seam at the bottom.
Place the cheesecake in a large roasting pan. Place pan in the center of your preheated oven. Pour the boiling water carefully in one corner of the pan, until it reaches about a third to halfway up the cheesecake.
Bake cheesecake in the preheated oven for 1 hour and 5 minutes; then turn the oven off, partially open the door and allow the cheesecake to rest for 15 minutes more (moving a just baked cheesecake can cause cracking).
Remove from the oven, and run a knife around the edges. Cool cheesecake on a wire rack to room temperature, then cover the springform pan with plastic wrap, and chill in the refrigerator for at least 8 hours.
Pour caramel sauce over the top (however you want to - I did lines across going in both directions).
To serve, cut the cheesecake into wedges and serve. You can add more caramel sauce or whipped cream to individual pieces, if desired.
Recipe source:  adapted from allrecipes.com