Caramel Macchiato Cheesecake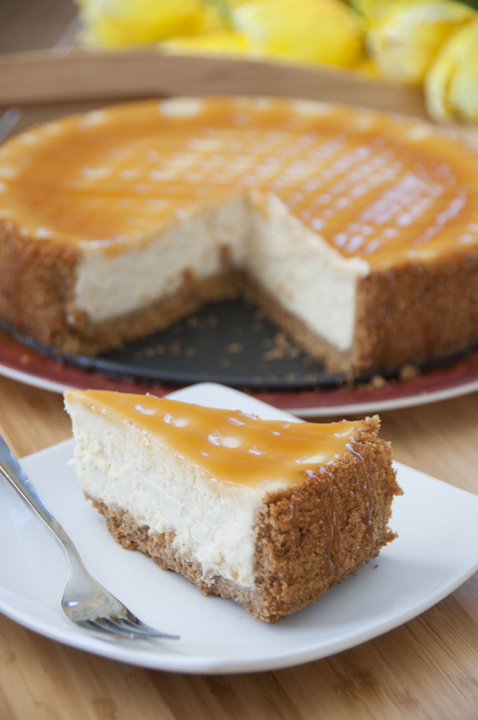 Serves:
1 9-inch cheesecake
2 cups graham cracker crumbs*
½ cup butter, melted
2 tablespoons white sugar
1 teaspoon ground cinnamon
3 (8 ounce) packages cream cheese, softened
1 cup white sugar
3 eggs, room temperature
1 (8 ounce) container sour cream, room temperature
¼ cup brewed espresso or strong/bold coffee, room temperature
2 teaspoons vanilla extract
caramel ice cream topping
whipped cream, optional
Preheat oven to 350 degrees F (175 degrees C). Lightly coat a 9-inch springform pan with nonstick cooking spray.
Mix together the graham cracker crumbs, cinnamon, melted butter, and 2 tablespoons of sugar until well combined.
Press into the bottom of the prepared springform pan, and 1 inch up the sides.
Bake in preheated oven for 8 minutes, then remove to cool on a wire rack.
Reduce oven temperature to 325 degrees F (165 degrees C).
Beat the softened cream cheese in a large bowl with an electric mixer until fluffy. Gradually add 1 cup of sugar, beating until blended. Add eggs one at a time, beating well after each addition. Stir in sour cream, espresso and vanilla.
Pour batter into the baked and cooled crust.
Place a kettle of water on to boil for the water bath.
Wrap the bottom of springform pan in two layers of heavy duty aluminum foil. You will be baking your cheesecake in the water bath and you want to make sure no water gets into the pan from the seam at the bottom.
Place the cheesecake in a large roasting pan. Place pan in the center of your preheated oven. Pour the boiling water carefully in one corner of the pan, until it reaches about a third to halfway up the cheesecake.
Bake cheesecake in the preheated oven for 1 hour and 5 minutes; then turn the oven off, partially open the door and allow the cheesecake to rest for 15 minutes more (moving a just baked cheesecake can cause cracking).
Remove from the oven, and run a knife around the edges. Cool cheesecake on a wire rack to room temperature, then cover the springform pan with plastic wrap, and chill in the refrigerator for at least 8 hours.
Pour caramel sauce over the top (however you want to - I did lines across going in both directions).
To serve, cut the cheesecake into wedges and serve. You can add more caramel sauce or whipped cream to individual pieces, if desired.
Recipe by
Wishes and Dishes
at https://wishesndishes.com/caramel-macchiato-cheesecake/